With Mickey balloon in hand we were off for a full day from extra magic hours until bedtime in Magic Kingdom, plus a midday swim break. No Magic Kingdom day is complete without a pre-opening train station pic and a hustle back to your early morning rides. We managed to squeak in some family favorites just before baby sister dozed off and our big girl aka Splash Mountain first timer was off for some Daddy time. Me and my little mini rolled through some air conditioned stores and headed back to catch a classic photo op of my toddler's first time down Splash Mountain's big hill. And lucky for Daddy, it was a hit! Our three old loves herself some speedy rides as she calls them, which is magic to her Daddy's ears who finally has himself a ride partner, since this Mommy here is more a Pirates, Mine Train, Little Mermaid kind of girl.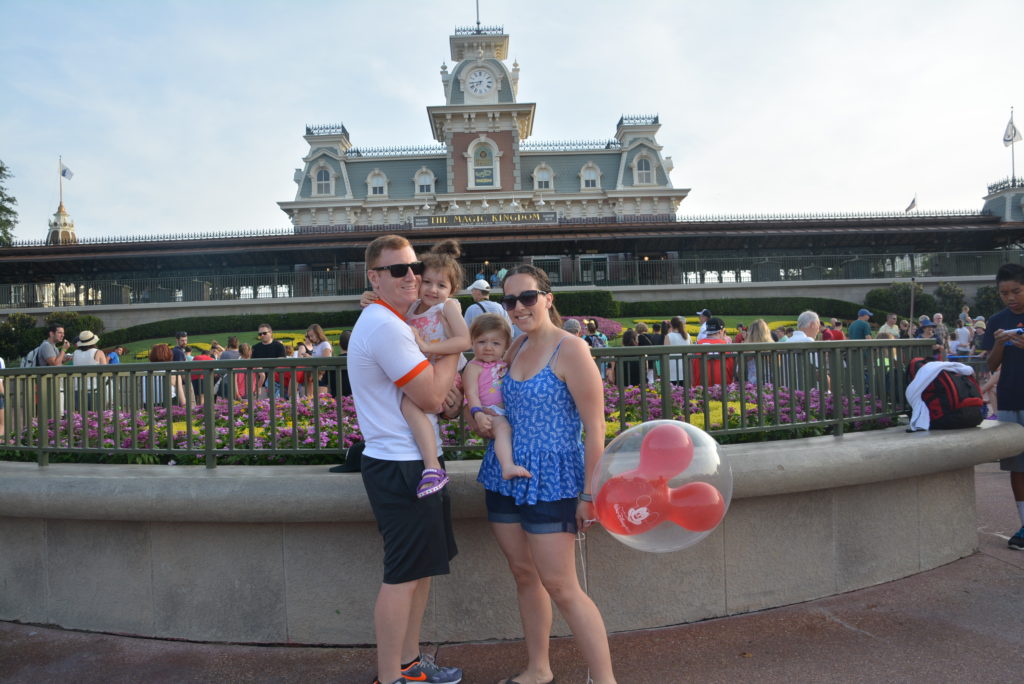 Once a morning of rides and a cat nap were through it was lunch time. Lunch is usually the most challenging meal for me. Don't get me wrong Disney definitely has plenty of gluten free options but 7 days of the heavier lunches is just too much for me. Instead I many a time, reluctantly enjoy a snack lunch aka Dole Whips or Popcorn (wink wink) or a turkey leg. Meanwhile the little ones are content munching on fresh fruit, light sandwiches, or Mickey pretzels. The good part about the lighter fare, they are easily enjoyed on the go or on a nice shaded bench, a welcomed short break from the tiring Disney hiking and sweating. To break up our 90 degree+ day we decided to head back to our Polynesian home away from home for a midday swim break before dinner at the castle.
Another bonus for staying at the Polynesian, their amazing pools! Our studio was just outside the newly renovated quiet pool and a only a short walk away from the volcano pool, another pro for a Tokelau studio! The girls loved all of the water days this trip, so some pool time was always welcomed. And a certain someone had so much fun splashing around that she crashed as soon as it was time for dinner, never an optimal time for a nap but especially when we're talking about an over tired toddler. Needless to say we were dreading waking her up for dinner, seeing as that can be like dealing with a ravenous tiger at times. So to give some extra nap time we decided to do a photo op of our tiny Belle, courtesy of an over generous photopass photographer!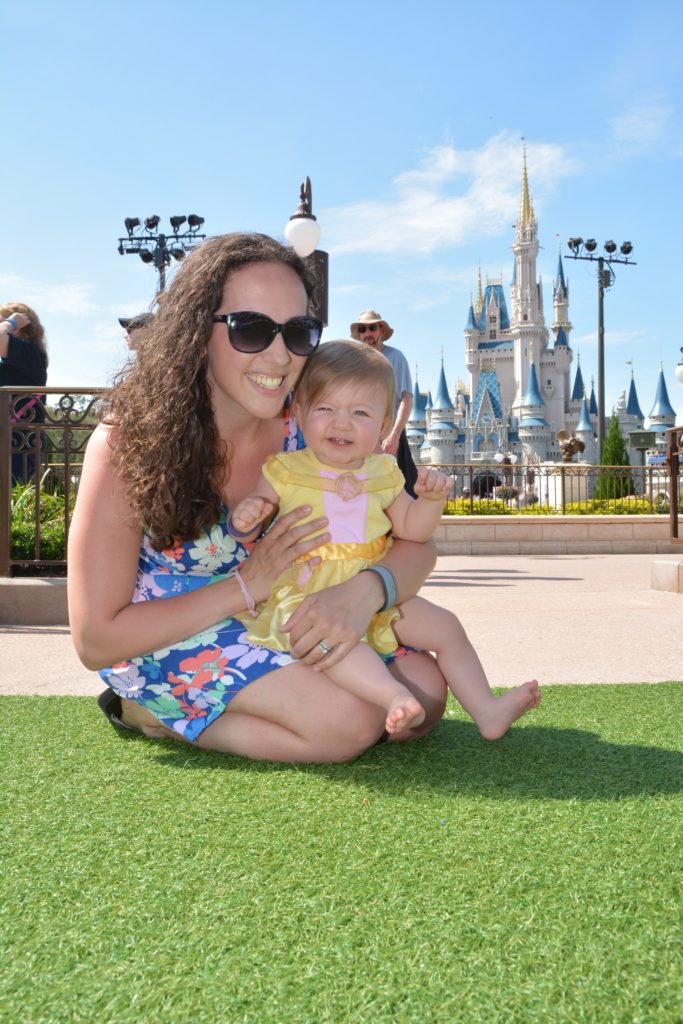 I couldn't have asked for a better photographer who took nearly 200 shots of our little one. We got some beautiful classics with her first Mickey ears (only wish we could crop out all of the walkers, but alas what's a Disney pic without the crowds). And when I say this photographer was fantastic, I mean laying on the ground, staging pics with mom and dad, and even a winner with a sleeping sissy. She was just wonderful, and it was such a treat to meet her!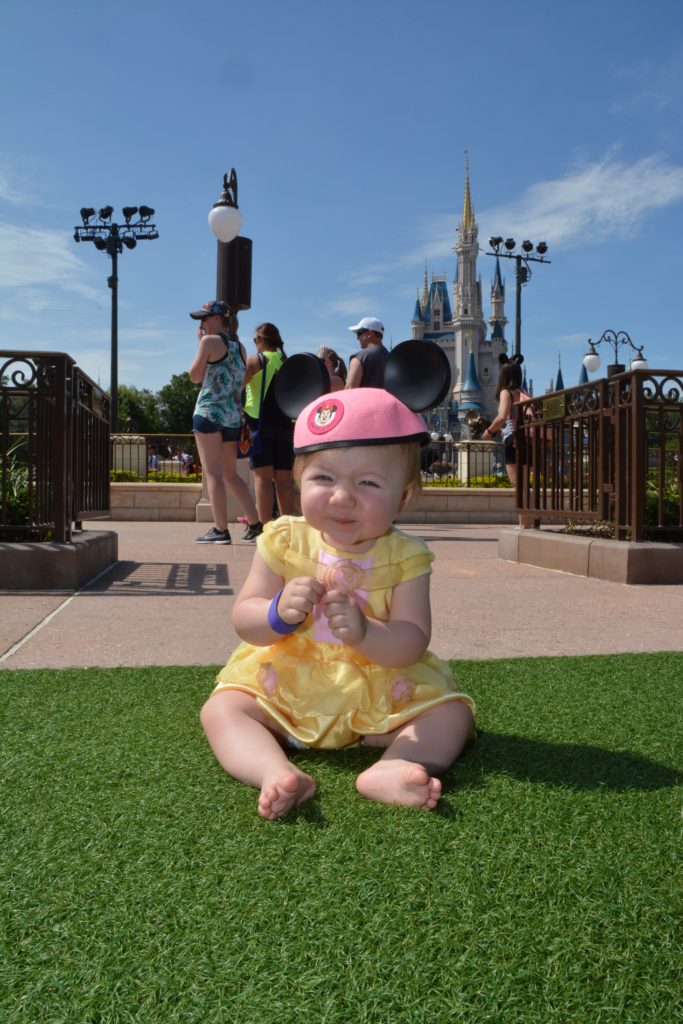 Soon enough it was time for our much anticipated Cinderella's Castle dinner! And yes waking our toddler was much like I imagined/dreaded but thankfully she came around soon enough to enjoy all of her favorite princesses. Okay, food wise, dinner was okay. It definitely was delicious, but I've had better at the royal table. First up was the Castle Salad, a huge portion of mixed greens, apples, cucumbers, candied walnuts, and cheese all tossed in a delicious vinaigrette. I'm a salad person, so this was one of my favorite parts of the meal. For my entree I opted for the pork tenderloin, normally I go the steak route but I wanted a change. Not sure what it was but the pork definitely wasn't as good as I wanted it to be. It was just okay, nothing spectacular. However the dessert, a flourless chocolate cake fit for royalty, was just as perfect as I remember. Light just like a cake should be, not your typical dense texture that flourless cakes are known for. Delicious!
Even though my entree wasn't as perfect as I'd hoped, a dinner at Cinderella's castle is a pretty hard thing to mess up. Between the magic of dining in a castle, meeting princess after princess, and watching your two miniature princesses love every bit of it, a less tasty entree didn't take too much away from anything. So once we had finished our dinner we opted for a late night of rides and the parade (which I'm devastated will no longer be a Disney World special, we love this one). The girls loved the Electrical Parade, especially our toddler who waves ecstatically the entire parade, even at the non-costumed Disney cast members just walking alongside. Our sweet little Belle had a pretty special first viewing of the parade herself, getting sweet kisses and waves from a few of our favorites. Some of our best Disney memories are from this parade so we're sad to see it go but hoping that'll make room for lots of new experiences!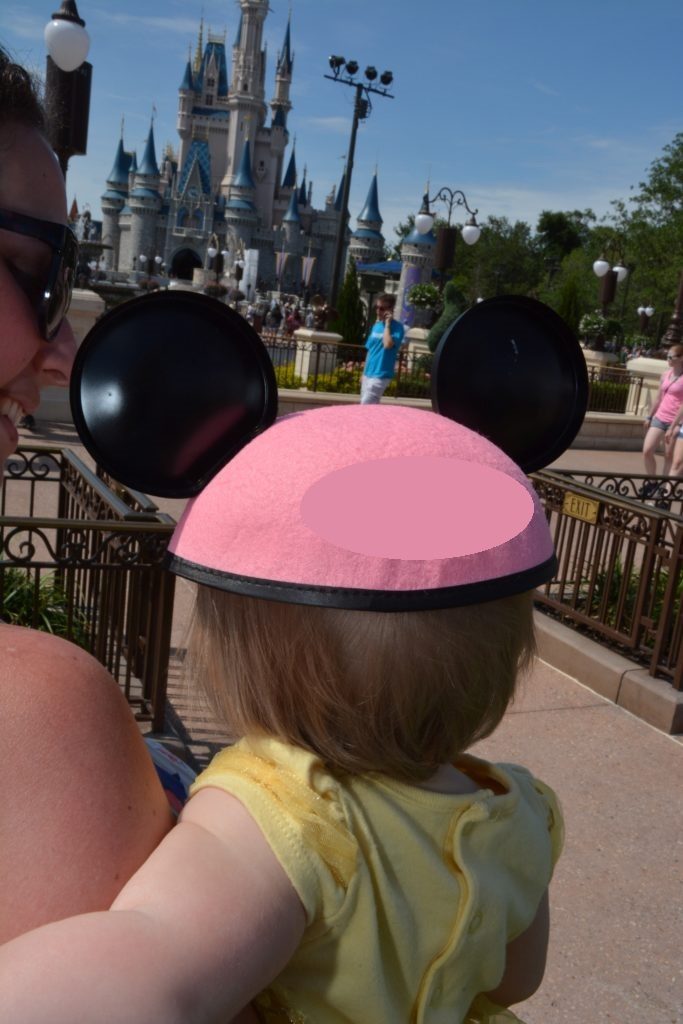 Still to come, my first gluten free beignets, cheese steak sandwich, and naan, and so much more. Pardon the extended posting but we're in the throws of moving! Yup, we're closing on our current and our new home in just a few weeks. Stressful yes, especially with two tinies, but so exciting. Can't wait to share the next chapter of it all!
Sincerely,
Lindsay