Looking at Disney pictures is always a love/hate relationship, loving the memories that we made but hating that we're not there right now but as they always say if you're doing something all of the time it's not as special anymore. Our last full day in Disney this year we tried out a breakfast at Crystal Palace and had some relaxing time meandering through Magic Kingdom before indulging in some dinner at the Polynesian courtesy of Kona Cafe.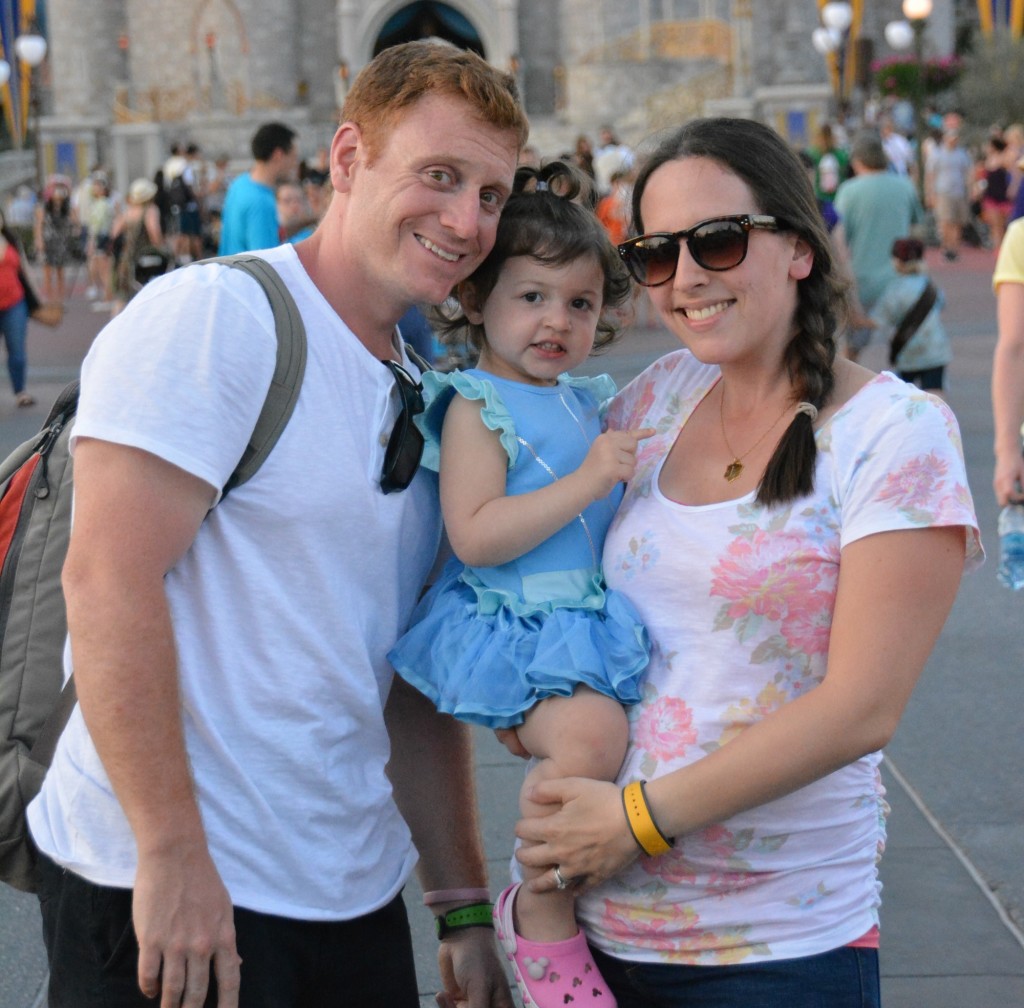 We started our day off bright and early with a not-so-fun breakfast at Crystal Palace. Little one was not a fan of Winnie the Pooh and friends and I wasn't very pleased with the gluten free food so needless to say the breakfast as a whole wasn't a winner but thankfully it didn't put a damper on the rest of the day. Once we finished with breakfast we were ready to explore some of the less frequented rides before our scheduled fast passes later in the day. But before the riding commenced we had to sneak in some photo time with Baby Girl #2's first set of ears to commemorate her trip in Mommy's belly, it was also a perfect way to announce that we were expecting a little girl.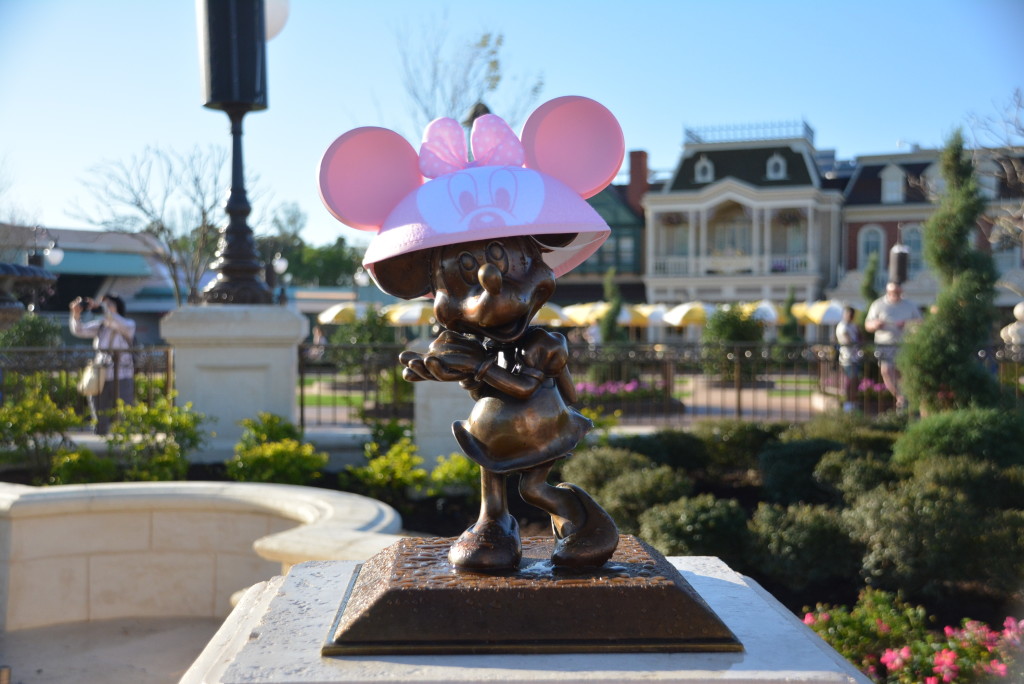 After a few pictures in the new gardens in front of the castle, we headed straight for Adventureland to enjoy some of our favorite attractions. Since we had only eaten a very light breakfast at Crystal Palace we were all more than ready for something to eat for an early lunch after a little bit of riding. Since we were in Adventureland we decided to try out Tortuga Tavern for Dan and little one while I requested a Dole Whip. They loved their nachos and cheese quesadilla and as for my Dole Whip, well let's just say that the cup looks so much prettier when it's filled with all of this deliciousness instead of empty. Everyone has their own way of enjoying a Dole Whip, mine is to get pineapple and vanilla swirl in pineapple juice, a huge winner for me pregnant or not pregnant! It is by far one of my favorite gluten free snacks in Disney World and a great use of a snack credit on the dining plan!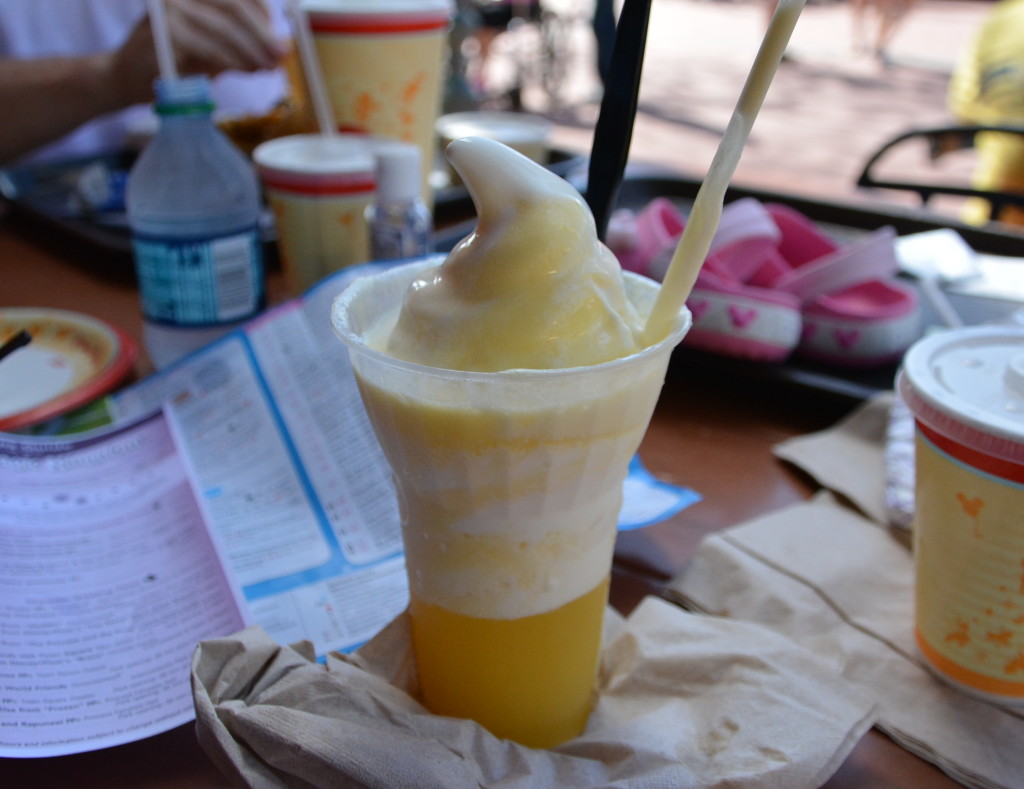 Don't worry I didn't just eat a Dole Whip for lunch I did indulge in a few more snacks later on like Disney's signature popcorn and roasted nuts from my favorite stand by Dumbo in Fantasyland. But in-between all of the snacking it was time to use our fastpasses for some of favorite rides like Winnie the Pooh, Little Mermaid, and Peter Pan with a few character meet and greets with Cinderella's stepsisters and Ariel in there as well. It was a relaxing way to enjoy some time in Magic Kingdom and as our little one faded we decided to head out early, meander through some shops, and get in some pool time before our dinner later on.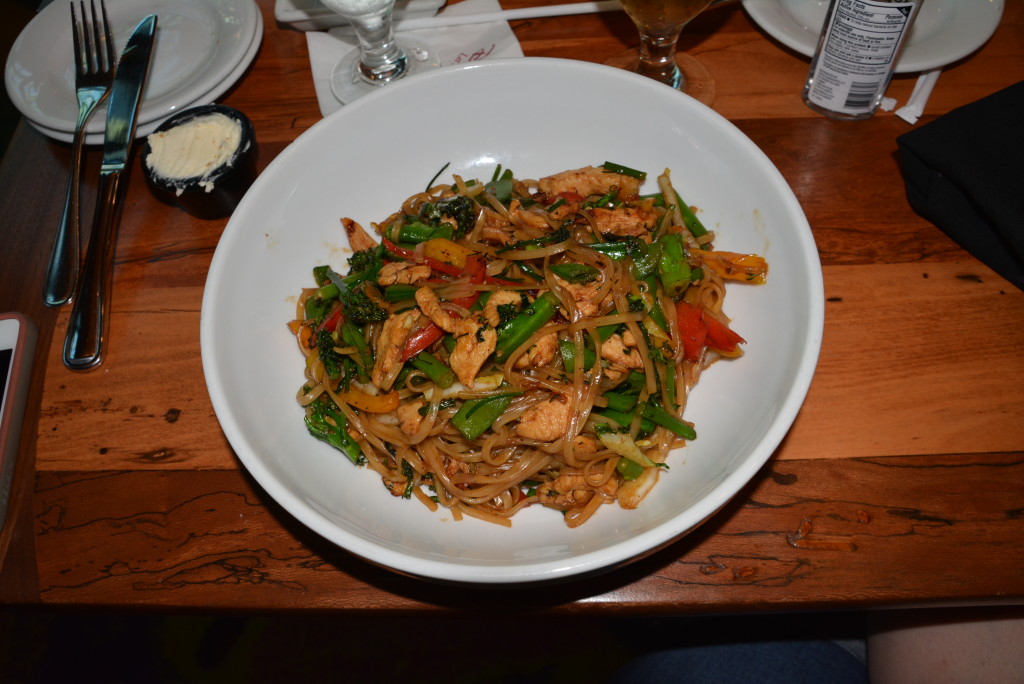 After a decent size nap, little one woke up back in the room where Mommy and Daddy were doing the less fun packing to go home. So we could squeeze in a little more time packing we treated little one to a Mickey lollipop and some tv time. Finally she donned her best Ariel bathing suit and joined Daddy for some perfect pool time while Mommy was on picture duty lounging outside of the pool. She certainly loves herself some time splashing around in the pool so I'm so glad we were able to squeeze in another round before one of our most anticipated dinners at Kona Cafe.
Before too long we were back at the Polynesian and ready for our dinner, a personal favorite for me in the gluten free department. After being seated, I was handed the new gluten free menu which I can say had both pros and cons. I definitely liked how you could see all of your options without waiting to speak to the chef and even though you can still request to speak with the chef I did feel like they didn't really prefer you to do so now that the menu was clear. I personally always prefer to speak to someone who is knowledgeable about the food whether it's a manager or chef but this trip I decided to forego that request and just order by the menu. I ordered my favorite Pan-Asian Noodle and Chicken dish with the Kilauea Torte for dessert and emphasized that they needed to be done very carefully and gluten free, unfortunately our waiter wasn't very pleasant and just laughed at my request. I was so taken aback by his response that I told him that I'd get very ill and it wasn't something to laugh about. This kind of reaction isn't really new to me but at Disney it certainly was, so needless to say I was less than pleased with him the rest of our meal.
Our meals arrived shortly after the bread course which is always a winner for little one and I definitely enjoy the warmed gluten free dinner rolls with the special butter too. While little one gobbled down her Mickey raviolis, a star in her book, I nibbled at my noodle dish. I have to say that this time around I think a little too much seasoning was added for my taste and it was pretty dry too, not having nearly enough sauce like it always does. I'm not sure if it was the lack of talking to the chef personally or if that was just coincidence but after our experience this time around with the waiter I'll most certainly always be speaking with the chef from here on. Despite the little bit of a flop that my main entree took, the dessert was just as delicious as always, the chocolaty lava cake spilling over with warm chocolate sauce inside was divine. Check out one of my older reviews to catch a peak of this delicious gluten free dessert option.
All together, our last full day was fantastic, great weather, great food, and tons of smiles and laughs, can't ask for a better day than that. And to put the perfect finishing touch on the day we managed to make one final viewing of little one's favorite parade. She loved everything about it, the music, the lights and floats, but by far her favorite part was waving frantically and screaming hi to every single friend she saw even getting a special hug hello from Snow White. There's no doubt our little one is a Disney lover, I mean she watches Disney Junior daily, but watching our little two year old be so in love with a place as special as Disney World is beyond magical for her Mommy and Daddy.
Stay tuned for our last day's worth of treats and adventures!
Sincerely,
Lindsay (31 weeks)