Ah there's nothing like attending a wedding gluten free and very pregnant, so why not go to two? Dan and I were talking the other day about the last pregnancy versus this one and I couldn't help but point out that it seems that my pregnancies have both been perfectly timed with everyone around us getting married, seeing as I've only really attended weddings in my mommy-to-be status over the past few years. So this time around we've been invited to two weddings spanning a week and a half this Spring, both of which taking place in the last leg of my pregnancy.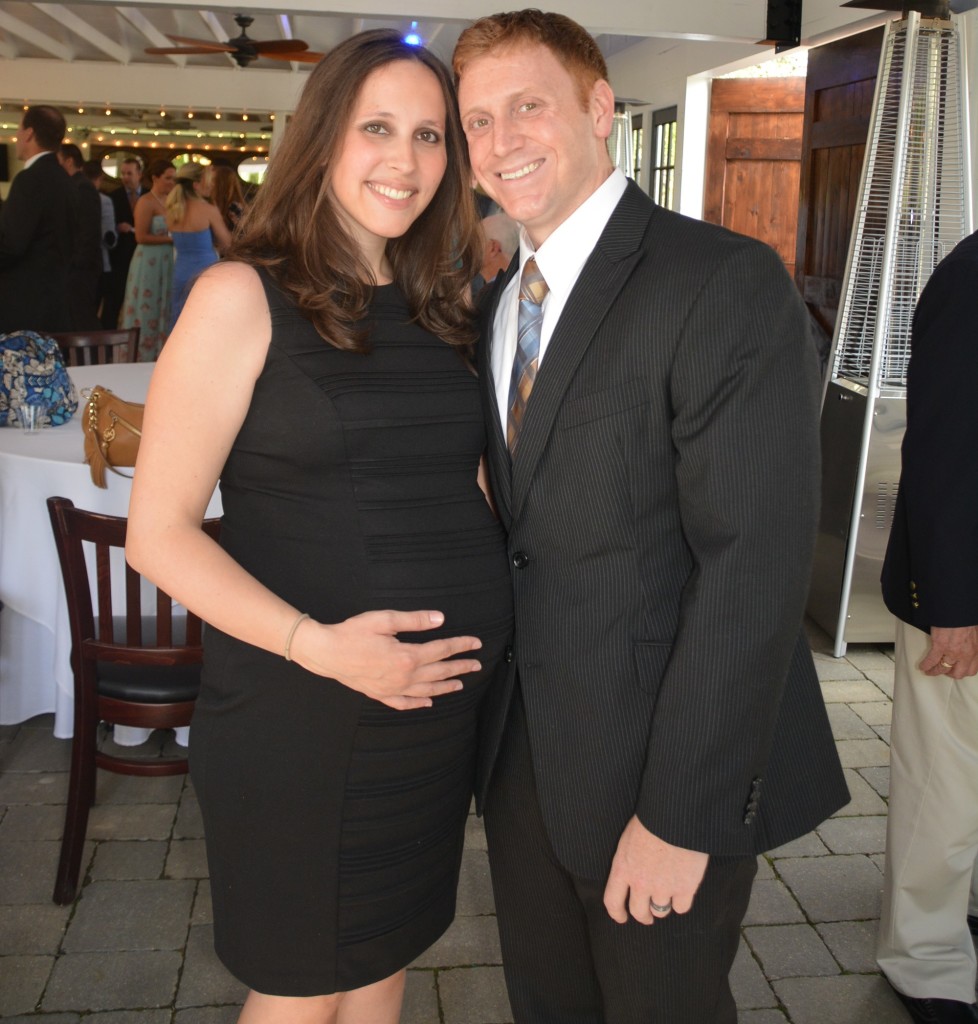 Last weekend, at 30 weeks, we had the pleasure of attending my cousin's wedding. Getting all dressed up while you're expecting can be a great way to make a mommy-to-be feel a bit more glowy and beautiful than usual but it can also be pretty overwhelming in the actual getting dressed department. There's no easy way around it, you need a bigger dress to accommodate your growing bump which in most maternity departments apparently translates to a growing height as well. I scoured stores and online for any dressy maternity option out there and even ordered a few to try out but it seems like it's a huge feat to find the perfect formal dress for a short, pregnant woman. Just a reminder maternity stores, there are short, pregnant women out there and we only expand in the midsection not in our height when we're expecting. So after turning maternity departments inside and out Dan joined in the efforts and we finally decided on two non-maternity but slightly stretchy dresses courtesy of Lord and Taylor.
Getting all dressed up in my first dress was a great way to get some of my glow back after not feeling so great the past few weeks and the wedding was pretty fun too. Weddings are always tough to attend gluten free so as far as the food was considered I'm never a huge fan of wedding food since most of it is chock full of gluten but armed with gluten free snacks and at least a guaranteed gluten free main course I was ready to have some fun and celebrate the day with my cousin. It was a great way to ring in my last ten weeks of pregnancy, feeling great and surrounded by everyone we love.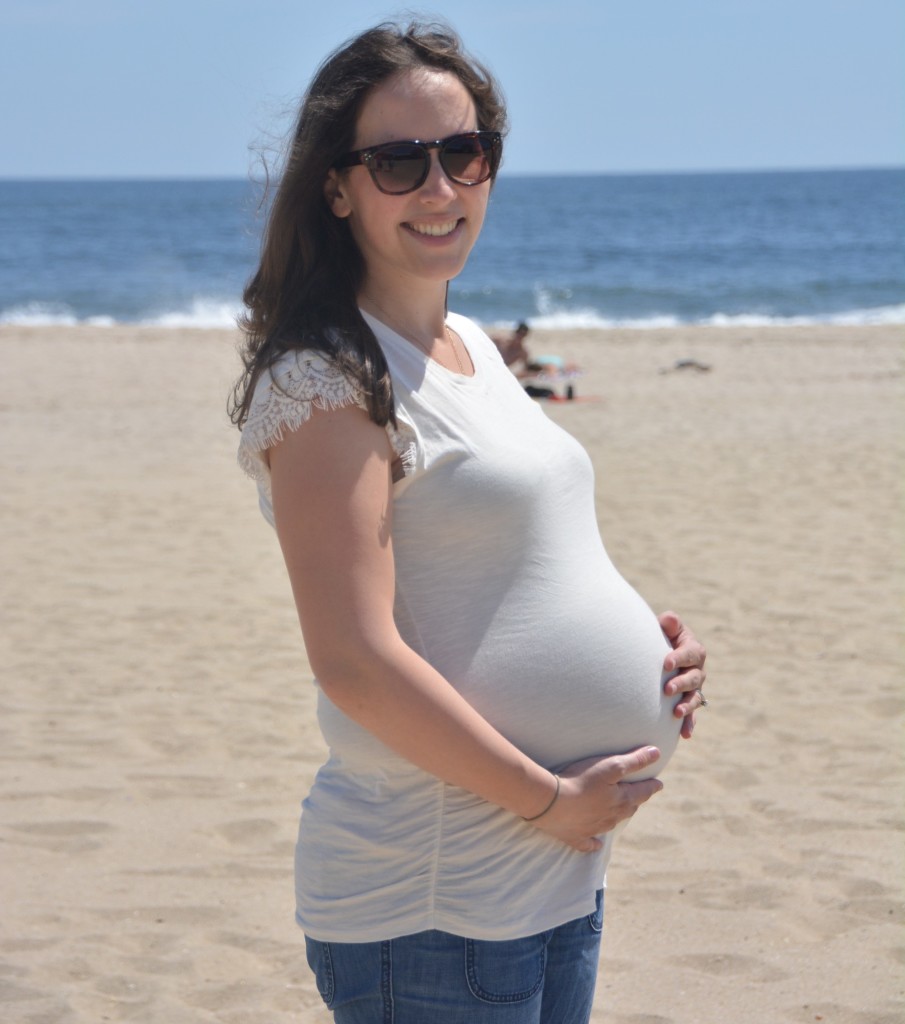 With the first of our two weddings behind us and a week full of beautiful and actually slightly warm Spring days ahead we decided to treat our little family of three plus Nanny and Pop Pop to a day at the boardwalk as I turned into my 31st week. We took advantage of one of the gorgeous days and planned a quick trip to the boardwalk where we could enjoy the small aquarium, arcade games, the beach, and let's not forget the non-gluten free boardwalk treats that I knew my little one would just love. The aquarium was a huge hit but the star of the day by far was spending a little bit of time playing on the beach. Our little girl loves the beach, water, sand, sea shells, all of it and couldn't get enough of collecting shells and digging her hands and feet in the sand. It was tough to pull her away but I knew enticing her with lunch and a special snack would be the only thing that could beat staying on the beach. Next up, boardwalk pizza for the non-gluten free adults and as chosen by our little girl, some Kohrs orange and vanilla ice cream, a perfect choice that only her mommy would choose as well. While everyone enjoyed their boardwalk specialties I nibbled on some treats that I brought from home, again not very fun when you're surrounded by amazing foods that look and smell delicious, especially while pregnant, but a few minutes of bliss would certainly not be worth the sickness after.
A great way to kick off my weeks in the 30s and even though I'm getting more and more tired as the days tick by I want to make sure that we always take advantage of any good weather and squeeze in special times like these. So what else is going on on the pregnancy front? Well the third trimester acid reflux and nausea are still present and accounted for but I know those will go when we meet our little girl. And even though I'm hungry almost 100% of the time, my appetite is just never quite there so eating is still a challenge but thankfully I have some of my favorite gluten free standbys that can help fill my belly from time to time.
But I guess what's been overwhelming me the most as we've started down this last stretch is the anxiety about the delivery and postpartum recovery, which is becoming more and more heightened as my weeks pass by. There are always uncertainties about any birth but for my delivery it seems that there are a million open ended questions making it really hard to relax and not worry. Even though I had a c-section with my first little girl, since things didn't go as smoothly as we had hoped we're crossing our fingers that the stars align and our prayers are answers to have an uneventful vbac this time around. However, with the complications from my first delivery and the difficulties my venous angioma may present my doctors requested that I meet with the hospital anesthiologist to go over what happened last delivery and what the plan may be for this time around. So that was yesterday's fun endeavor and to keep a long story short, delivering babies via a vbac with my added complications makes for a very scared mommy and daddy. Of course all of the worst case scenarios were laid out in front of us but having endured a few rare occurrences last delivery makes some of those seem more possible. So from here on it's lots of prayers for a healthy baby but also a healthy mommy and that our delivery can be as peaceful and uneventful as we hope it will be.
Sincerely,
Lindsay (31 weeks)