A Disney day is by far one of our favorite kind of days around here, but for Dan and I, an Epcot day is in the top two of all Disney days. The food, the drinks, the World Showcase, and the rides, every bit of it we love and now our girls love too. Only one more thing can boost an Epcot day a little bit higher on our Disney scale and that's a day at Epcot's Flower and Garden Festival! We've vacationed a few times now during this festival and have loved every second of it. Our toddler has enjoyed tons of different treats, live music, floral playgrounds, and topiaries that inspire our at home gardening, no not to Disney's scale but a certain herb display had me thinking about a new garden next year. Lucky for us, Disney decided to extend their festival this year so our littlest family member could experience her first Disney festival!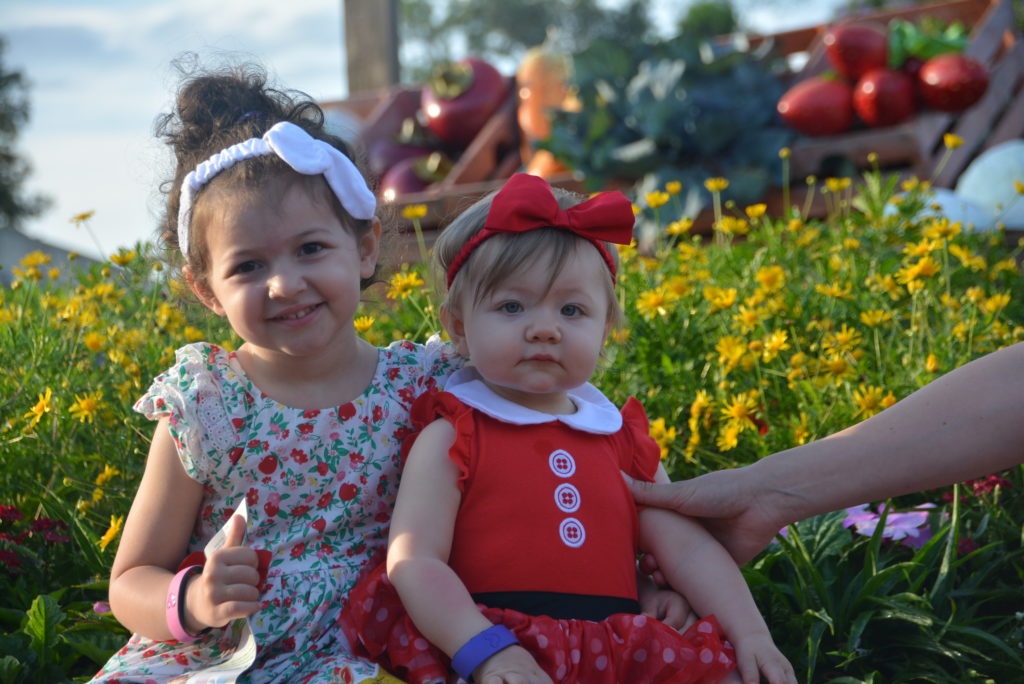 Our next full day of Disney Vaca 2016 was our first Epcot day! We were greeted with some of the best topiaries yet, not to mention these amazing herb and flower displays which I'm already sweet talking my husband into helping me recreate at our new house next Spring. Once we were through the gates and under Epcot's iconic landmark it was onto an early morning ride on The Land, Nemo, and Test Track and some meet and greets with Mickey, Minnie, Goofy, and Baymax! For my toddler all of her friends were a huge hit, especially newbie Baymax who happens to star in one of her new favorite movies, and for her little sister, well she was cautiously happy to meet them as long as she was safe in Mommy's arms.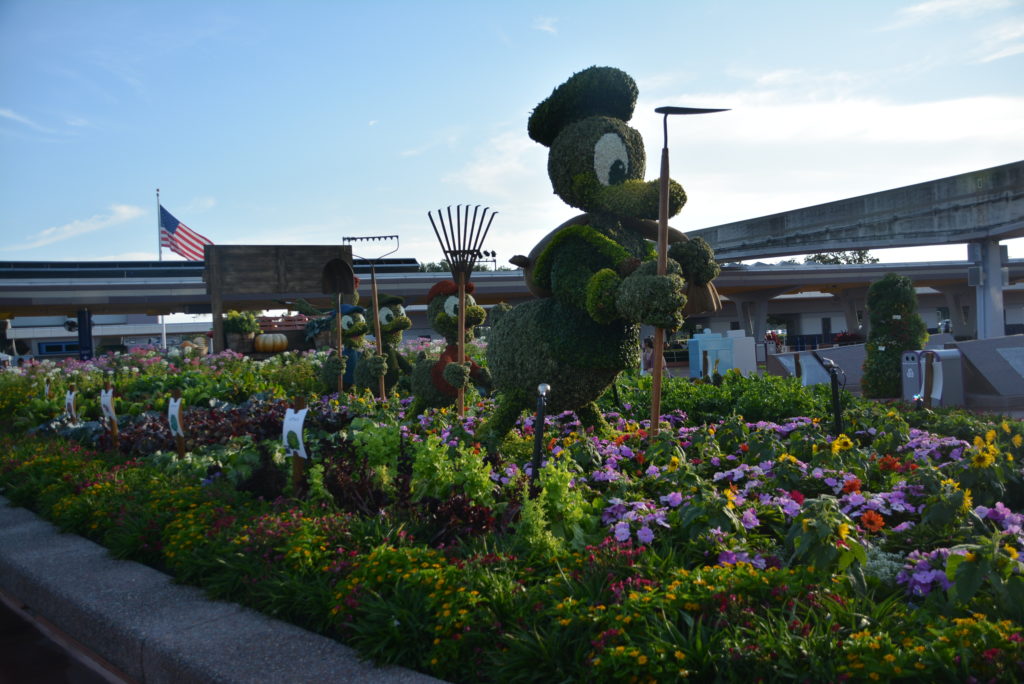 One of the flower/herb towers that little one happen to love too!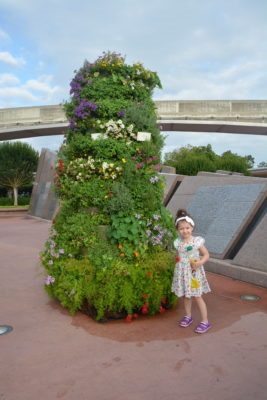 Soon enough, World Showcase was opening and bellies all around were growling. Another bonus on top of the gorgeous topiaries everywhere, the food, some of which happens to be gluten free! Surrounding the lake are festival stands which note gluten free on all of their signage and in the food passports that you can pick up at any store or food stand.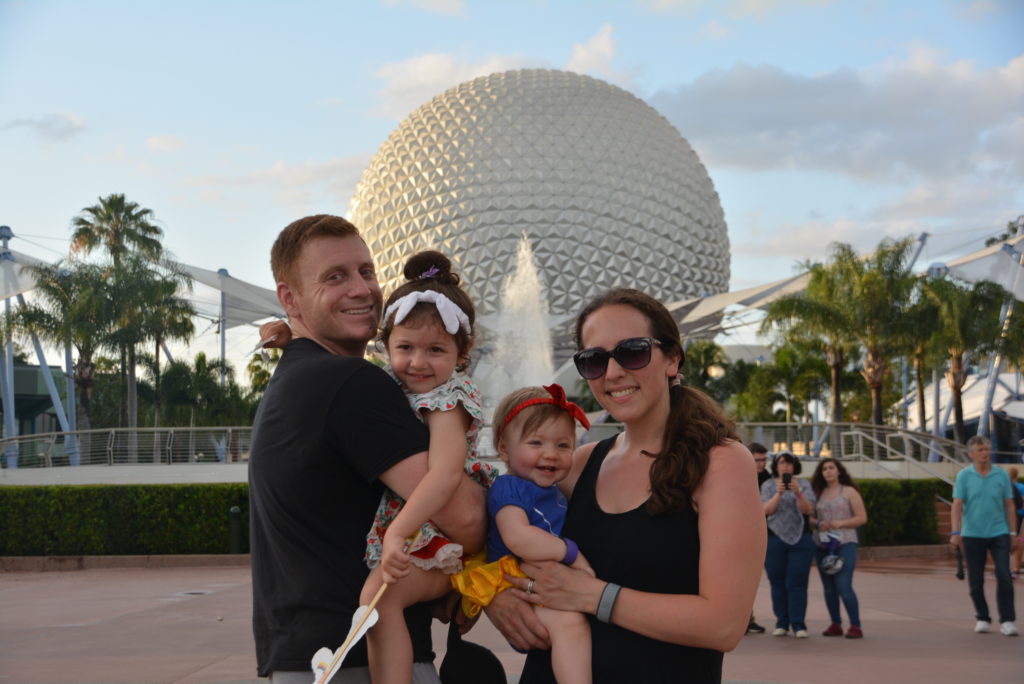 A tip, some of these gluten free items are safer than others. I always double check before I order anything anywhere, but especially at smaller stands like these, if there are chances for cross contamination. Some of the answers took a few things off my list but I was more than happy to avoid a possible run in with gluten.
Thankfully, others were safe and delicious! Like Japan's Frushi! For some reason this year this one wasn't marked as gluten free but in past years it has been but thanks to my fellow gluten free Disney bloggers I had a heads up that it was still safe. So for starters on my Flower and Garden food adventure it was one plate of gluten free Frushi. Fresh pineapple, strawberry, and melon all rolled into some raspberry coconut rice with whipped cream on the side. First off, it looks beautiful, definitely sushi like minus the fish which is already a win in my book. It was definitely tasty but a little strange mostly because of the rice. I'm not a huge rice person anyway but the addition of the fruit, raspberry sauce, and whipped cream has made me more of a fan. Altogether pretty tasty and filling, until my next stop in Italy.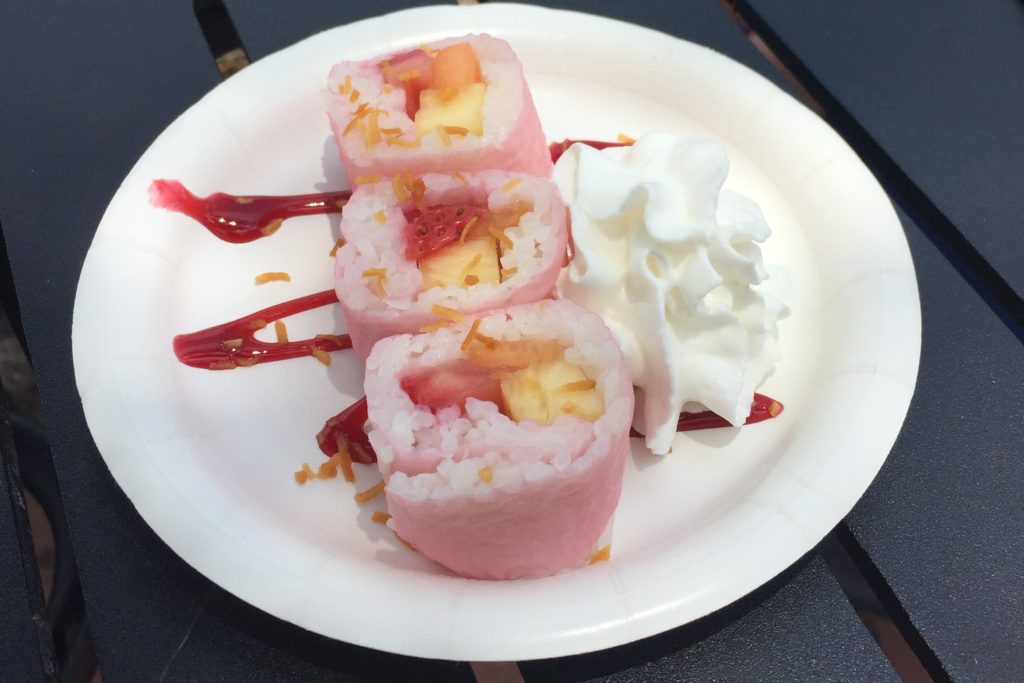 Okay Italy probably brought in the big win of the day with their gluten free food and drink options. Unlike a few others, this Disney vaca Mommy could enjoy a Mommy beverage, so that I did with a favorite of mine, the Bellini. And thanks to the festival I decided on the Cremoso al Pistacchio to go along with it. This sweet treat was amazing! Pistacchio cream with strawberries and marscarpone, perfect perfect perfect! Can you tell I liked it? And thankfully the girls had filled up on Norway bites and were on the verge of napping, otherwise I would've had to share this tiny tasting. Cheers to 5 minutes of Mommy time to enjoy this miniature delight and my Bellini!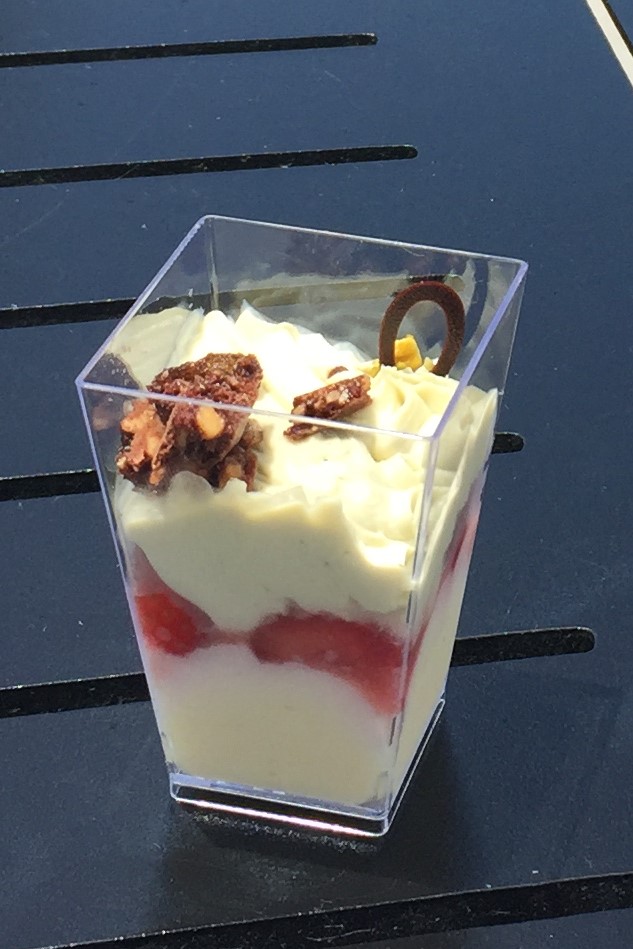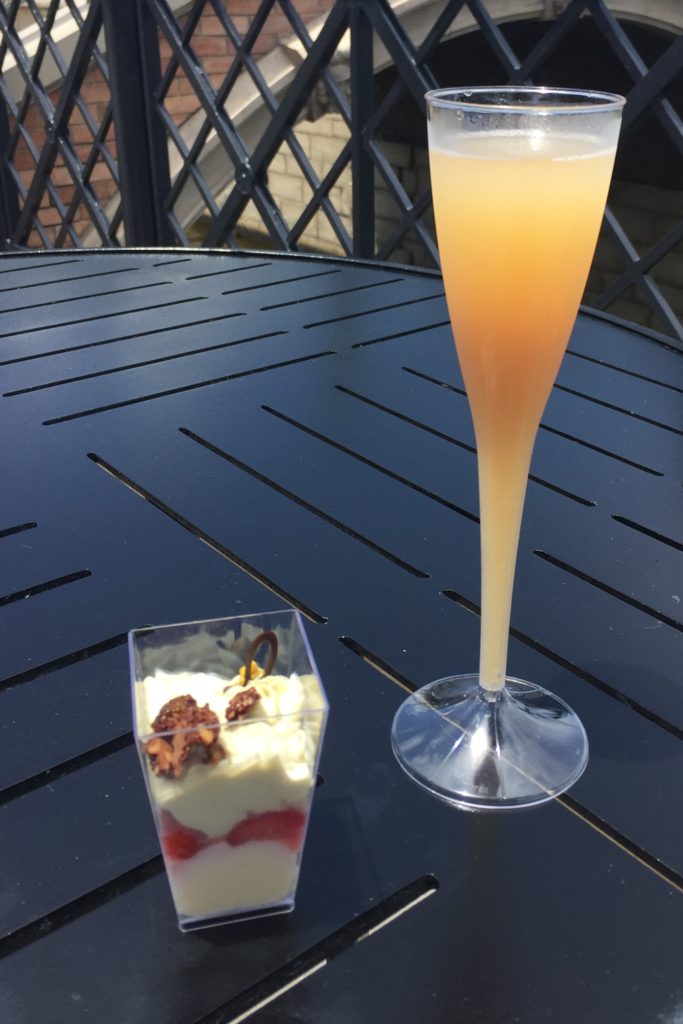 We decided to opt for lighter snacks on our trip around the world on this particular Epcot day mainly because we had an early reservation at Italy's Tutto Italia. So while I tried a few gluten free sweets, in true hubby style, Dan indulged in some savory delicacies, just enough to tide us over until dinner. While we snacked and our tiny girl napped we dodged in and out of the countries, getting a Duffy bear stamped, meeting a princess or two, and skipping out of the on and off rain storm. Finally it was time for a much anticipated dinner at Tutto Italia. We've dined at Tutto Gusto and have loved it so we decided to give it's mother restaurant a try this time, especially since we never left Tutto Gusto disappointed.
Whenever we dine in Epcot's Tutto Gusto we've always been instantly transported back to our honeymoon and babymoon trips in Italy, and thankfully Tutto Italia did just the same. The authenticity of the menu options and delicious gluten free pasta brought me right back to one of our last dinners in Venice. And being an Italian who loves her cheese, pasta, and panna cotta, that can rarely get this combo in a farely non-gf US, I was pleasantly surprised by my choices at Tutto Italia. So no surprise, I started off with their Fior Di Latte Mozzarella, fresh mozzarella with roasted red peppers, basil, Maldon sea salt, and olive oil. One word, amazing! The mozzarrella was so flavorful and matched perfectly with the sweetness of the red peppers. Amazing! So much so I shared tiny bites with my girls! Also should mention that they offer some of the best fresh gluten free bread here just like their sister Tutto Gusto. Kind of the icing on the cupcake to these restaurants if you ask me.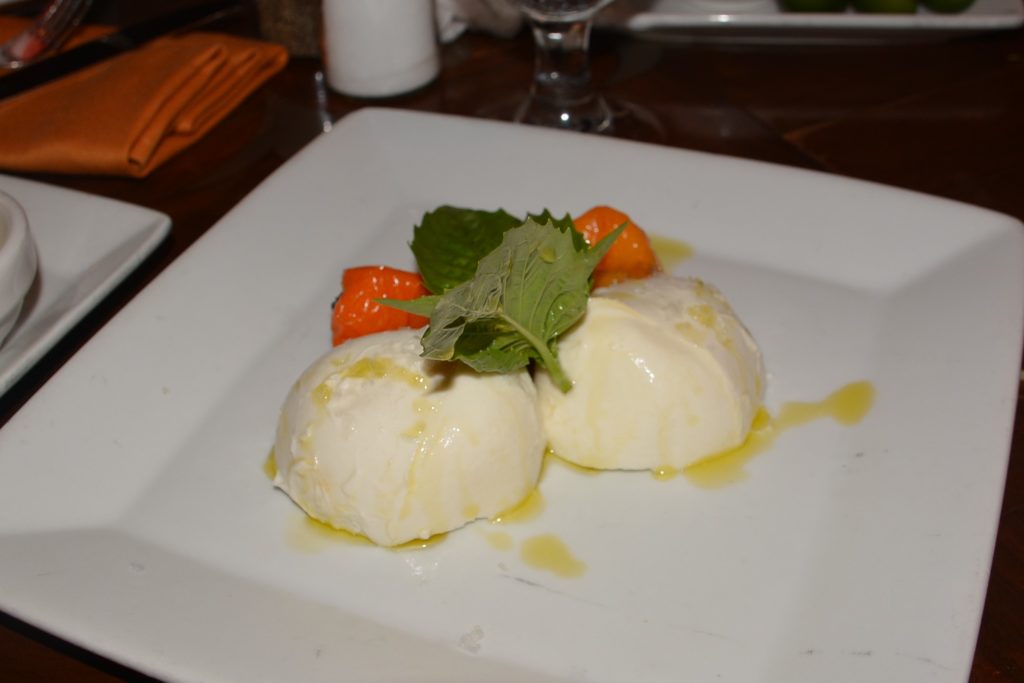 Next up, the main course! While the girls nibbled on mouth watering chicken fingers and veggies, my Penne Caprese was delivered. Rice pasta with pomodoro sauce and burrata cheese, a regular for me now from Tutto Gusto but always a winner. I'm a creature of habit and tend to stick with what I know and love, and this I know and love. The pasta is always cooked to perfection and lathered in the most flavorful pomodoro sauce, and don't get me started on the creamy burrata cheese on top.
Last but not least, dessert time! In the past at Tutto Gusto we've shared a chocolate and cherry panna cotta that was always my favorite. This time around they marked a different and somewhat surprised dessert option as gluten free. A vanilla and chocolate panna cotta with fresh strawberry compote and crumbled cookies on top, in it's original version was gluten free! The cookies on top were actually almond-hazelnut meringue cookies which happened to be gluten free but after my first bite, I hesitantly waved the manager over for some questioning. After all, how often can us gluten free vacationers get cookie topping on our desserts? But sure enough these were gluten free cookies for certain which added the perfect crunch to one of my favorite desserts!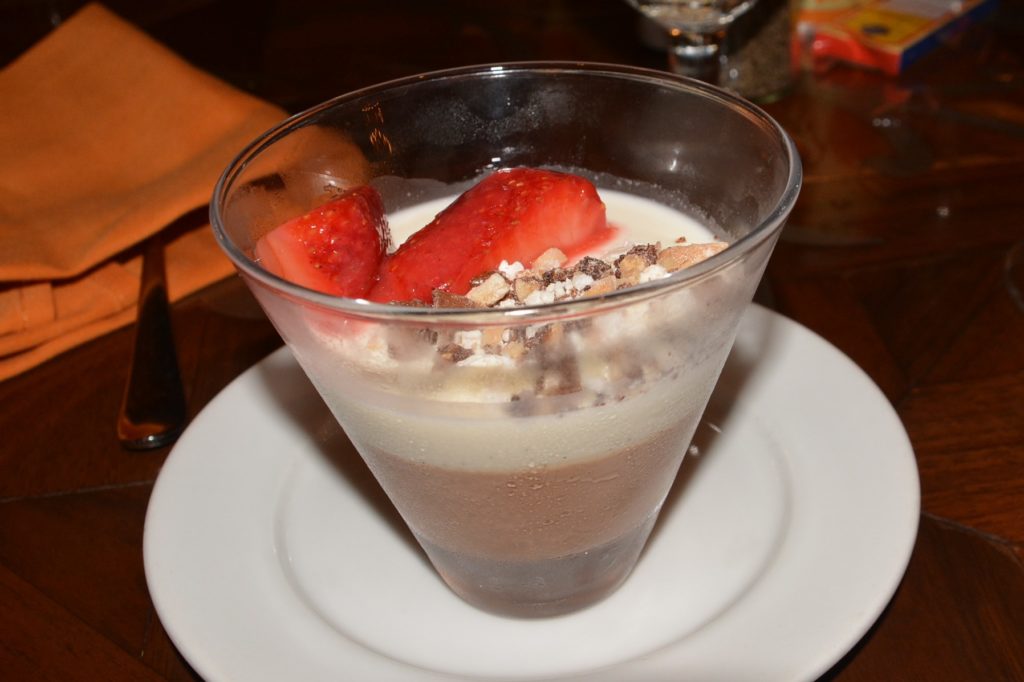 All together this was an amazing day of gluten free sweets and eats thanks to Epcot and it's always wonderful Flower and Garden and Tutto Italia's gluten free menu! Thankfully with our slightly longer trip we got to enjoy all of it that much longer and managed another whole Epcot day along with some nights here and there!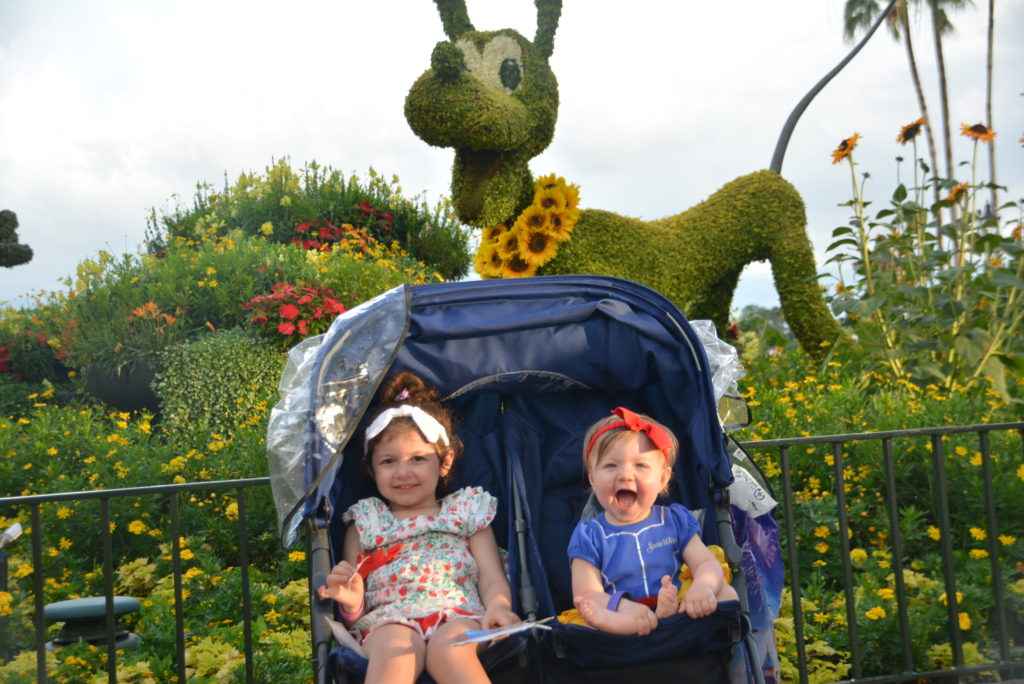 Every trip I look back at our pictures in the weeks and months that follow, counting down the moments until we can return to Disney. And when I see these faces, these expressions make us want to keep going back. We're making memories, all four of us. So thank you Disney for another wonderful day at Epcot, and stay tuned for more Disney fun!
Sincerely,
Lindsay