Finally fourteen months and one more little girl later we returned to Disney World. Not only was this our baby girl's first trip to Disney but also our first vaca as a family of four aka Dan and my first vacation with two very small little girls. With disposable bottles, squeezable baby foods, containers of formula, and diapers, diapers, diapers all packed in every nook and cranny of our suitcases, we were off early and driving, shuttling, flying, and busing to Disney!
The flying part of any vacation is probably the part I worry the most about, flying wise and in general with small kids. We've traveled quite a bit with our first daughter and some flights have certainly been rougher than others, so for this one we weren't really sure what to expect from our newest flyer. So I packed my Disney backpack aka diaper bag aka snack cooler aka Mommy's a pack mule for her little girls and we buckled up for that sometimes very long 2 1/2 hour flight. For baby I made sure we had plenty of nibblers from dried fruit and puffs to gold fish and yogurt melts along with the essential bottle for taking off. And then there were the not so small and not so easy to pack baby toys which were overflowing out of the backpack, and yes all of them were played with since a crawling baby only likes sitting for two minutes not two hours. But with her sister occupied beside her eating her bagel while coloring, playing a PBS kids game on the ipad, or watching a Disney favorite, our baby managed to have a cat nip for the first bit leaving the last half with Mommy and Daddy playing pass the potato. But 2 1/2 hours later and we landed in sunny and humid, I mean really humid, Florida!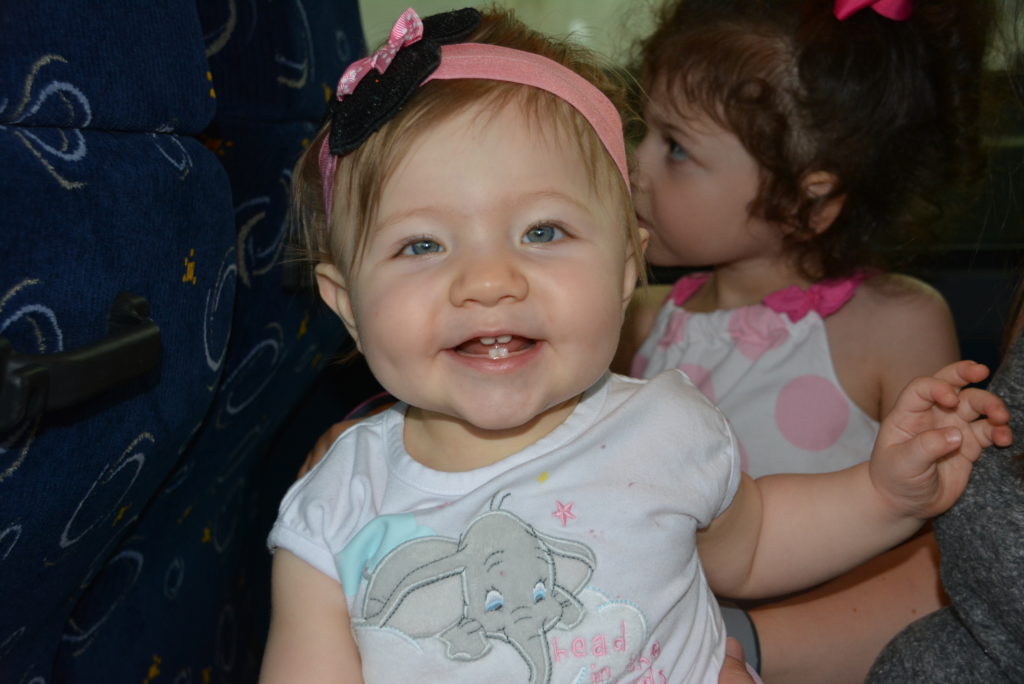 A grueling 15 minutes later of repetitive "Mommy are we here yet?" while the pilot slowly parked and everyone disembarked ahead of us, we were finally free! With two girls changed into summer Disney gear and plopped in the double stroller (which was such a blessing!), we headed straight for the Magical Express. Nothing beats catching your first glimpses of Disney at Orlando's airport, checking in with your magic band, and your girls getting their first princess greetings, you know the fun is just beginning!
During the final leg to Disney, the anticipation was a little too much for our toddler who fell asleep during the intro videos aboard the Magical Express. But not her little sister who's tiny cat nap seemed enough to beat that early morning wake up call, for now at least. Once we arrived at our home away from home for the week, the Polynesian Villas, our toddler woke without too much trouble, especially once she got her special flower necklace, which she wore proudly for the days ahead.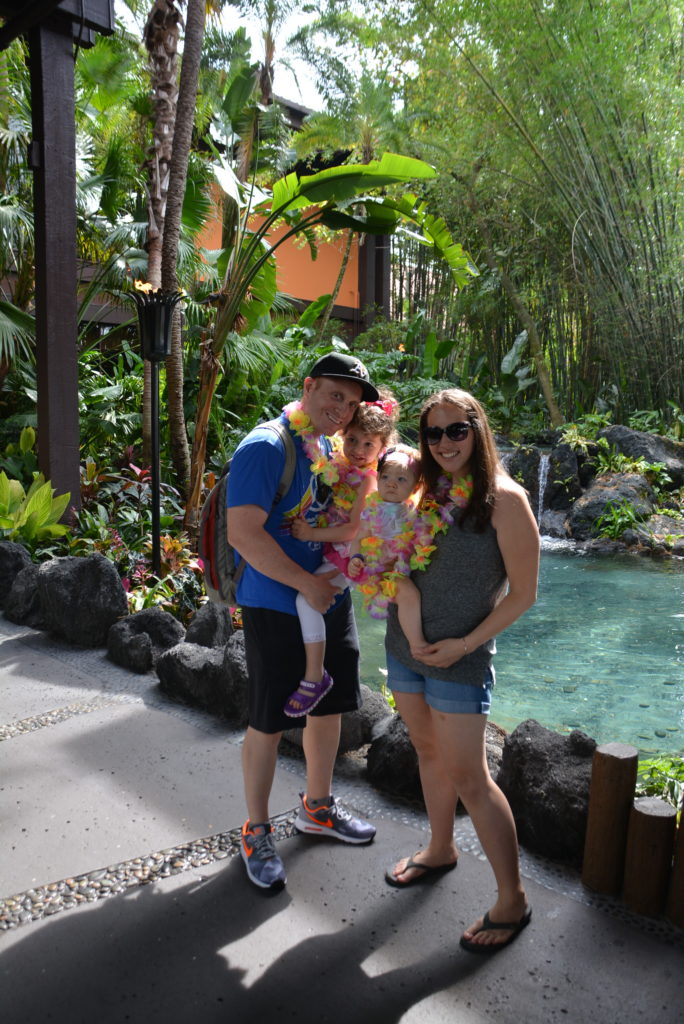 We checked in and took a little walk around our new hotel. We normally stay at the Wilderness Lodge which is by far our favorite Disney home but as our first vaca with DVC we opted for a special treat and decided to try the Polynesian. It was gorgeous and a wonderful change, but I'll spend a whole post just reviewing the hotel later! So after our toddler took in the tiki man in the lobby and Minnie dressed in her hula skirt in the hall we headed straight to Magic Kingdom via the monorail. We were there in no time and soon enough standing on Main Street staring straight at the castle.
I remember a few years ago on our toddler's first Disney trip when we finally made it to Magic Kingdom she had just fallen asleep after our long morning of travel. So the fact that her little sister was awake, a little hot and blinky from the bright sun, but taking it all in was really special. She couldn't get enough of the hustle bustle but her favorite were the Mickey balloons flying above her, someone is just like her sister. So a Mickey balloon for two it was, red was the choice this year and our toddler even got to play the role of a coveted Disney Balloon Cast Member for a minute!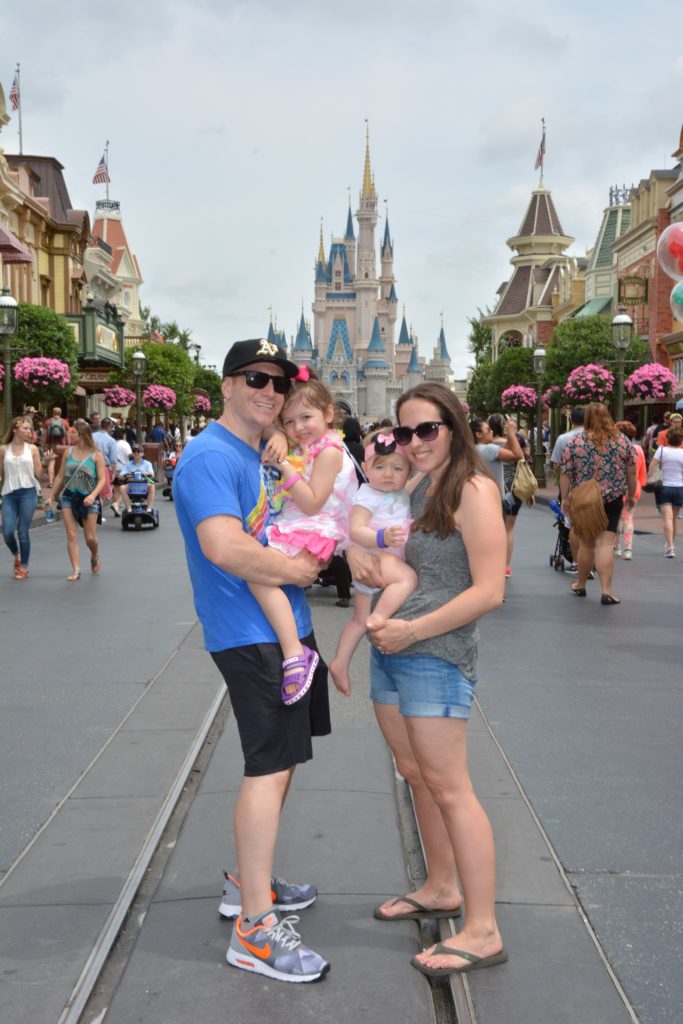 Balloon split between four tiny hands, we headed off for our first rides and lunch. Small World, Peter Pan, Cinderella's Carousel, are always top on the list of firsts and for a certain tiny little girl these I'm sure will become favorites like they are for her sister. Finally it was time for our first Disney meal, a Mickey pretzel and fresh fruit of course for the girls and a turkey leg for this Mommy and Daddy. This is by far one of our favorite lunches at Magic Kingdom, a Frontierland favorite and conveniently located next to the Mickey pretzels! Smoked turkey meat that fills any starving vacationer for their afternoon of fun, absolutely delicious! The only downside are the carnivorous tall, skinny birds that you see lurking around Frontierland, well they just so happen to love turkey legs and aren't shy about it. Their presence wasn't exactly welcomed with our toddler who literally fell off her seat trying to escape them, thankfully Mommy and Daddy were there to protect her.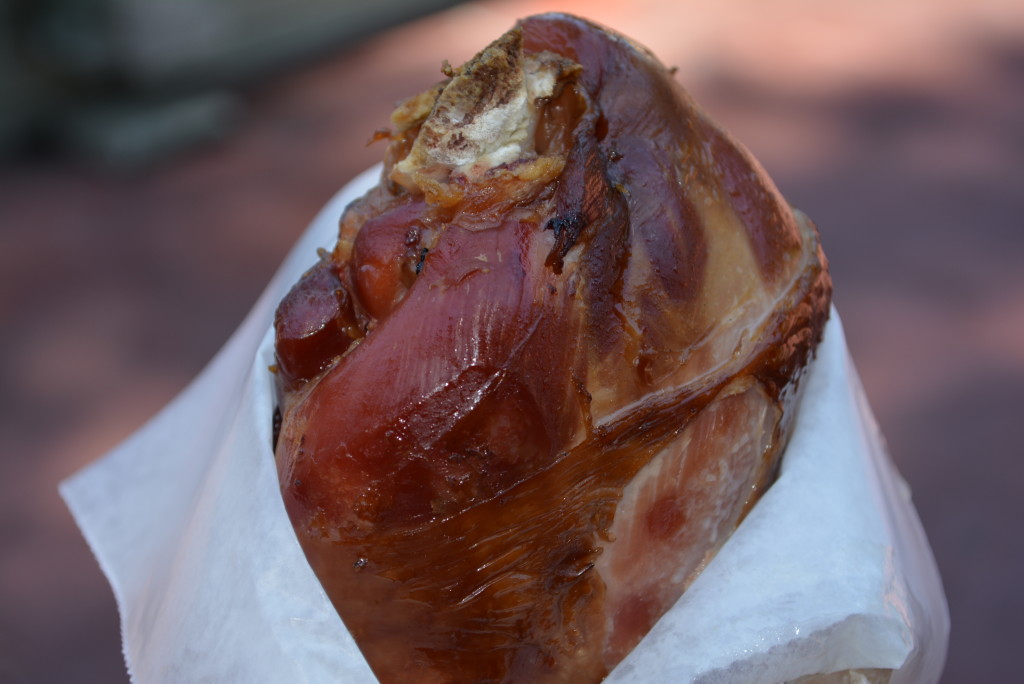 We decided pre-vacation to take the first day pretty easy and call it an early one, with no dinner reservations. In the past we've all been too exhausted, mainly the miniature, to really enjoy a meal so we figured short and sweet this time would be the way to go, absolutely right decision. We enjoyed an afternoon of rides at the park before we got caught in a massive downpour and headed back to the Polynesian. Once the monorail brought us back home we stopped into Captain Cook's for a "quick dinner," which thanks to the rain made the wait for dinner a little lengthier than we wanted. But after speaking to the chef I was able to enjoy a sandwich, nothing spectacular, but just enough so we could call it an early night in our Tokelau suite!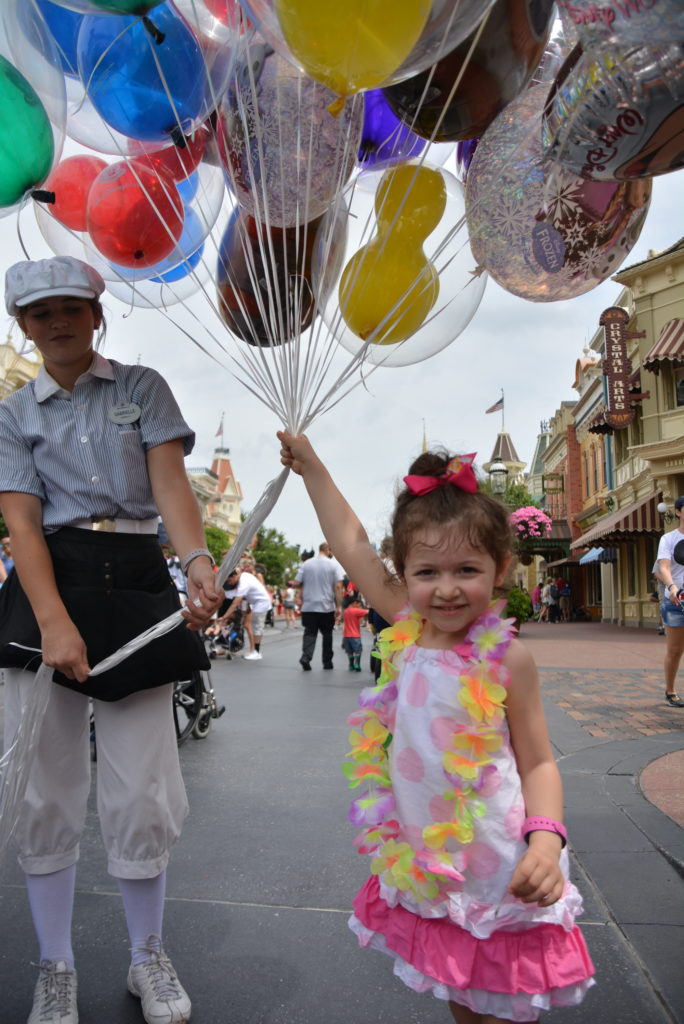 Stay tuned for more Disney fun and gluten free deliciousness from our 2016 Disney Vacation!
Sincerely,
Lindsay