We're on the mend! Okay so maybe it's naive of me but I used to be of the mind, or maybe it was just my positive thinking, that sickies were usually a winter thing. I mean usually our worst colds come in the colder months so I guess statistically that's true. And sadly, I've got a science brain so I'm well aware of how germs work but I blame my false theory on the mommy brain takeover. So what's with all the sick talk? Well I'm unhappy to report that my girls have officially debunked my theory. That's right, on the eve of my baby girl's very first birthday the fever started and we knew we were in for a homebound birthday/week.
8 days, 2 sick girls, viruses, pnuemonia, and antibiotics later and we're at the eve of a belated birthday day. Tomorrow we'll pretend that it's the actually day she's turning one, presents and cake, the whole nine yards. Thankfully though, pre-sickness we had her big birthday party. I couldn't think of anything sweeter for my newest Disney daughter than a Dumbo party. After all, Dumbo just so happened to be one of her favorite rides on our Spring trip!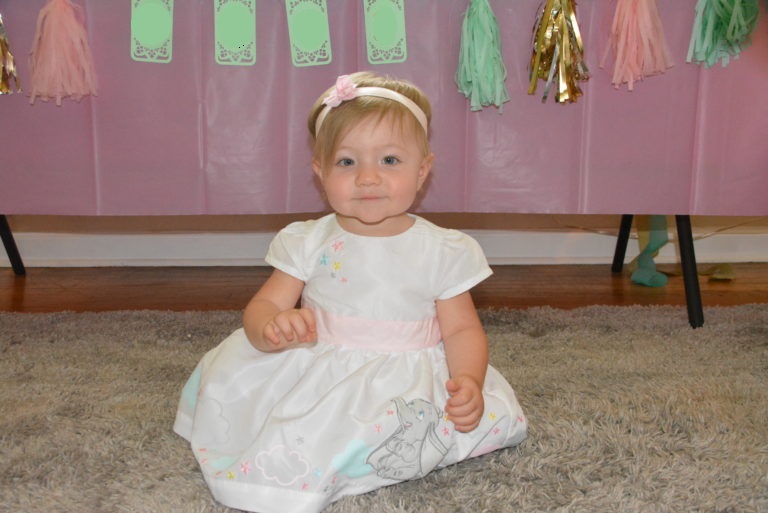 My baby's Dumbo festivities started with this adorable dress that we spotted in Disney. I couldn't resist and just knew it would be perfect for my sweet angel's special day. Once we got home and unpacked it was invitation time. I picked my favorite Disney picture of my baby and created an adorable Dumbo Disney postcard, topped off with a Fantasyland address and personalized Baby of Mine wording!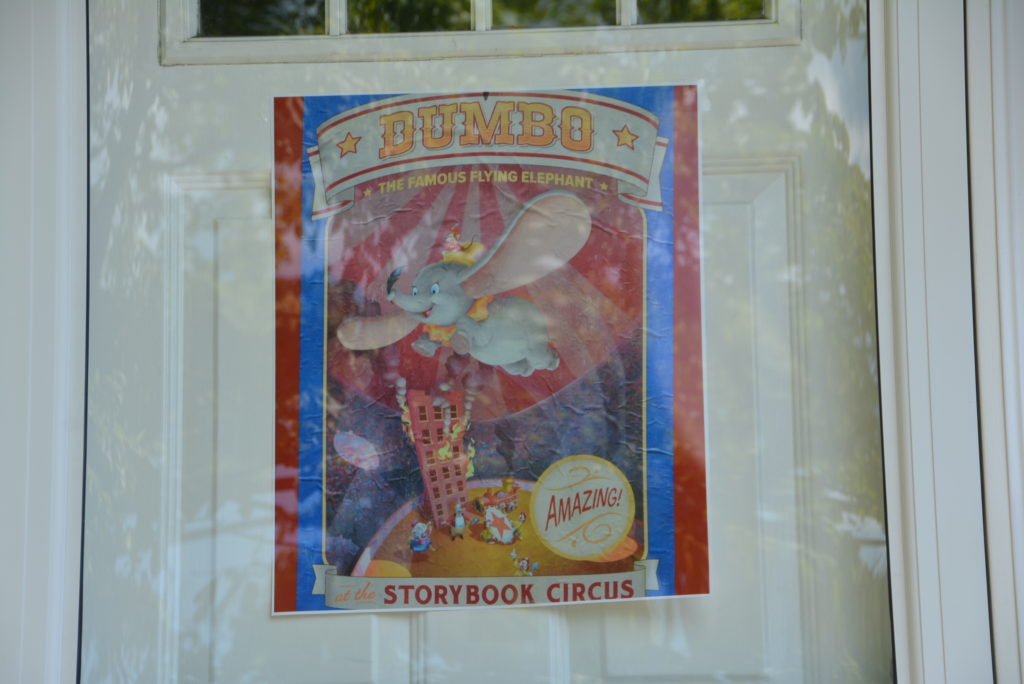 And finally the big day arrived. With tons of pink, mint green, and gold balloons and streamers we decided to go crazy decorating inside and out, after all our house is filled with winter birthdays so we really took advantage of her summer one. I also managed to find two adorable Dumbo prints to add. This top one is the ride poster from Disney that I enlarged and used to welcome everyone. The baby Dumbo we used for one of the games for the older kids, Pin the Feather on the Dumbo! So cute and our toddler and her cousins had the best time playing!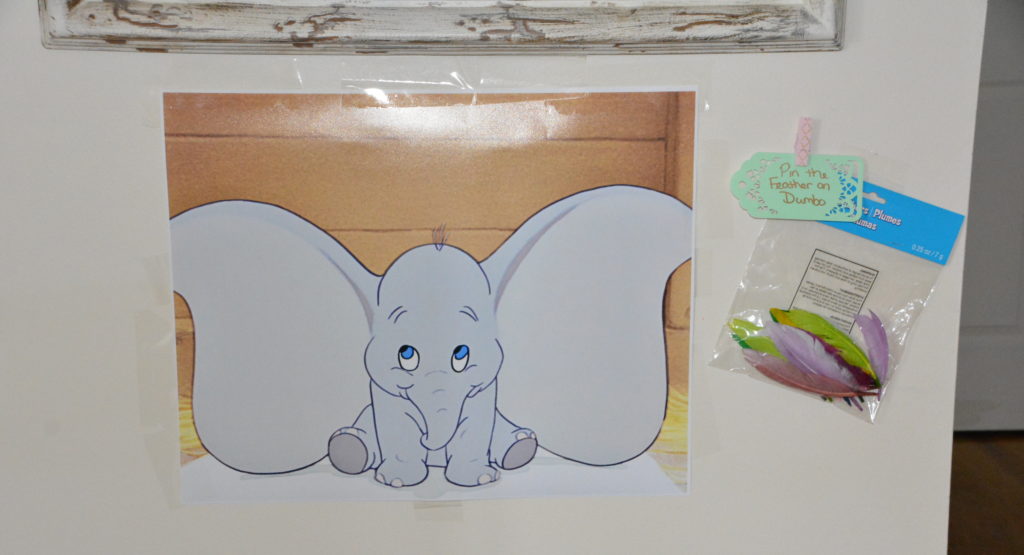 Thanks to a very special Nanny, we used a sweet nursery decoration with Dumbo and a circus tent to decorate our patio table, along with a basket full of water balloons. Between the water balloons and our new sprinkler the kids definitely had a great time, even the birthday girl who got a tiny toe or two wet in the sprinkler!
Back inside I had the party table all set up with sweets and treats galore, topped off with handmade birthday banners, balloons, and streamers draped to look like a circus tent. Meanwhile outside it was cookout central, hamburgers, hot dogs, watermelon, and deviled eggs, everything a good cookout/circus party might need.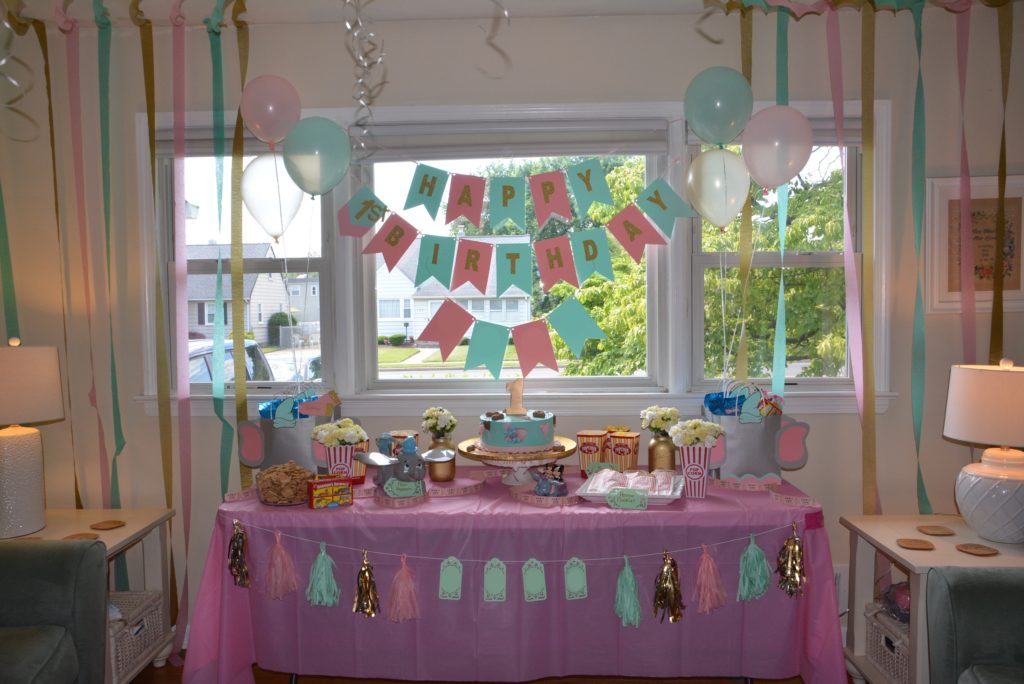 That husband of mine pitched in too and did a fabulous job with the streamers! Looked so good, just like the circus tent!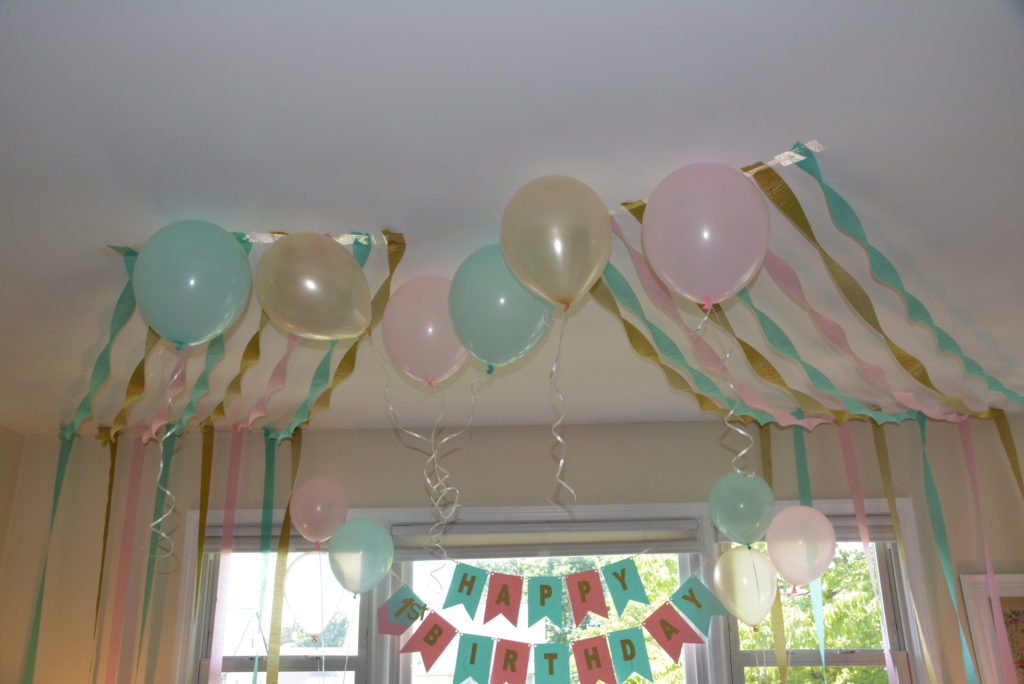 And yet again Classic Cake Company did a wonderful job with her birthday cake! A pink hat Dumbo right in the front with Pink and gold Mickey balloons all around, a pink ruffle at the base, gold one on top, and can't forget the peanuts all around. It was beautiful and I can imagine delicious, judging by her adorable cake face!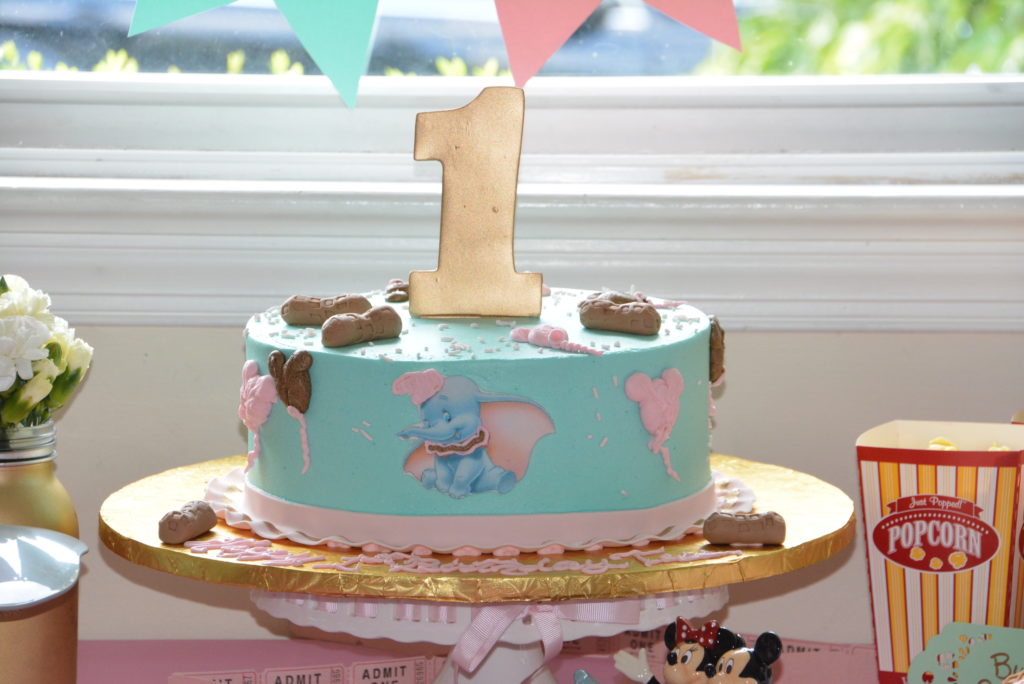 I picked up some popcorn containers that reminded of Disney Park originals, some hot roasted peanut bags stuffed with nutter butter cookies, and popcorn containers and gold mason jars that I filled with white and soft yellow carnations all clustered together to look like popcorn. A special touch was the Mickey and Minnie Dumbo salt and pepper shaker along with the pink tickets weaved throughout the table.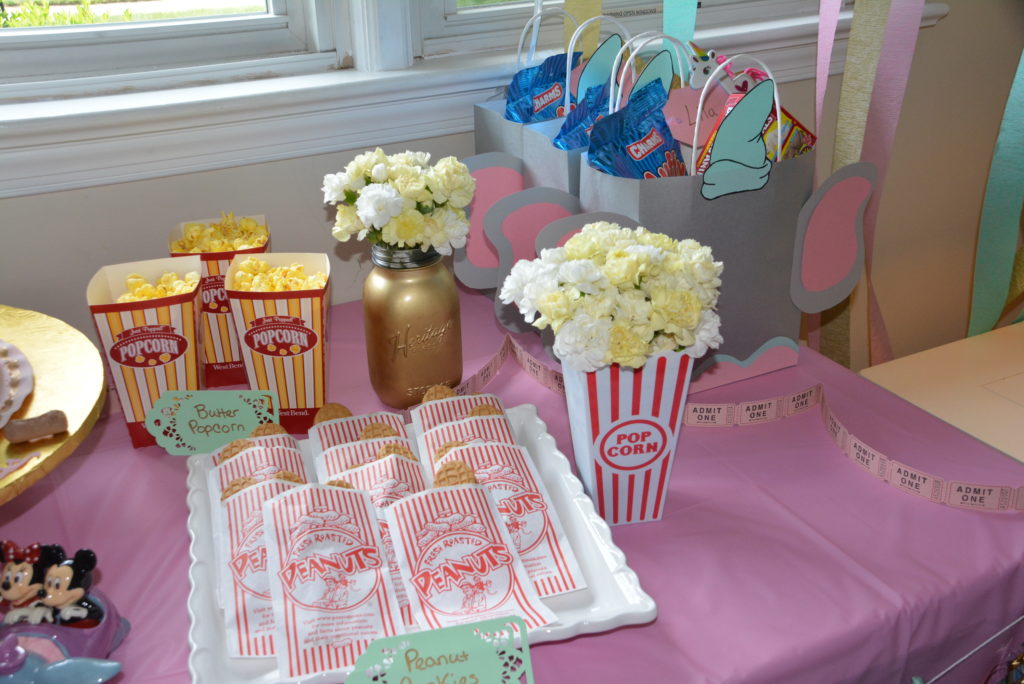 And one of my favorite additions was the Dumbo popcorn container straight from Disney, doesn't get anymore Disney Dumbo than that. With allergy friendly popcorn and animal crackers, even my nephew with food allergies had something to munch on. But I left one more surprise for him in these homemade Dumbo gift bags.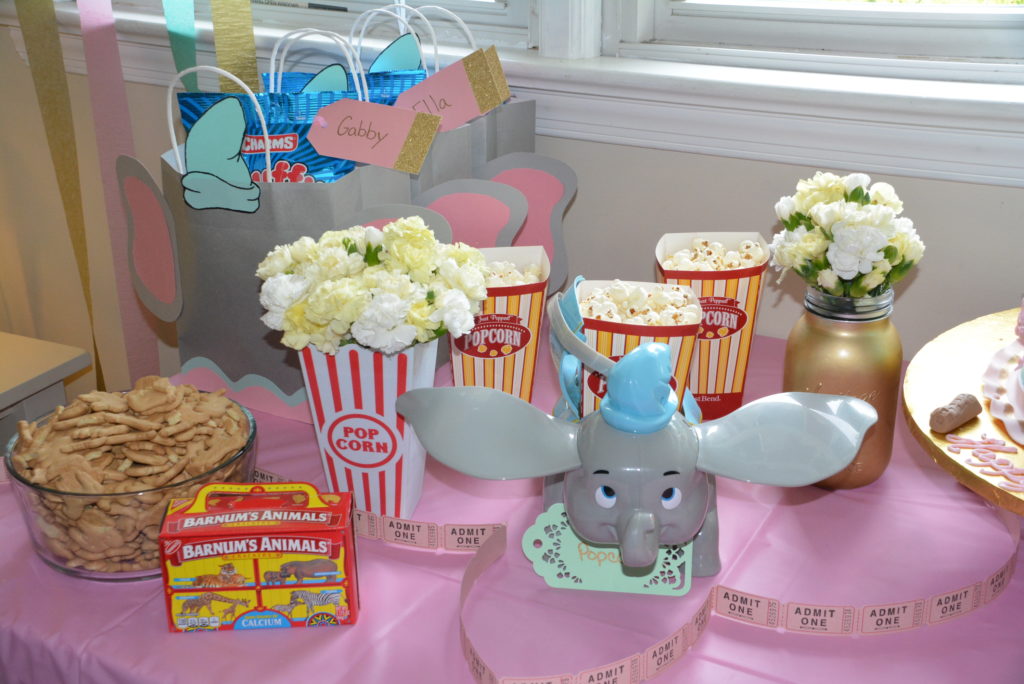 With gray/silver gift bags and lots of pink, mint green, and gray scrapbook paper, I spent a few nap times putting together these adorable treats bags that, if I don't say so myself, scream Dumbo. And my favorite are the hats which I drew myself! Small step for many but giant leap for this non-artsy sister out of my siblings. I decided to stuff them with a giant bag of Charms cotton candy and classic boxes of animal crackers, both allergy friendly for all!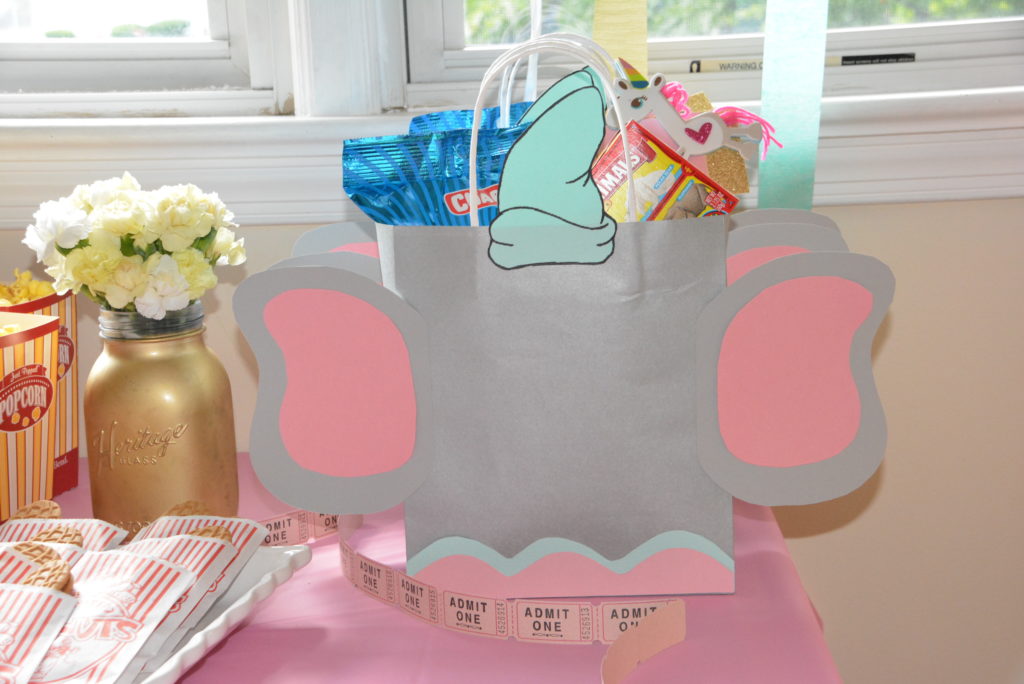 Decorations, Dumbo music, and treats aside, look at this beautiful smile. Nothing beats seeing your adorable little baby with a grin ear to ear in her very own set of Minnie ears! Nothing beats watching your baby turn 1 with family around us that love her just as much as we do! It was a beautiful day and I'm so blessed to have this beautiful little girl in my life!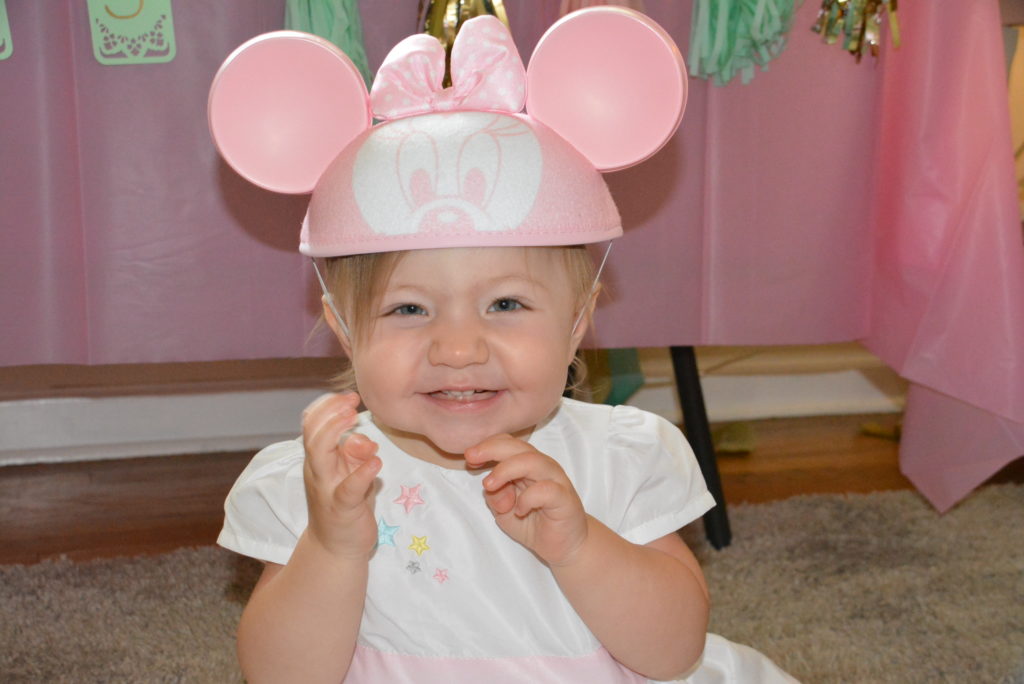 Sincerely,
Lindsay