A Disney vacation for us wouldn't be complete with at least one character experience. While our little girl loves many a character, by far her favorites are Mickey and his friends. So without hesitation, we signed up for an early breakfast at Chef Mickey's on our last full day of our vacation. We've dined here once before with little one when we were in Disney for Halloween and she loved it then so we could only imagine now almost a year later what her reaction may be.
The only tough part about having an early breakfast reservation at a Disney resort is the act of actually getting there. Since we stayed at Art of Animation this time around we didn't have access to the boat to drop us off at the Contemporary, so for our 7:00 breakfast reservation our only option was to catch the earliest bus to Magic Kingdom, which was at 6:45. They dropped us off at Magic Kingdom where we then had to hike over to the Contemporary, making us a little late for our reservation. I'm guessing that we're not the only ones that have ever had that happen, since they weren't really phased by our tardiness. Still though, they should have a better system for getting guests to their early breakfast reservations.
Nonetheless, we arrived to our reservation, a little late, but we got there safe and sound, one of us dressed in her cutest Minnie dress. We waited only a few minutes before we were seated at one of the last tables in the first dining room. The chef immediately joined us and offered to escort me around the buffet to review my gluten free options. Knowing that I wouldn't actually be daring enough to eat anything off of the buffet line I decided to save us both the time and just put in my order with him right away. I love Chef Mickey's cheesy shredded hashbrown so that was a given, I also went with some eggs and extra crispy bacon too, and no Disney breakfast is complete without gluten free Mickey waffles and some fresh fruit. And as simple as that, my order was placed and Dan was up filling some plates for he and our little one.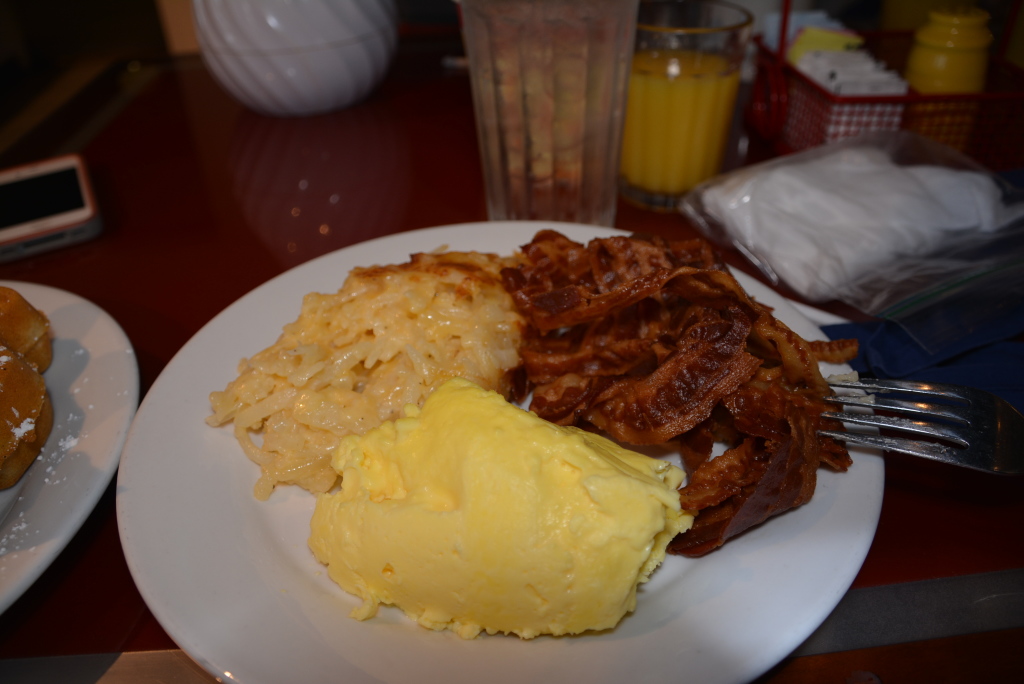 I was busy cutting up Lila's plate of food when my plates had arrived. Wow, that's all I have to say, a lot of food for little old me. I knew that I wouldn't touch even half of this amount of food, especially given the amount of distraction at this meal, but I had to at least try everything I wanted. Only a few bites into breakfast and the first of the characters began to circulate. Our little girl's eyes grew ten sizes as she didn't take her eyes off Goofy the entire time he walked around the room, only taking pauses to nibble at her food. And finally the moment arrived for her to meet her first character. I sprung her from her highchair and she ran up to him giving him a huge hug, a moment that makes our hearts melt for sure. She continued the same greeting with each of the characters, making Dan and I so thankful that we were able to bring her to Disney again.
Now the food itself was delicious, just as wonderful as I had remembered from months before. The hashbrown is always my favorite here, they remind me of a gluten filled hashbrown casserole that I used to enjoy at Cracker Barrel, a country style restaurant that we used to go to when I was younger. They're the shredded potatoes that I love, coated with a cheesy sauce, can't get better than that. The Mickey waffles I honestly can say I barely got a chance to enjoy as my little girl caught one glance and adopted half of my plate. But what I did taste was amazing! Besides being adorable, being gluten free didn't impact their taste and texture at all. They're beautiful aren't they!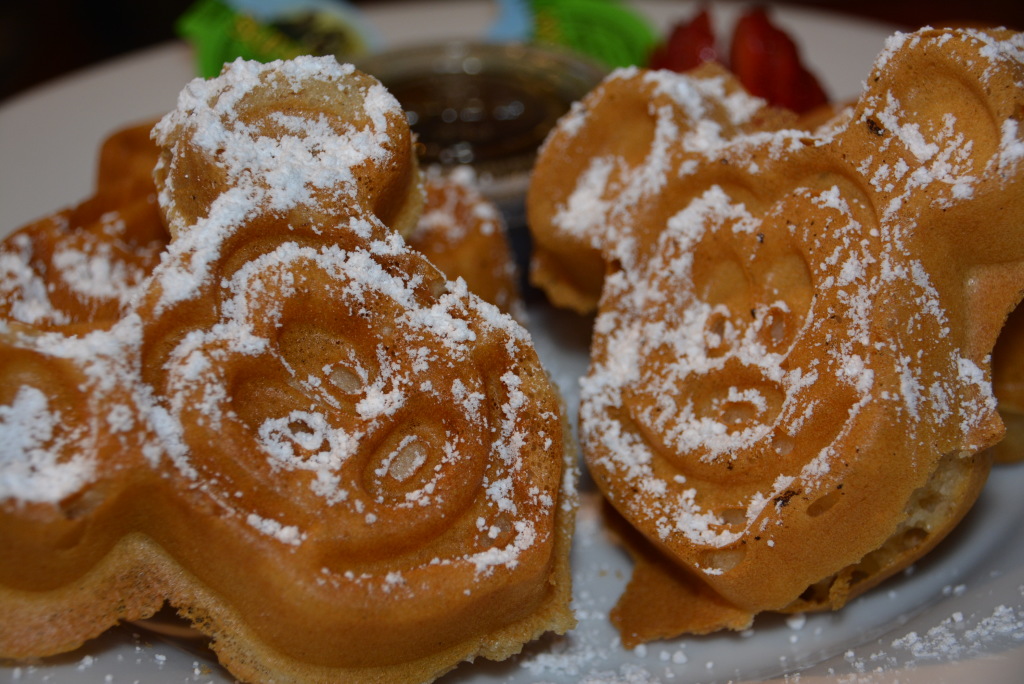 It was a wonderful start to our last full day of vacation and as you can see our little one was all smiles as we were leaving. We headed out to catch the monorail to head over to Magic Kingdom. We had some big plans for our last full day from meeting Ariel to enjoying the splash zone over by Dumbo, a surprise for little one that we thought she'd really enjoy, all ending with dinner at Kona Cafe and the electrical parade.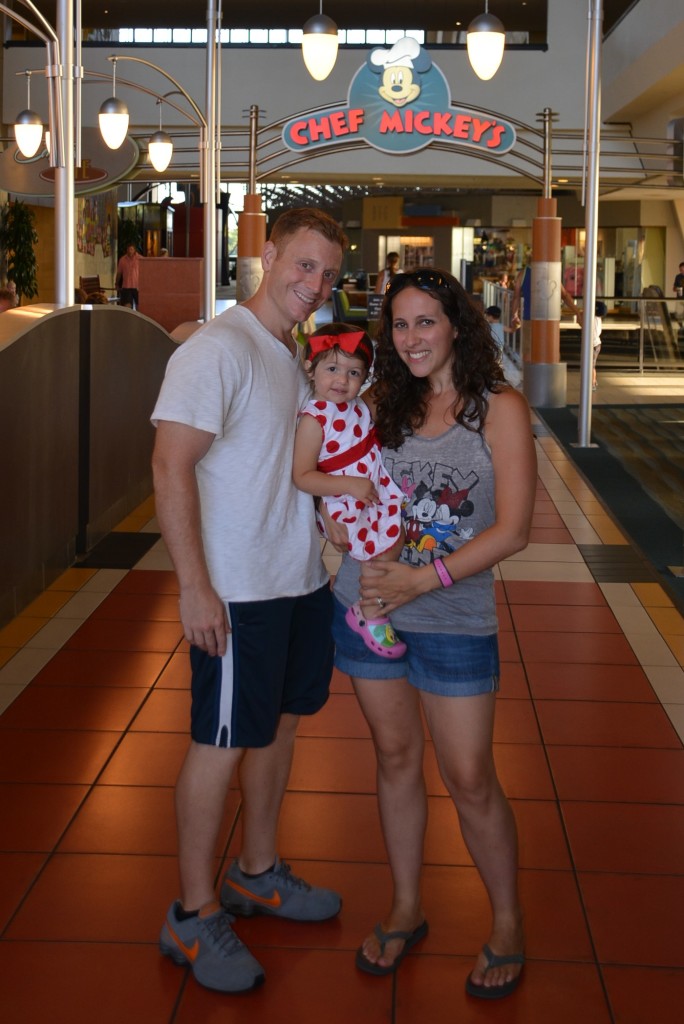 The monorail took a bit longer then we had planned, so we missed park opening but with fastpasses in hand we headed straight back to begin our long day in Magic Kingdom. That morning we explored every bit of Fantasyland from Ariel and Dumbo to Peter Pan and the carousel. To escape some of the heat we even headed into Gaston's Tavern to enjoy some cool air and a snack too. No, sadly the giant cinnamon buns are not gluten free but their specialty drink, Lefou's brew, is. So it was one Lefou's brew for each of us, mine I'd be splitting with little one. It was pretty tasty, a cold apple flavored slushy with hints of marshmallow and topped with a passion fruit foam. The marshmallow was a bit strange for me but I did definitely like the combination of the apple slushy and passion fruit foam which was a bit sour. All together it was a pretty good treat, just nice to enjoy something gluten free while everyone else around you is digging into the Mount Everest of cinnamon buns.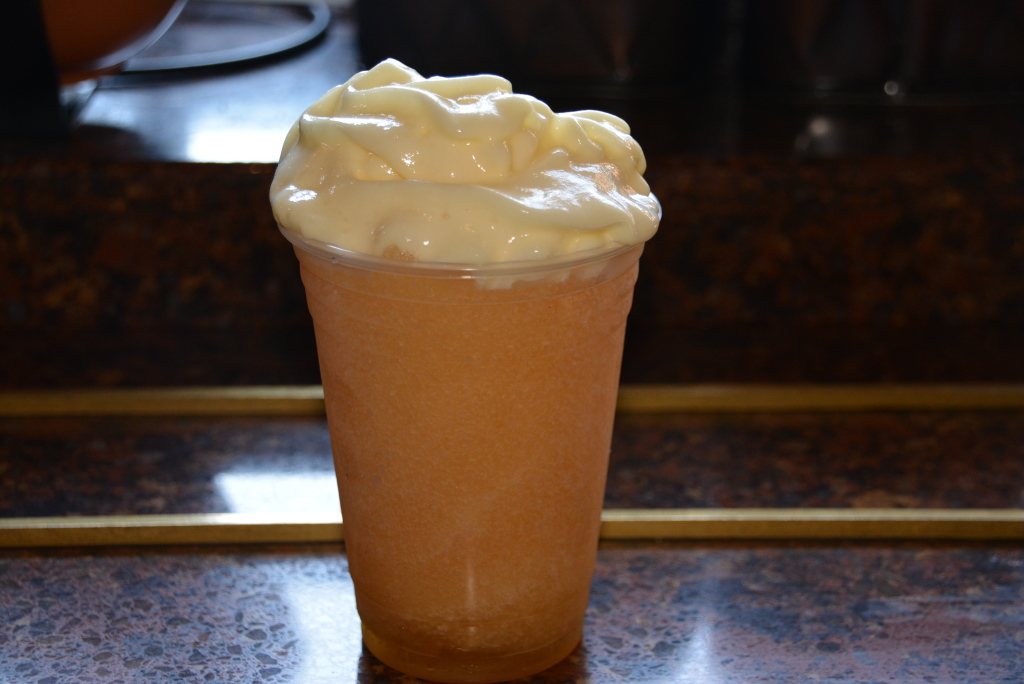 The rest of our time in Magic Kingdom, before heading to dinner, we let our little girl enjoy the splash zone over by Dumbo. She loved the water shooting out from the circus cars and who wouldn't, seeing as the heat index was well over 100 that day. Being soaked from head to toe didn't bother her as we hopped on the train to take a relaxing tour around the park. Once we were brought back to Fantasyland we headed up to the front of the park to shop a bit before dinner while our little girl enjoyed her nap time.
Dinner that night we were super excited about seeing as we were revisiting Kona Cafe, where we had one of our favorite meals the trip before. We arrived a bit early but took advantage of the cool air and peace and quiet while our little girl was sleeping. Soon enough, we were all awake and being seated for dinner. It took awhile this time for the chef to come out to take my dinner order but I successfully placed my order for the gluten free noodle dish with chicken. Meanwhile, Dan ordered his sushi and it was Mickey shaped ravioli, and not to mention the deliciously sweet Hawaiian bread, on the menu that night for our little girl.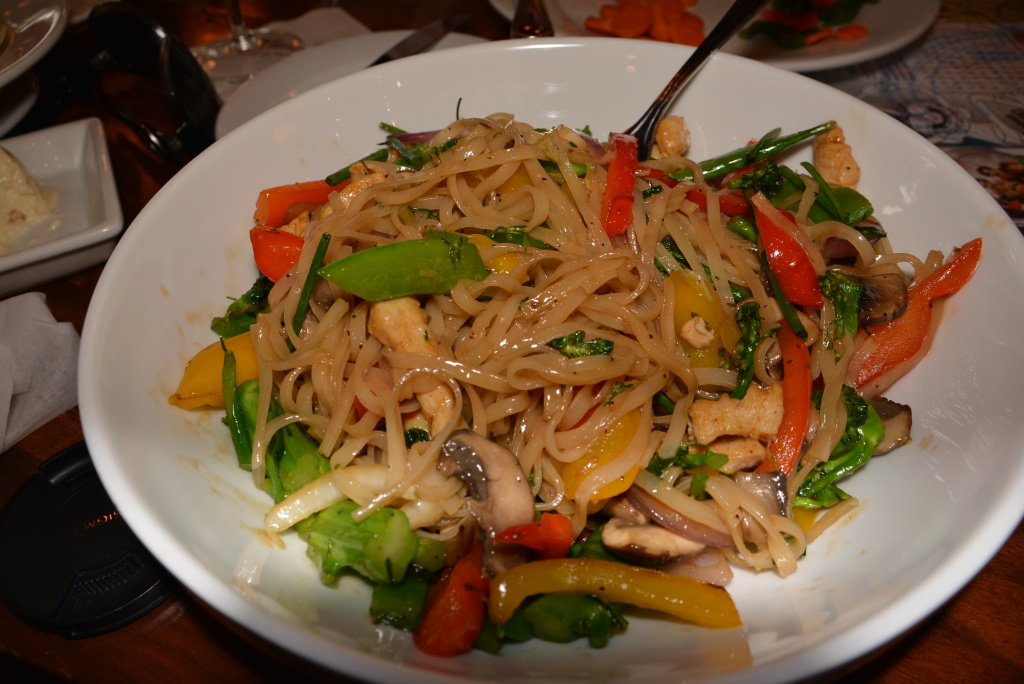 Our meals had arrived and not a peep was heard around the table, except for the occasional excited declaration of Mickey being on little one's plate. The Mickey raviolis were a hit for sure, definitely a dinner item that I wish we could get at home. My gluten free noodle dish though was by far one of my favorite meals from that trip, in all honesty it was one of the only nights that I wasn't feeling sick at dinner, but putting that aside, it was the only dinner that I wished I knew how to make at home so I can enjoy it more often. The flavors are just amazing and remind me fondly of the days when I could enjoy a warm bowl of lo mein. Rice noodles and fresh veggies, some still with a little crunch, slathered with a delicious gluten free terriyaki sauce of sorts made me one happy gluten free Mommy.
With our last dinner coming to a close and the end of our vacation drawing near, we couldn't help but look back at the past week with sadness. As always, the vacation flew by much faster than we had hoped. It was a bit more eventful in the health department than we had wished for but that's life, you just have to roll with what life gives you sometimes. All together it was a wonderful Disney vacation, that ended with a great electrical parade that night with a couple of characters stopping by to say hi to our little one and a full morning the next day in Magic Kingdom to enjoy some last moments on our favorite rides. I'm still holding out hope that our next Disney vacation we won't have to order a prescription, retreat to the hotel room for recovery, or make an impromptu visit to the urgent care center. We're not sure when we'll be back for our next Disney vacation but my fingers, toes, and everything that can be crossed will be crossed, along with many a prayer, for a completely healthy vacation. For now, we'll be dreaming of our next days in Disney and all of the memories that they will bring.
Have A Magical Day,
Lindsay