There's nothing worse than a nagging craving that you can't fulfill, especially while pregnant. While living a gluten free pregnancy, this is bound to happen. There were many days during my pregnancy that I couldn't stop thinking about eating a donut, especially the chocolate frosted and sprinkled kind from Dunkin Donuts. Much to my dismay, these donuts are full of gluten and totally off limits in my diet. After scouring food stores and searching online I did find several brands of gluten free donuts, unfortunately after trying them I learned they didn't resemble a regular donut in neither price nor texture and taste.
After a quick trip to a local health food store I stumbled upon the holy grail of gf donuts. The brand to which I'm referring is Katz Gluten Free. You'll soon learn that this is truly one of my favorite brands of gf products. In fact, their site boasts that they accommodate to a number of food allergies so if you face any other dietary restrictions you might just be in luck. While they are known for producing a number of products, today I'll highlight the donut.
My personal favorite, that I purchased first, was the chocolate frosted donuts. I literally was in heaven when I took my first bite and I certainly was a happy mommy-to-be. They are a perfectly textured cake donut, not too dense and not too crumbly, very reminiscent of Entenmann's donuts.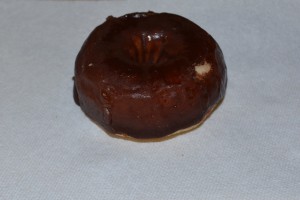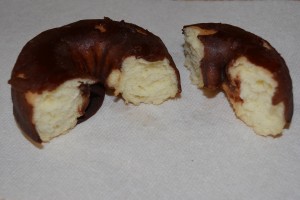 Katz donut selection certainly does not disappoint ranging from glazed to custard filled. Each variety is as delicious as their non-gluten free competitor. Take a look here to browse their entire selection and pick out which ones you'd like to try, you won't be disappointed!
Most of their products, including the donuts, are stored in the freezer, and can be kept upwards near 10 months. The best method to prepare the donuts is to thaw them at room temperature; it doesn't take long at all for these to become soft enough to eat. I would recommend to take one out of the freezer when you first get up in the morning, leave it out at room temperature while you get ready, and by the time you're done you're morning prep it would be perfect (if you prefer a warmed donut, you can always zap it for a few seconds in the microwave at this point). If you're in a hurry and you forget to defrost one you can certainly try microwaving, however you want to be very careful as these heat up very quickly with very little heating, and especially those with frosting as they'll melt completely. I would say to microwave between 5 and 10 seconds to start and see how tender it is at that point and go from there.
Price wise, Katz products are definitely comparable if not cheaper than a majority of the other brands that offer gluten free donuts. Depending on variety, Katz donuts will end up costing anywhere between $4.49 to $6.99 per box. The chocolate frosted that are my favorite cost $6.99 for a box of six.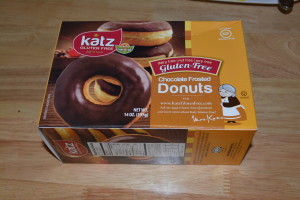 Depending on location, Katz products can be hard to find in store though. In my area, I have only been able to find them in a local, privately owned health food shop. That being said though, you can always order online from their entire stock of products with an affordable standard flat rate shipping fee of $7.99. Also, they even offer a sample package for free with a promo code to first time customers which contains several types of breads and pastries, all for only the price of shipping, if you're interested check it out here!
TIP: Katz offers deals very frequently on their products so sign up for their newsletter today here and you'll surely receive an offer that's too good to pass up!
Sincerely,
Lindsay