After nearly three years of eating gluten free, I have finally found a completely gluten free restaurant where I could dine worry free of being "glutened". The hidden gem I'm referring to is Wildflour Bakery/Cafe in Lawrenceville, NJ, home to a number of tasty gluten free pastries as well as a full service breakfast and lunch menu.
After a potential gluten incident on Valentine's Day, my husband suggested a lunch at the Wildflour Bakery/Cafe. I was so excited to try out the newly advertised restaurant and eat worry free. With little one in tow we enjoyed one of the most relaxing lunches I've had in quite some time. I started off with the Pink Smoothie with strawberries, bananas, almond milk, orange juice, and agave.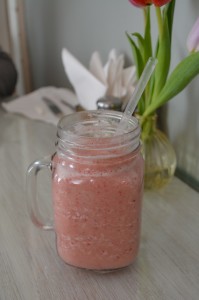 Next up, I ordered the special which was an open faced sandwich made with their homemade baguette topped with eggplant spread and a little bit of mozzarella cheese. Along with my sandwich came a small house salad of mixed greens dressed with their house vinegarette and a cup of the sweet potato bisque soup. The bread was amazing and the eggplant spread was quite tasty too! One thing I have noticed in the past is that many gluten free breads tend to almost disintegrate when used in sandwiches, this one certainly surpassed this standard. It maintained it's form as a baguette without falling apart and without getting soggy. It was delicious! Another item that I've never been able to order at a restaurant is soup as many of them do contain a source of gluten. The sweet potato bisque certainly was a welcomed surprise and hit the spot!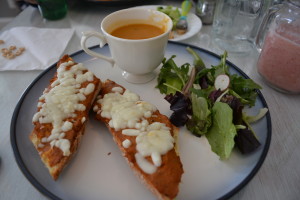 My husband decided to order a bowl of the sweet potato bisque soup as well along with the grilled cheese sandwich which was served with a small salad. The orange sauce that you see on the side was a red pepper dipping sauce called muhammara. This was certainly as delicious as it looked (I tried a bite!). Dan is normally a "gluten eater" but has eaten his fair share of gluten free meals over the years, the least favorite of which has been our trials with breads, so he's a pretty tough critic in that area in particular. That being said, he loved it too! In fact, he even said that had he not known that the sandwich had been gluten free he would've thought that it had been made with his glutenful bread.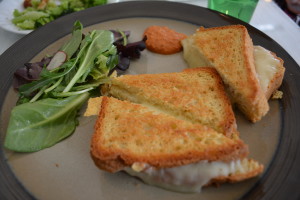 Our little girl had brought her own meal however certainly was eager to try one of the delectable desserts we eyed up when we walked in. Although we were quite full from our sandwiches, we ordered a couple treats to eat there and take with us for later. Little one picked out a chocolate chip cookie while Dan and I picked out the cranberry scone, brownie, and Brazilian cheese puff. My apologies but my daughter and I couldn't wait to dive into our desserts so no pictures there but I did include pictures of the brownie and cheese puff. The scone tasted amazing and the texture was perfection! Little one gobbled up half the cookie before I could even try a bite and boy were her tastebuds right, it was delicious! The brownie was very fudgy and reminded me more of a flourless chocolate cake than a brownie, but still quite tasty! Finally, one of the highlights of our meal was the Brazilian cheese puff which was incredibly light and fluffy, two words that do not typically describe a gluten free item.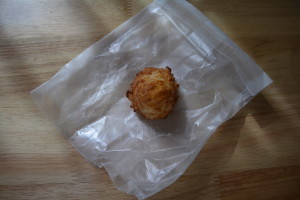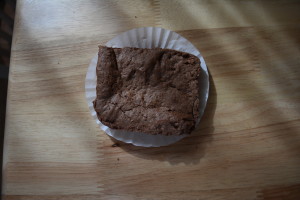 Wildflour Bakery/Cafe offers so much variety from sweet and savory crepes to special order cakes and breads and at such reasonable prices. To explore all of the options that they have to offer and menu pricing, here's a link to their menu. In addition to the amazing food options I should definitely mention that the staff was incredible, overwhelmingly welcoming and knowledgeable, truly going out of their way to make you feel comfortable and enjoy your experience.
It certainly was refreshing to stumble upon a restaurant that I felt welcomed by both the staff and the food. All in all, we all left with full bellies and I in particular with dreams of our return!
Sincerely,
Lindsay