As Fall has rolled in, so has the season of colds, flus, and apparently millions of new kinds of viruses too. Unfortunately my little family, freshly vaccinated for the flu I'd like to add, passed around one of those bugs for a week. Little one and my husband seemed to shake theirs but I haven't been so lucky. Just so happens that I have a lovely case of pneumonia from that nasty bug. Such a downer, especially seeing as Fall is one of my favorite seasons with all of the fun festivals and activities that my little one would just love. So despite the beautiful crisp Fall air that rolled in this past weekend in the Northeast, I spent the majority of it inside trying to get better.
Along with a sicky Mommy, come mediocre half home-cooked meals and lots of indoor play time. As far as play time is considered, little one has been a real trooper, but I can certainly tell her patience is beginning to wear thin so I'm going to have to be pretty creative with this week's indoor activities since I'm still under the weather. Food wise though, she's always my biggest fan so we haven't had too many disagreements on my quick meal choices.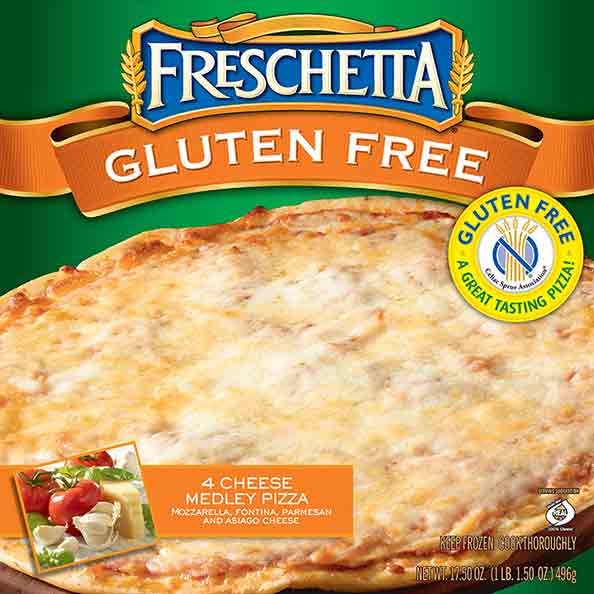 A few weeks ago, while we were at BJs picking up some family sized items, I spotted a two pack of the Freschetta gluten free pizzas for only $13.99, a great deal compared to the single pie price of $10.99 at Shop Rite. At that price I was sold, so we grabbed one package and stashed them in the freezer for a rainy day. Well, with me being so down and out lately I decided to whip out these pizzas and give them a try. Any meal that would save me a half hour on my feat of prep was a winner in my book, so it was pizza night over the weekend for our family.
After about 15 minutes of cooking, the pizzas were ready and boy did they smell delicious! First, I have to mention how big they are. These pizzas are easily the same full size of any other frozen pizza out there, a huge change from the other frozen, premade gluten free pizzas that are available only in a personal pan size. Now onto the pizza itself. The crust is super thin, soft and chewy in the middle and browned and crispy on the outside. And the sauce and cheese that tops it all is perfectly tasty, just as good as a pie from a restaurant I must say. Overall, this pizza is phenomenal! I still prefer making my own pizzas but for the price for the two pack and how delicious these are, it certainly does make me think twice.
I highly recommend snagging these Gluten Free Freschetta Pizzas! And if you can, grab them in a family size pack from your local BJs, Costco, or Sams Club to save yourself some money. Great job Freschetta and thank you for your fantastically tasty contribution to the gluten free community!
Sincerely,
Lindsay