It really is the most wonderful time of the year. I'm one of those people that cannot wait to hear the first Christmas songs on the radio and listens religiously to them until the holiday (and trust me I would totally listen past Christmas if the radio didn't all of the sudden turn them off after the 25th passes). I love everything about the holiday, the music, the decorations, the cooking and baking, but most of all, all of the family time. My family's holiday traditions are definitely some that I'm trying to pass on to our little girl and make a few new ones of our own too so she becomes just as much a Christmas lover as her mommy. This year our Christmas season has been a bit more hectic so the Gluten Free Mom To Be has been a little absent this past week but with holiday prep, a big birthday, and some family health problems, our plate has been a little fuller than usual.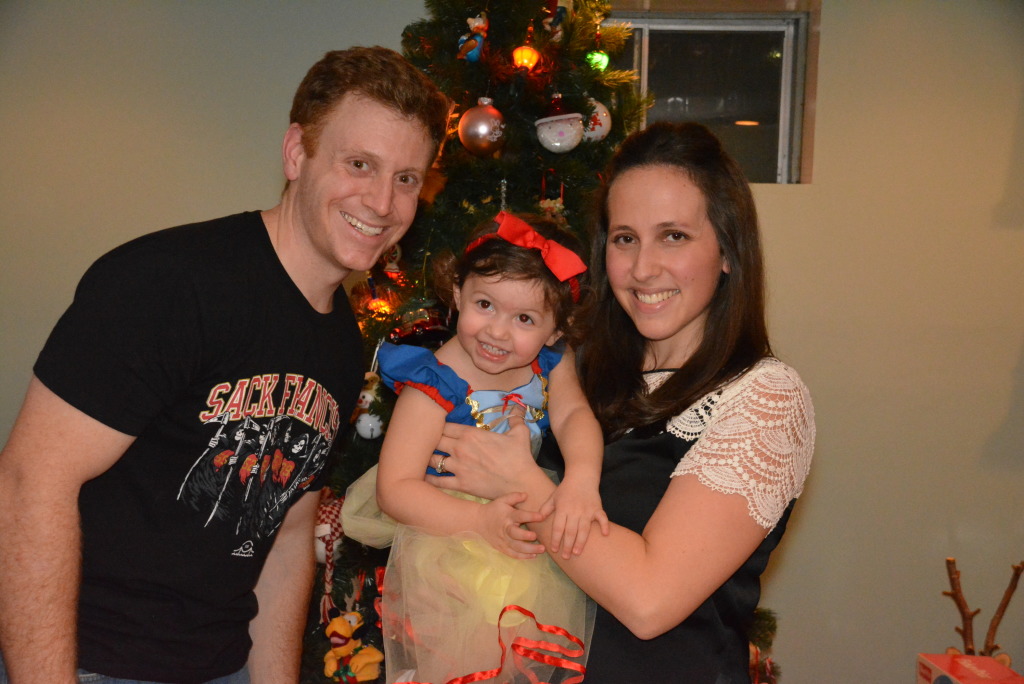 First comes first, the highlight of our weeks before Christmas have been and always will be our little girl's birthday. For our little family of three, we've been lucky enough to have one more reason to love Christmas time thanks to our little girl who entered the world just shortly before Christmas only two years ago. As the holiday season rolls around each year since her grand arrival, we're reminded of just how much our little Christmas angel has added to our lives. As her mommy, I'm always reminded of just how much she's grown since that memorable day two years ago and although it makes me so proud looking at the beautiful toddler standing before me it brings tears to my eyes just the same. As her birthday comes close each year I catch myself in awe as I watch my almost birthday girl run around and explore because for me I'm also picturing that tiny little baby who laid on my chest in a knit baby Christmas hat. So much has changed in such a short time and even though we're no longer in the tiny baby stage I wouldn't have it any other way. With huge warm hugs and kisses, jibber jabbering that goes on all day, and walking hand in hand with her mommy, she's my baby, and even though she'll grow one year older each Christmas season, she always will be.
My little girl's birthday was most certainly the high point of my week's hiatus but unfortunately our holiday season this year hasn't all been merry and bright. Sadly, my dear grandfather was scheduled for heart surgery and to make matters worse my grandmother was restricted to staying home due to some of her ongoing health issues. We've walked the path of health obstacles during the holidays before, with my grandmother in particular, and as a whole family of Christmas lovers, it's devastating to spend the happiest time of year with fear and sadness. This Christmas season it looked like we'd have to work extra hard to spread some holiday cheer for my grandparents who would face yet another road block.
It was a hectic few days with bouncing between grandmother at home and grandfather in the hospital but as a family we're surviving. It's difficult anytime to watch anyone you love, let alone two people, be in pain but it's especially hard so close to Christmas when all we wish for them is to be happy and healthy at home, together just as they have been for the past sixty years or so. I fondly remember enjoying our Christmas days' of years past at my grandparents house, which is just a short walk down the street from my parents house. As we've grown, some traditions have changed but one thing always will stay the same and it's that walk down to their house on Christmas day, but now it's with a bunch of little great grandchildren in tow. Hopefully this year we can continue that tradition and spend the holiday all together.
I'll always be a Christmas lover through and through, the music, the food, the decorations, giving gifts, but most importantly that time we get to share with our family that just seems more and more precious as years pass. This year I hope and pray that things turn around and that my grandparents can be together once again for another Christmas. You certainly never do know what life will throw at you but after watching the strength and courage of my grandparents after all of these years I've certainly learned how to be a survivor.
Cheers to all of you for a merry and bright holiday season with your loved ones!
Merry Christmas!
Lindsay