With a predicted blizzard on our hands earlier this week, we've been somewhat snowed in or at least frozen in because it's been so cold outside lately. But no amount snow or cold was going to keep us away from taking our little girl to see a special surprise that was perfect just for her. We were treating our snowed in bunny to Disney On Ice, Princess And Heroes. I was a bit skeptical back when we purchased the tickets if she would actually sit through the entire thing but boy was I wrong.
With a two hour ice show filled with all of her favorite Disney princesses, princes, and characters galore, she was in awe of everything from start to finish, even straining to stay awake not wanting to miss a second at the end. We had amazing seats so that way little one and her cousins would catch all of the action from up above and did they ever. It was a fantastic show even for us adults, and our kids couldn't get enough of the fancy ice moves, music and lights flashing, surprising stunt work, and even better sets and props. And what would a fun night out be without a funny anecdote about your toddler, this night was no exception. While nibbling away on her special soft pretzel, she happened to notice the people controlling some of the spotlights who were seated near the ceiling above us and she couldn't get enough of them. So between enjoying the show she would crane her neck to admire, point at, and even wave and say hi to the light controllers up in the rafters. Bet they didn't know they were part of the show for a certain little girl!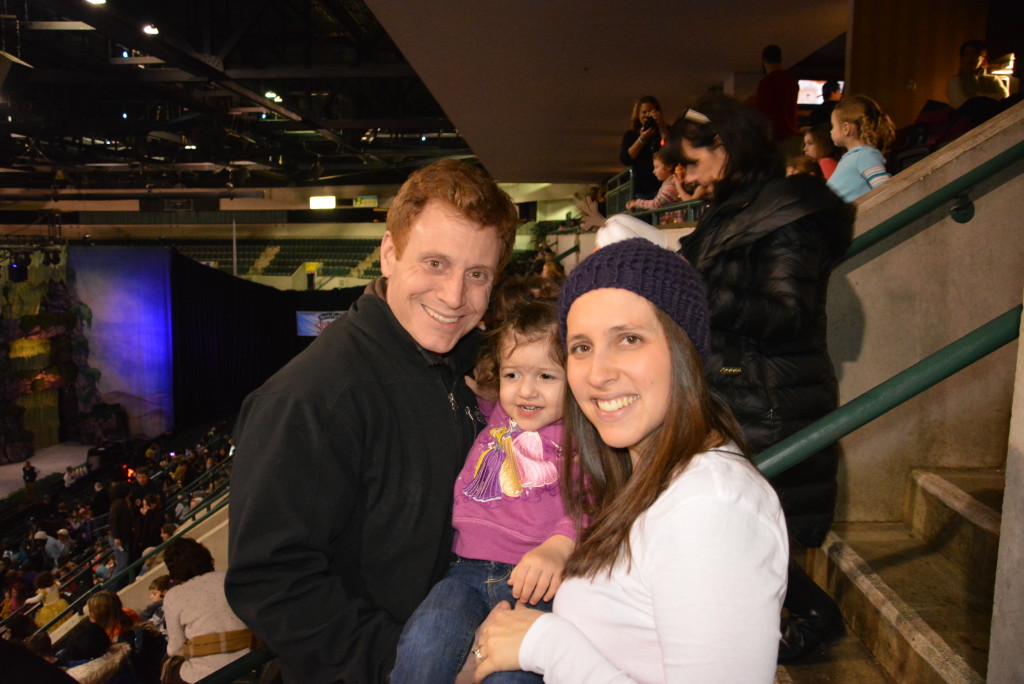 While Disney On Ice was certainly a winner for our little girl, I think we might just have a future Disney lover swimming around in my belly too. With my bump getting bigger and bigger, I've been feeling a little bit of movement but none compared to the swirling around that's been going on this week. By far though the most movement was at the show, where it literally felt like I swallowed a 5 inch fish and it was swimming around like crazy in my belly. Such an extraordinary feeling that never gets old.
To find out more on my 17th week of pregnancy and catch a peak of my little copilot, check out my surprise vlog! Ignore the lovely thumbnail image from the video, because I'm sure there were no smiling moments that youtube could snapshot for me, gotta love it!
A few more details of what 17 weeks looks like in our house:
Go to gluten free foods: Fruit salad, bagels with cream cheese, homemade pizza with Schar crusts, lots and lots of salads with Marie's Blue Cheese Dressing, Ore-ida fries with Lawry's Seasoned Salt and blue cheese dressing….as you can tell my appetite is returning a little at a time
How am I sleeping?: Things are going pretty well here with only one bathroom wake up each night, which really isn't too different than the norm for me.
What's happening in our world this week: As I mentioned earlier, we were in that blizzard prediction earlier this week with no blizzard to be found which is fine by me. What we did get was about 5-6 inches of fluffy white snow that our little girl just loved playing in, mommy not so much seeing as it is beyond freezing outside. But watching her get out and get some fresh air, laughing and smiling away was worth a little while of me not feeling my legs.
Countdown to baby gender reveal: We're almost there! Just a short, really excruciatingly long weekend, away from seeing our little baby live and in person Monday and learning what we have in store for us. I couldn't be more excited to not only find out boy or girl but to see that little one swimming around in there again.
What I love most at this point: That first real feeling of baby moving around is truly extraordinary. Up until now I've felt tons of swirls and small little movements but none like this week where baby has been literally swimming laps in there. I guess Baby #2 is going to be a water lover/ swimmer just like it's sister and mommy!
Sincerely,
Lindsay (17 weeks)