So many of my childhood memories are formed around meals, family dinners, holidays, birthdays, everything surrounding food. One of my favorite holidays next to Christmas is Easter, the fresh scent of spring, blossoming tulips everywhere, birds chirping, beautiful hymns being sung in church, Easter eggs scattered around the yard, candy overflowing out of our Easter baskets, all wrapped up with a huge family dinner. I'll never forget the sights and smells of each of our traditional Easter dishes. One of my all time favorites is my grandmother's coleslaw. This dish is so far from the cafeteria or store bought coleslaw, trust me. Quite opposite of the stringy, crunchy texture of the side slapped on your plate at most restaurants, this coleslaw is perfectly smooth and creamy with just the right balance of mayo and sour cream.
My first Easter gluten free I was so nervous about what my new Easter dinner might look like. Along with some of own gluten free dishes, I volunteered to take on the family favorite coleslaw and do it gluten free. After some quick instructions from my grandmother I realized it could easily be gluten free, as long as the right brands of ingredients were chosen. After some research and a quick trip to the store I prepared my very first gluten free coleslaw courtesy of my grandmother's recipe. Judging by the empty bowl and cleaned plates at the end of the holiday, along with a compliment from my grandmother I'd say the coleslaw was a success. Several years since and I'm still providing our Easter coleslaw but done gluten free. I'm so excited to share our family tradition with you and hope it adds a little something extra to your gluten free holiday!
Ingredients;
Food Processor (for fine chopping of cabbage)
Small Head of Cabbage
Paprika
1 1/3 cup Hellmann's Mayonnaise (either regular or light, both are marked gluten free)
2/3 cup Light Sour Cream (check the label and call the company of whichever brand you choose unless it states gluten free explicitly on the label)
Water for cabbage while mixing
Salt to taste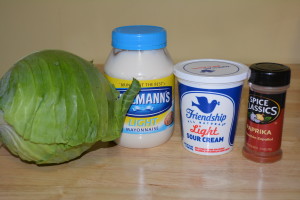 Directions:
Remove outer leaf and quarter head of cabbage down to the core (discard the core).
Chop cabbage into smaller pieces and wash thoroughly.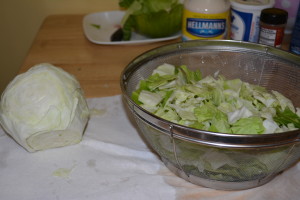 Mix mayonnaise and sour cream together. Taste mixture, making sure there is a good balance between mayonnaise and sour cream. You may need to prepare more of this mixture later depending on the size of the cabbage.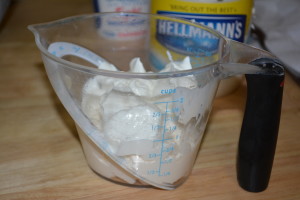 To food processor, add chopped cabbage and a little bit of water.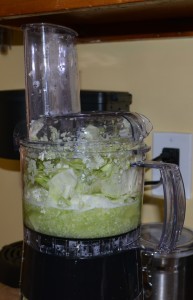 Process the cabbage in the water until finely chopped and add to an empty bowl.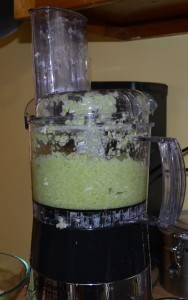 Once all cabbage is processed, begin to remove the water from the cabbage. I do this using my hands by simply taking a handful and squeezing the water out. It's a bit messy doing it this way but quick. Alternatively, you can add the cabbage to an extremely fine strainer layered with a paper towel and let it strain slowly or press with a spoon to help the water come out. Once water is removed, add strained cabbage to a bowl.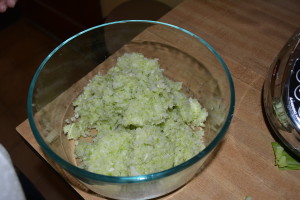 Add mayonnaise/sour cream mixture to cabbage and combine completely.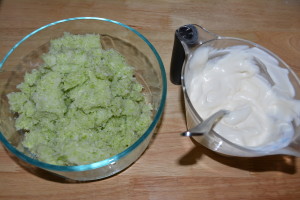 Finally, taste coleslaw and salt if desired. At this point I've tasted so many times I usually bring my husband in as the designated coleslaw taster. Feel free to make any little tweaks to the overall taste, i.e. if the coleslaw has too strong of a mayo taste add a bit more sour cream to balance it out. To finish, top with paprika.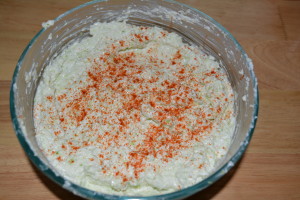 Thanks to my grandmother who has passed down a wonderful recipe to my family! Try this one out for your gluten free Easter meal this year and all of your diners will definitely enjoy!
Sincerely,
Lindsay