Smoothies are a fantastic start to the day, mid morning or late afternoon snack. While I certainly like my all fruit smoothies, I try to always throw in a handful or two of spinach to sneak in another veggie helping during the day. Adding veggies to smoothies is scary I know but the benefits of adding these to the mix are tremendous. So if you're on the fence on this one, just give it a try first. Also, for an extra nutritional boost I like to add flaxseed, oatmeal, or chia seeds. In this mixed berry smoothie I decided to add a tablespoon of ground flaxseed which adds a bunch of extra protein and fiber to my daily diet. This mixed berry smoothie was a winner for both myself and my little smoothie buddy so hope you enjoy!
Ingredients:
1 cup mixed berries (ex. frozen Welch's antioxidant fruit blend: strawberries, blueberries, dark sweet cherries, sour cherries, blackberries)
1/2 cup plain fat free regular or Greek yogurt (Stonyfield or Cabot is gluten free)
1 banana
2 handfuls fresh spinach
1 tbsp flaxseed (Bob's Red Mill is certified gluten free)
1 tsp honey or agave nectar
1 cup fat free milk
1 cup ice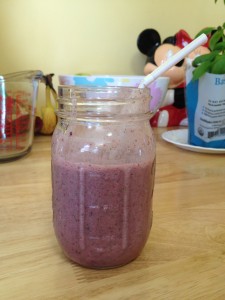 TIP: If you have any extra smoothie, store it in a sealed glass jar like the one above and enjoy the next day!
Sincerely,
Lindsay