Spring is finally here!!! The weather was gorgeous this weekend, but along with the emerging warmer weather and budding trees come clogged sinuses, invading allergies, and sleepless nights for me. With temperatures in the mid 70s to mid 80s in the end of the April though I mustered up enough energy to get my little one out and about and take advantage of the gorgeous spring weather after a very LONG winter. On our agenda, a morning trip to the zoo, long walks with our furry family member, early morning trip to our local farmer's market, frozen yogurt, a fantastic Easter egg hunt, and finally Sunday family dinner with dying Easter eggs (whew). It was a busy one but a fantastic weekend nonetheless; little one loved being out in the fresh air, spotting all of the animals and picking out all of those Easter eggs, being sure to add to her basket and everyone else's too!!!
In the middle of all of this running around I decided to save myself from making dinner and order pizzas. Gluten free pizzas are certainly way easier to find now than they were even a few years ago, however finding a good gluten free pizza is a task and a half. Although there are a number of local pizza places and chain restaurants that offer gluten free pizza now, sadly not all of them are overly thrilling especially with their extremely high prices. After many trials, I've finally found a fantastic gluten free pizza for an even better price. Mamma Mia Trattoria is home to a gluten free diner's dream menu. They offer an extensive gluten free Italian menu filled with chicken, seafood, vegetarian dishes, pasta, and pizzas. I must admit each time we've dined here I've only ever gotten their pizza (it's that good!!!) so I can't vouch for the rest of the menu, however if it's like their pizzas, they'll exceed your expectations. To take a look at their full dinner and pizza menus take a look here.
Now back to the pizza. Unlike other gluten free pizza offerers, Mama Mia lists seven different pizzas, along with of course a plain option. I personally have never seen any other establishments offer anything other than cheese and sauce so this was certainly a pleasant surprise. Among the varieties are their Margherita with fresh mozzarella and basil, Veggie white pizza with sauteed spinach and broccoli, Toscana with tomato slices and mozzarella, Grilled Chicken and roasted red pepper, Capri white pizza with veggies and ricotta cheese, Florentina with chicken and mushrooms, and Eggplant Romma with roasted red peppers and fresh mozzarella. Each of these are either $12.95 or $13.95, which is extremely reasonable for a gluten free pizza. Additionally, you can pick and choose whichever toppings you'd like, from about of a list of twenty or so gluten free toppings, and make your own pizza.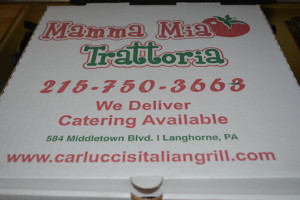 Like I mentioned earlier, I usually order a plain cheese pizza but I have in the past ordered the Grilled Chicken pizza and it was phenomenal. For this weekend though I went with my standby of a plain gluten free cheese pizza. As usual, I was not disappointed in the slightest bit. One of my biggest gripes with gluten free pizza offerings is the crust. All gluten free crusts are certainly not created equal. In Mama Mia's case, they offer their gluten free pizza atop a separately cooked premade crust that is quite large as far as premade crusts go (maybe 12 inches, I honestly haven't measured it but it's definitely larger than a personal pan pizza). It's a thin crust, reminiscent a bit of Udi's, and keeps its form through all of the toppings. They take such pride in their pizzas and are always sure to layer plenty of toppings on top of the gluten free crust, producing a beauty like this one!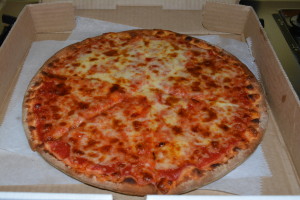 It's been a long time since I've honestly felt like I've enjoyed a take out pizza or one at a restaurant as much as those that were filled with gluten years ago. However, after my first glimpse of my order I knew this one would be an exception. Each bite was filled with that cheesy goodness that I used to love in my pizzas, making me less and less enviable of my husband and daughter's large gluten filled cheese pizza. With all of our bellies full and exhaustion setting back in we rested up for another day of fun filled outdoor activities. Thanks Mama Mia for adding to a perfect weekend for my little family!
This restaurant exceeds any preconceived idea of gluten free dining. They take the necessary precautions to avoid contamination and produce excellent products that will keep you coming back. To make a gluten free pizza look and taste like their normal pizzas is no easy feat and Mama Mia seems to do it with ease. So if you're in the area, make sure you pay them a visit! If not, take a look online for local Italian restaurants that offer gluten free menus. They aren't that abundant that's for sure, however, don't be afraid to scour the internet and make a few phone calls to possibly uncover an establishment like this one close to home!
Thank you Mama Mia Trattoria for helping make the gluten free world a bit less scary for a gluten free diner!
Sincerely,
Lindsay