You'll soon learn that I am an extremely picky eater, always have been ever since I was little and now am just a picky gluten free eater. My diet is somewhat limited as I do not eat any seafood and am not a huge fan of meats aside from chicken, beef, and pork, and even those I have to be in the mood for. When I was pregnant, the meat repulsion was heightened and I was left scrounging for filling yet healthy dinner options differing from my typical sandwiches, salads, and pastas.
I'm one of those people that enjoys breakfast items anytime of the day, especially for dinner. On many occasions, we would put together omelets stuffed to the brim with veggies and cheese or create our own breakfast sandwiches accompanied by an overflowing bowl of fruit or cereal. One of my favorite breakfast/lunch/dinner options are waffles or pancakes. I've always preferred waffles as gluten free pancakes have been a bit too dense for me, however this recipe has surely changed my mind. Some of my favorite recipes have come from Betty Crocker's site including this one for Gluten Free Blueberry Sour Cream Pancakes, thanks Betty Crocker! Please give this recipe a try, it's so easy and produces perfectly light and fluffy pancakes with deliciously sweet blueberries nestled inside!
This recipe can make about 12 small pancakes, but mine were on the larger side and made about 8 pancakes.
Ingredients:
1 cup Bisquick Gluten Free mix
1 cup milk (I use a Skim Milk)
2 tbsp vegetable oil (I use Smart Balance oil which is gluten free)
1 egg
1/4 cup sour cream (I use Daisy light sour cream which is gluten free)
1 cup fresh blueberries or frozen blueberries (if using frozen blueberries, do not thaw before adding)
Butter and syrup for enjoying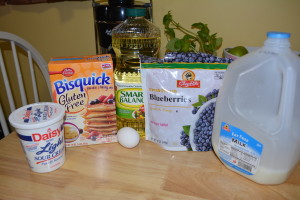 Directions:
In a large bowl, combine 1 cup Bisquick mix, 1 cup milk, 2 tbsp oil, and a single egg until well mixed.
Gently stir in a 1/4 cup of sour cream.
Fold in 1 cup of blueberries until all are combined.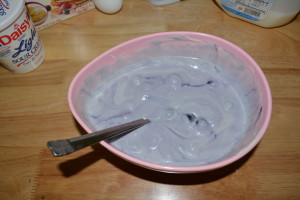 If you have a griddle, spray with non-stick cooking spray before heating and than heat to 375 degrees. If you do not have a griddle or prefer to use a skillet, spray a large skillet with non-stick cooking spray and heat to medium-high heat. TIP: I use a skillet and tend to keep heat on the lower side as they can burn very quickly. No matter which temperature just keep an eye on them and flip as soon as you start seeing bubbles.
Pour about 1/4 of a cup of batter onto the hot pan, cooking the first side for about 2 minutes or until pancakes are dry around the edges and bubbles form throughout. Pay attention to the edges and bubbles rather than the time as the time will vary between cooking utensils and stoves.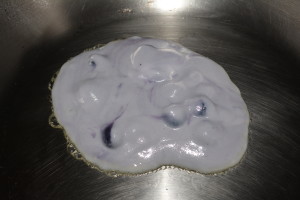 Flip pancake onto other side and cook until golden brown (depending on heat level, this will only take another minute or so).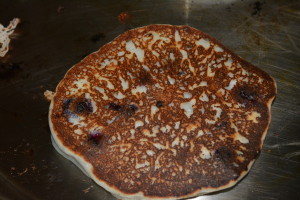 I like to flip my pancakes over on each side one more time to heat for an additional 30 seconds or so just to be sure they're finished cooking inside.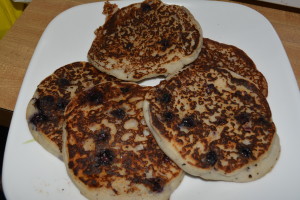 Finish up the rest of the batter and you're ready to enjoy! Top pancakes with your butter of choice, syrup, fresh fruit, whatever you're in the mood for. I prefer a little Smart Balance butter and warmed light maple syrup. Pure maple syrup is perfectly gluten free however is very pricey; alternatively, check out some of the cheaper brands too, looking at their labels for harmful ingredients and calling the companies if gluten content isn't indicated.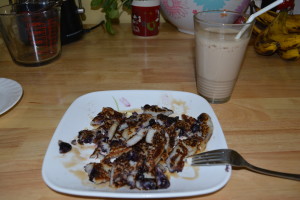 In our house, after I'm done making the gluten free pancakes I usually whip up a regular equivalent for my husband and daughter. I could definitely make these pancakes simultaneously but to prevent any chance of cross contamination I wait until all gluten free pancakes are finished and then begin to prepare the regular pancakes. For those, I use the regular Bisquick mix and add in a similar amount of sour cream and blueberries. While these are cooking, I either keep mine warm under a warm setting on my oven or simply reheat them in the microwave.
This is by far one of my daughter's favorite dinners! I can't blame her as it's kind of hard to beat a soft and fluffy pancake stuffed with juicy blueberries and covered with melted butter. I usually make these about once every other week and either wrap up the remaining pancakes for breakfast, lunch, or dinner the next day or freeze them for dinners to come. To freeze any extras just wrap them up in freezer bags and divide them using parchment or wax paper.
I cannot stress how convenient this recipe was as it uses only things that we keep in our cabinets and refrigerator at all times. So if you're craving a breakfast dinner or just in need for a quick and easy option give this recipe a try!
Enjoy!
Sincerely,
Lindsay