No gluten free pregnancy would be complete without an indulgence in some gluten free pastries. Honestly, all pregnancy we haven't taken too many trips to my all time favorite and really only all gluten free bakery/cafe in the area. So last week while in route running errands the other day I decided to stop in and treat myself to a couple of new sweets.
If you've never been and are in the area you absolutely have to check out Wildflour Bakery/Cafe. They offer tons of different gluten free treats from sweet and savory crepes and sandwiches to smoothies and tons of different desserts, check out their full menu to get the whole picture. I personally always have a hard time choosing which items I'll try that day, mostly because you'll never see those items again anywhere else. For this particular stop in I decided to of course start with my favorites, the Gluten Free Pink Smoothie along with some Gluten Free Brazilian Cheese Puffs. Needless to say these didn't survive too long post purchase but I have managed to snap some pictures of these in the past so make sure you check them out. The Pink Smoothie is just delicious and didn't bother my acid reflux too badly, or maybe that was the cheese puffs that helped out, either way I was a happy mommy drinking down my strawberry banana and almond milk smoothie. But the star of every one of my visits to Wildflour are the Brazilian Cheese Puffs which are light and airy, moist and cheesy, and just a perfect bread treat that is so uncharacteristic of typical gluten free breads.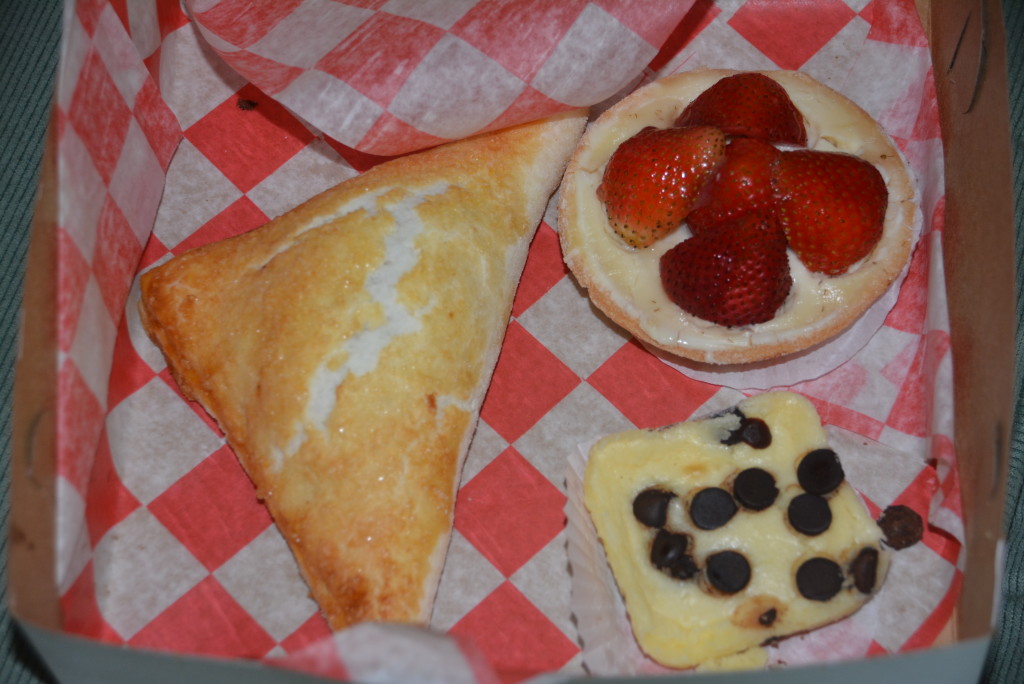 Okay, so I obviously indulged in some of my regular snacks but what did I try out that was newer? Well, I did manage to snag two other sweets that I hadn't seen there in awhile, the Gluten Free Cheesecake Brownie, cheesecake portions swirled through a delicious brownie, and a Gluten Free Chocolate Cream Puff, fluffy puff pastry stuffed with sweet cream and covered in chocolate which I've reviewed before. Both were equally as delicious and brought many smiles for the days that followed.
The last three desserts were new to me so since I don't get to the bakery too often I decided to pick them up and try them out for blogging purposes of course. Can I just say that each and every single one of these desserts were divine. Starting on the left is a gigantic Gluten Free Apple Turnover that was so light and doughy and stuffed with just enough, but not too many, cinnamon apples. While the filling was superb, what always surprises me with every tasty treat from the bakery is just how perfect the breads and pastries are. They're spot on with just how the regular version of their treats should be in both texture and taste and we all know that's no easy feat for a gluten free anything.
Next up was the Gluten Free Chocolate Chip Cheesecake Bar which was absolute perfection. Light and fluffy cheesecake with chocolate chips scattered throughout, you can't get any better than that. And lastly, the Gluten Free Strawberry Tart, a pastry tart filled with vanilla pastry cream and topped with fresh strawberries, a great treat for this Spring and Summer. The tart was moist and held together perfectly to envelope the sweet, but not too sweet, cream and strawberry filling.
Thanks to this impromptu visit, myself and baby were happy for many days to come. Quite honestly, by first glance I probably could've finished off several of these much more quickly but I paced myself to spread out the goodness and I'm so glad I did. A huge thank you goes out to Wildflour's for consistently making me one of the happiest gluten free mommies in the area. Can't wait until my next visit!
Sincerely,
Lindsay (33 weeks)