I have to say this pregnancy has ticked by pretty slowly for me, probably because we've had a freezing cold winter keeping us cooped up inside and also because this mommy-to-be hasn't really felt too good since day 1. But I'm happy to report that we've passed the halfway mark and we're now headed into countdown mode. Baby is moving around like crazy, even letting daddy feel a kick for the first time! After now experiencing two totally different pregnancies, I can officially concur that pregnancy as a whole is a crazy, roller coaster ride with tons of ups and downs, both emotional and physical, but by far the peak of each one is feeling that little one swirling around and kicking inside, there's nothing more euphoric than that feeling.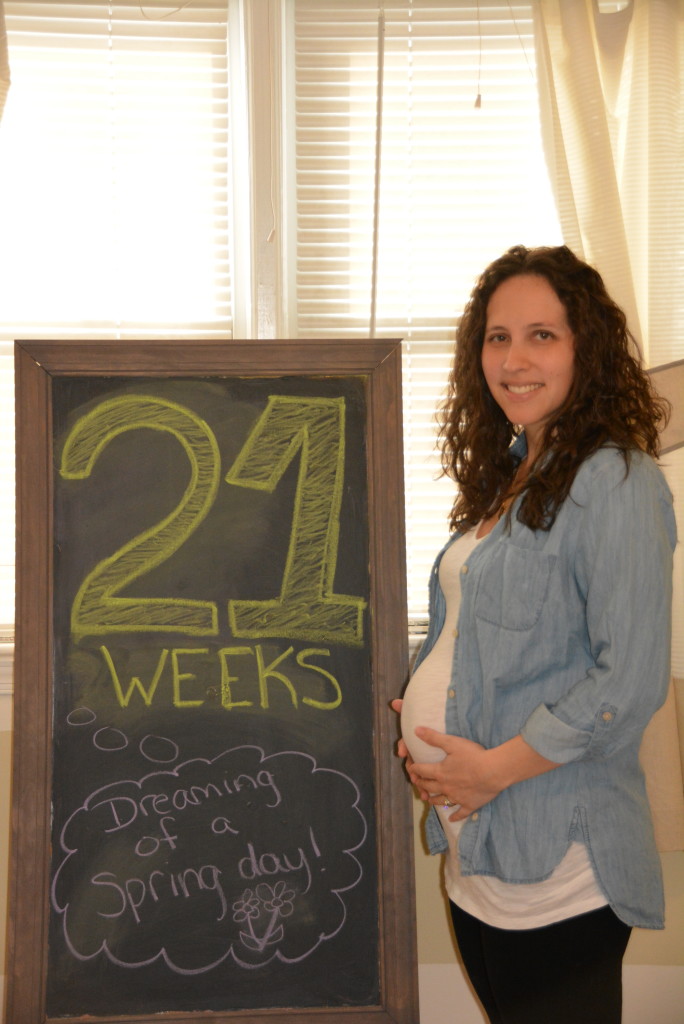 As baby and mommy grow, we just keep getting busier and busier over here, but that's how we like it! It's hard to believe that Disney is just around the corner and then soon after comes Easter, spring time which means plenty of outdoor time finally, Memorial Day parades, and then some early summer adventures before baby comes. We're in for some eventful and exciting weeks and months ahead! But for now I just wanted to catch you up on how I've been feeling now that I'm nestled snugly in my 2nd trimester!
A few more details of what 21 weeks looks like in our house:
Go to gluten free foods: Absolutely loving my Sweet Note Bagels with cream cheese!, lots and lots of salads with Marie's Blue Cheese Dressing or Olive Garden's Italian Dressing, some of my favorites from Toscano's Ristorante vodka rigatoni and their antipasto salad, Schar wafer cookies are one of my favorite go to snacks right now, and slowly but surely I'm getting back into making smoothies
How am I sleeping?: This is hit or miss with me, some days are definitely better than others and waking up to go to the bathroom at least once is certainly not helping.
What's happening in our world this week: Being cooped up inside because of our freezing cold temperatures is certainly no fun by myself let alone with an ancy toddler who just wants to run around but we're making the best of it with lots of coloring, painting, reading, and tv and movie time. Feel free to share how you keep your 2 year old busy and happy when you're cooped up for the winter.
The big secret has been revealed, well kind of: We finally know who our second little one is and I have to say it's the sweetest secret that we've gotten to share just us three and a few others too. Now we have the biggest task ahead, picking a name! We have our list started and a few front runners have emerged so we should be narrowing down on that one pretty soon but as far as the final name choice, we're keeping that between just us three until baby arrives and meets the rest of our family and friends.
What I love most at this point: Baby seems to be moving constantly these days giving me plenty of swirls and twirls but even some notable belly jump kicks in there too. But my favorite moment recently is when Dan was able to feel baby for the first time, he's been a second too late for every single other feeling until this week when he got a little reminder of the little one that's been living in my belly!
Sincerely,
Lindsay (21 weeks)