In all of my Disney travels over the years I can never remember having to wear a jacket, let alone pants. But our 4th day in Disney was definitely on the chillier side so jackets and pants were a must. The short spurt of chilly weather in the middle of our trip was certainly a rarity for us on our Disney vacations but I have to say I preferred it over the sweltering heat that we usually have experienced on our summer vacations. So with sweatshirts, jackets, and pants on we were prepared for our half a day in Hollywood Studios.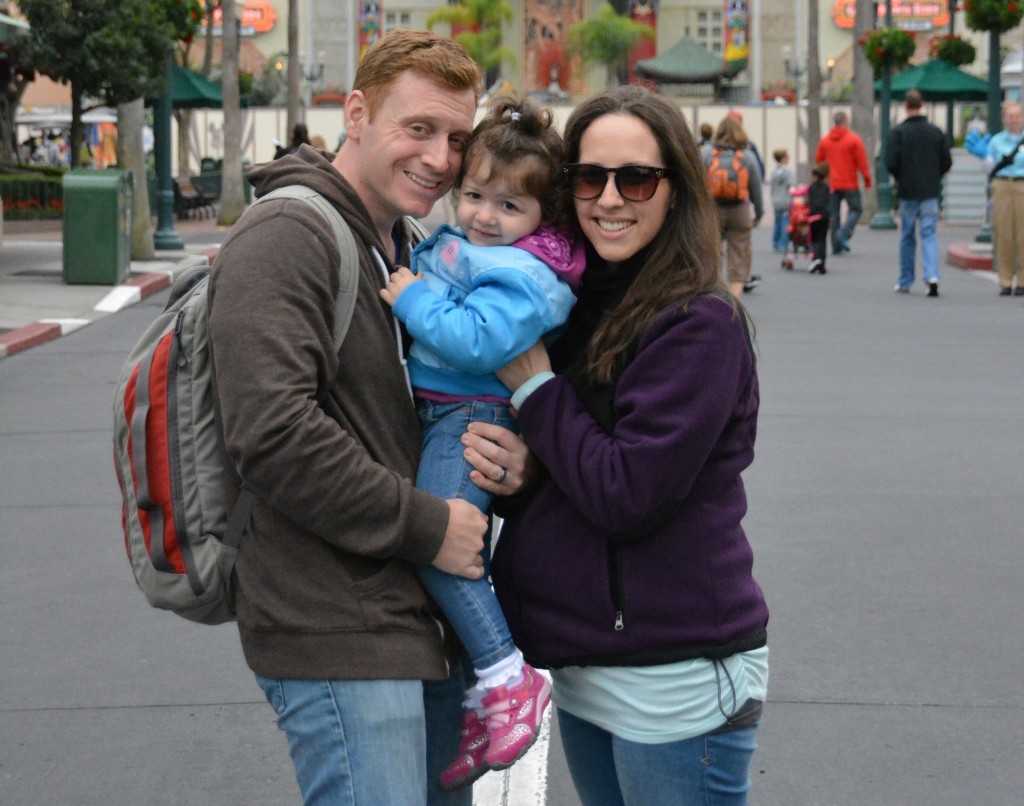 We usually don't spend too much time in Hollywood Studios seeing as there's a ton for our little one to do but we certainly packed a lot into our shortened day. We started off with a bang and twisted and turned on the Toy Story ride, which our little girl happened to love this time, attempting to pull the string and play the game with her too big 3D glasses on. On the way to Daddy's Aerosmith rollercoaster, we had to make a quick stop to give some hugs to Pluto and Chip and Dale. We were back in route again and Daddy was off to ride his ride while little one and I picked up a new pressed penny book and added some new pressed pennies. After a little rest for Mommy and little one a warm bench, Daddy soon reappeared and we were off to catch the Disney Junior show, which is always a winner, followed by some hugs, kisses, and a little dancing too with Sofia and Jake. The last adventure before lunch was our little girl's first time in the Honey I Shrunk The Kids inspired land which she absolutely loved; anything that includes climbing ropes, running around, and conquering twisty paths and slides is a winner for our courageous little girl.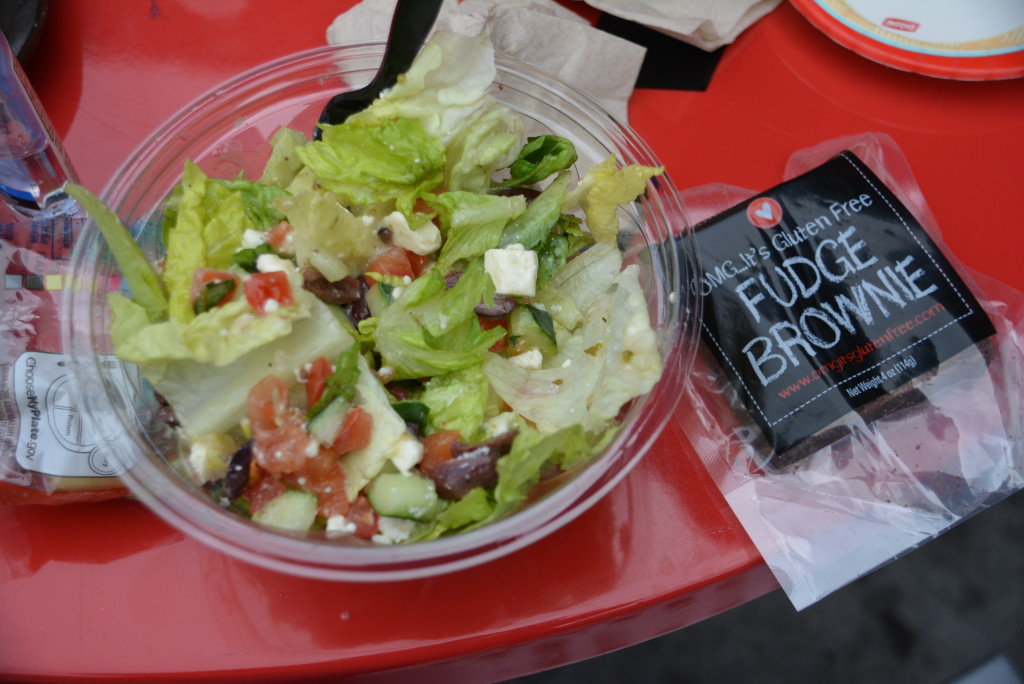 Since we were right next door we decided on Studio Catering Co. for lunch which in my book is a huge winner for gluten free diners. In the past I've taken advantage of their delicious gluten free roll choice and enjoyed a sandwich and fries, take a look at the Gluten Free Italian sandwich, but this lunch I was more in the mood for a salad so it was a gluten free greek salad this time around. My salad was put together safely and in a separate space and I was able to watch every bit of it being put together making me feel a lot more comfortable. Soon enough all of our meals were delivered and I was enjoying a Gluten Free Greek Salad with my favorite, an OMG Gluten Free Fudge Brownie for dessert. It was a perfect lunch, just enough to tide me over until a little snack that afternoon, a strawberry macaron maybe?
We finished up our day at Hollywood Studios with the Little Mermaid show, another winner for little one and headed out as our little girl had fallen asleep. We'd never taken the boats from Hollywood Studios but we decided it was a great opportunity especially since we had dinner at Epcot a little later and we could probably keep little one sleeping a little while longer that way. So with that we got a tour via boat of some of the other resorts between Hollywood Studios and Epcot and finally arrived at Epcot's back corner near France. Since little girl was still sleeping and we happened to be in the right neck of the woods, I enjoyed another Gluten Free Strawberry Macaron from the snack stand while we put our feet up to enjoy some peace and quiet over in England.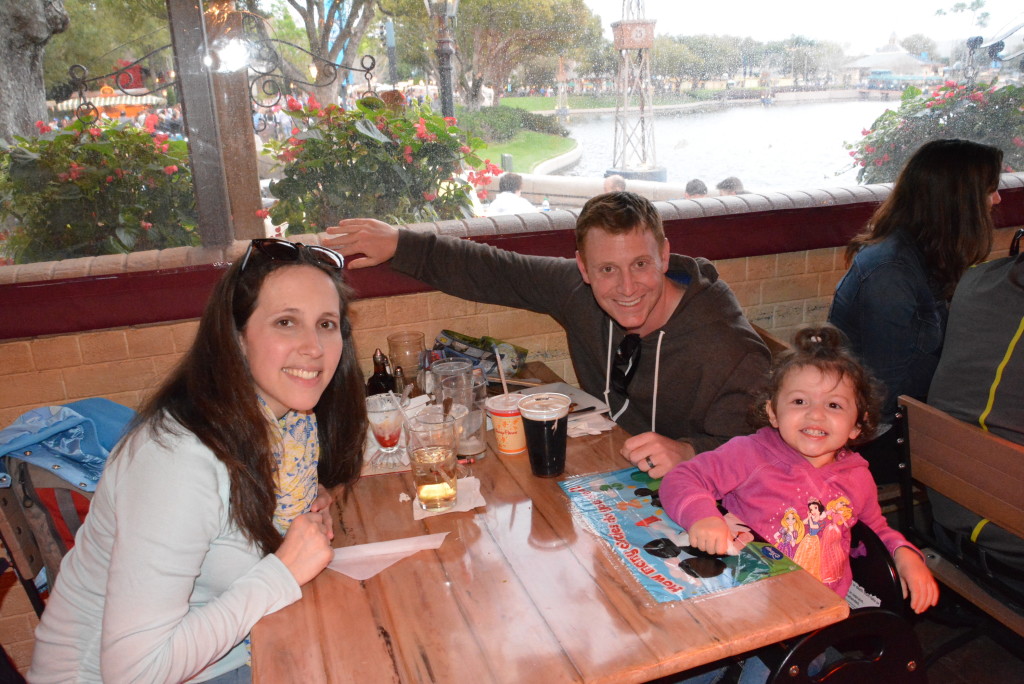 As nap time came to a close we decided to try to sneak in for an earlier dinner in England since it had warmed up enough to maybe enjoy an outdoor seat on the lake. Lucky us we were squeezed in early and got a great seat by an outdoor heater with a great view of the lake and the hustle and bustle on the main street, plenty to occupy our rambunctious toddler. Our waitress was phenomenal and made sure all of us were well taken care of, especially making sure the chef, Chef Joe, was out and tending to my gluten free needs without too much delay. We've dined at Rose & Crown before so Chef Joe actually remembered us, even recalling my order of a Gluten Free Filet with Garlic Herb Butter, Green Beans, and Garlic Mashed Potatoes. It was great to see a familiar face in the ordering process, especially one that remembered us too. So without further delay our orders were all placed and our food was soon on its way.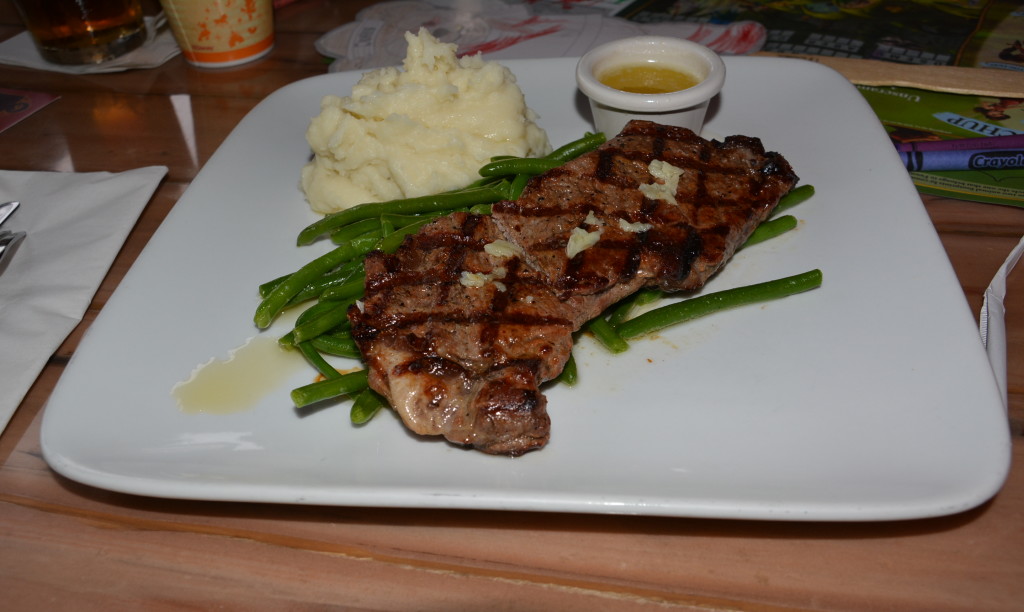 The filet with the garlic, herb butter sauce was just as delicious as before, Chef Joe really did me proud. Each bite was just as tasty as the last and even though this pregnant mommy has really been off of meat this pregnancy I managed to eat a huge portion of my filet. I should mention that the accompaniments were just as delicious as the main star on the plate. The string beans were fresh and crispy and the garlic mashed potatoes were so creamy and had just the right amount of garlic. My main dish was delicious but I definitely was looking forward to a sweet treat at the end.
Per Chef Joe's recommendation, I went with the Gluten Free English Trifle, sans the cookie, which is layers of fruit and custard. The custard was phenomenal and the strawberries were a perfect match. While I certainly enjoyed my dessert it was even better watching our little girl, who ordered the same treat I had but with the cookie addition, enjoy hers even more. Spoonful after spoonful elicited that grin and "mmm" sound making all of us smile along with her enjoyment.
All in all, I can't say enough great things about dining gluten free at the Rose & Crown Pub. My whole family, along with our little girl, loves dining here each and every time, this time being no exception. Our meal outdoors, even though it was chilly, was so fun and made even better by our waitress who our little girl just loved talking and playing show and tell with. While the staff are truly fantastic as a whole, the highlight for us was the attentiveness of the chef. The chef himself brings out your meal and dessert and even checks on you to make sure all was to your liking. Chef Joe does a fantastic job catering to any request and deserves a huge thank you from my family and probably many others for the great work he does behind the scenes.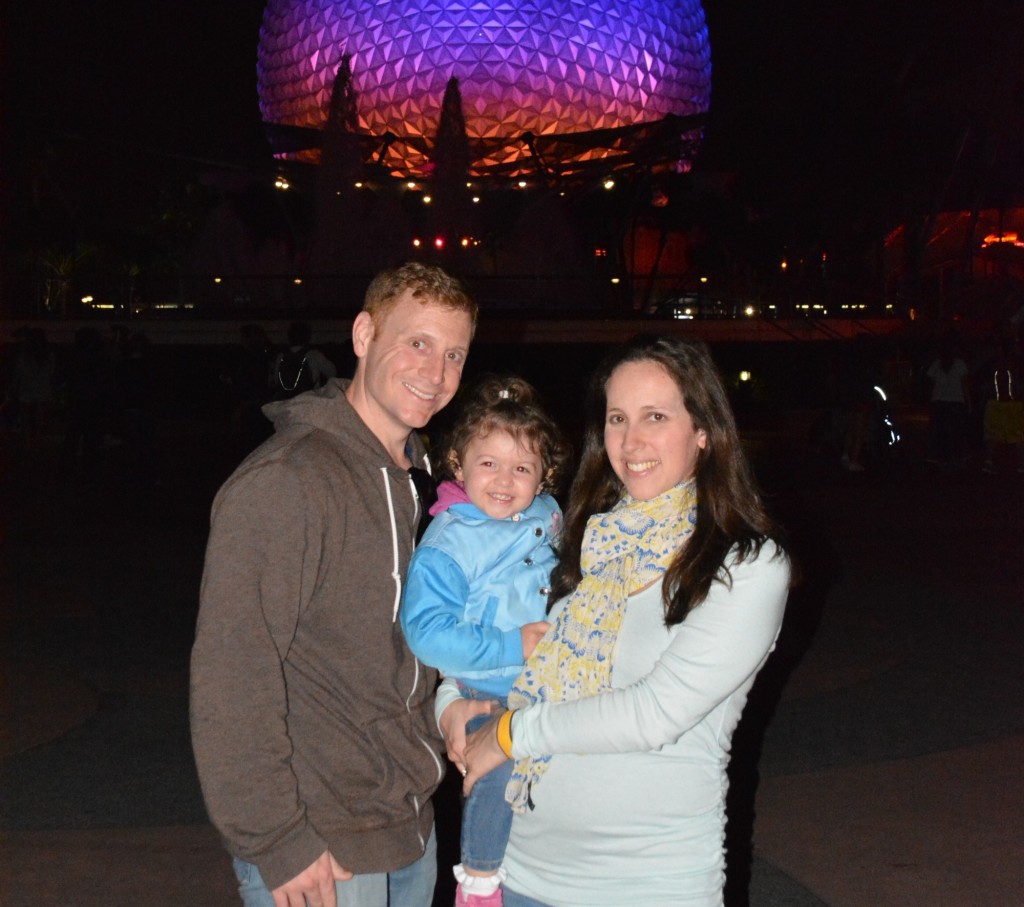 It was a perfect day in Disney, a little chilly, but from start to finish filled with good food and lots of fun. We had a great day in Hollywood Studios and an even better night in Epcot which we topped off with few rides. What we love about each of our Disney trips is that every day in Disney is special and holds so many different memories. This trip was no different and by Day 4 we had already created so many special memories and we couldn't wait to enjoy even more the next few days!
Stay tuned for some Animal Kingdom fun!
Sincerely,
Lindsay (27 weeks)