20 weeks down and 20 weeks to go, maybe less if we get an early appearance like our first! Oh my, it sounds so long when you phrase it like that right now, especially since this week I've been feeling less than stellar, but I know as the weather warms up and we're able to be out and about, time will really start to fly. The next 20 weeks are going to packed full of finishing little girl's big girl room, sprucing up the baby nursery to make it personal for Baby #2, unpacking and washing all of the baby equipment that we stashed away in the basement after little girl outgrew it, signing up for CBR for Baby #2, and picking up a few new baby items for round two. The good news with Baby #2 is that we have tons of the necessary baby equipment already so we're really only left with picking up the obvious newborn necessities and filling in our supplies with a few accessories better suited for two little ones.
On our list of Baby #2 purchases:
Side-by-side double stroller
Two camera video monitor so we can keep an eye on both little ones
A baby sling that's a bit more comfy than the Baby Bjorn that we used round 1
New diaper bag, how does anyone get there diaper bag to survive more than 1 baby I'll never know
New food processor/blender that would work well for baby food and smoothies, I tossed around doing this with my first but had a rough year after she was born so kind of forgot about then
Some odds and ends for the Bambi nursery which we did very gender neutral before babies, except for a few personal touches: i.e. new name letters in pink on the wall, hang some pink lanterns above the crib that we held onto from our It's A Small World party, and thinking about getting a new rocking horse and a few stuffed animals so Baby #2 can have their own set of friends that our little girl seems to have fallen in love with
Thankfully, we already made some head way on this list and picked up a new diaper bag on our last adventure to Disney. Our trip was pre-baby on board so it wasn't picked on any gender, so no baby reveal here by the color choice, but instead I picked mommy's favorite. It's an adorable and subtly Disney Vera Bradley bag with Mickeys and Minnies here and there throughout the floral pattern. I've stashed it away until the big day of Baby #2's arrival this summer so I'm very eager to use it but wanted it to be something special to start our new adventure with our next little one.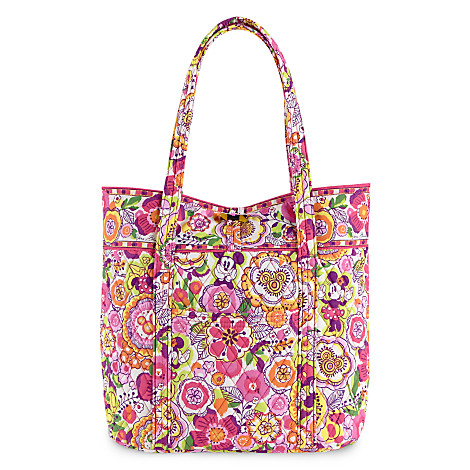 Other than the diaper bag we're on the hunt for the rest of the list which I'm sure will grow as I see new baby items out there. But for now, those are the basic essentials we need to get started on our next adventure. As the weeks tick away, I'm planning on sharing some of my favorites in each of these categories and hopefully hear some of yours too to help our decision making. While in many ways this pregnancy seems to have been chugging along slowly, I truly can't believe that we're halfway there and we'll be meeting this little one in only a few months! Here we go!
Sincerely,
Lindsay (20 weeks)