With Disney just around the corner, my weeks just keep getting busier and busier. On the top of my to do list this week is to share my belly pics from the last few weeks. I can hardly believe I'm 21 weeks right now, even though my belly and baby movement confirms just that. So needless to say I have some catching up on here to do. On top of sharing my pregnancy moments in time with you, I also wanted to go over my dining agenda for our Disney vaca coming up very soon. With my appetite halfway back to normal I'm so excited to dine at Disney and share with all of you my gluten free Disney dining plans! So for my Happy Monday post I thought I'd sprinkle my blog with a little Disney magic and share our dining plans!
We've taken a number of trips over our years together and the planning is always one of my favorite parts. No, we don't have typed out itineraries planning every detail down to scheduled bathroom pit stops, but we do make sure we have a plan for each of our days figured out before we go. Thankfully, this practice came in handy when vacationing gluten free because there's certainly no better way to travel gluten free then with a plan. Our Disney vacations are no different, in fact Disney themselves make it so you almost have to plan out every detail of your vacation before you even go, from dining 6 months out to picking your ride fastpasses 60 days prior to leaving. Yes, it takes a bit of the spontaneity out of your vacation which we still try to maintain with open-ended lunch locations and a dinner or two along with our park hopper passes, but for this Gluten Free Mom To Be planning most of my meals ahead is a must.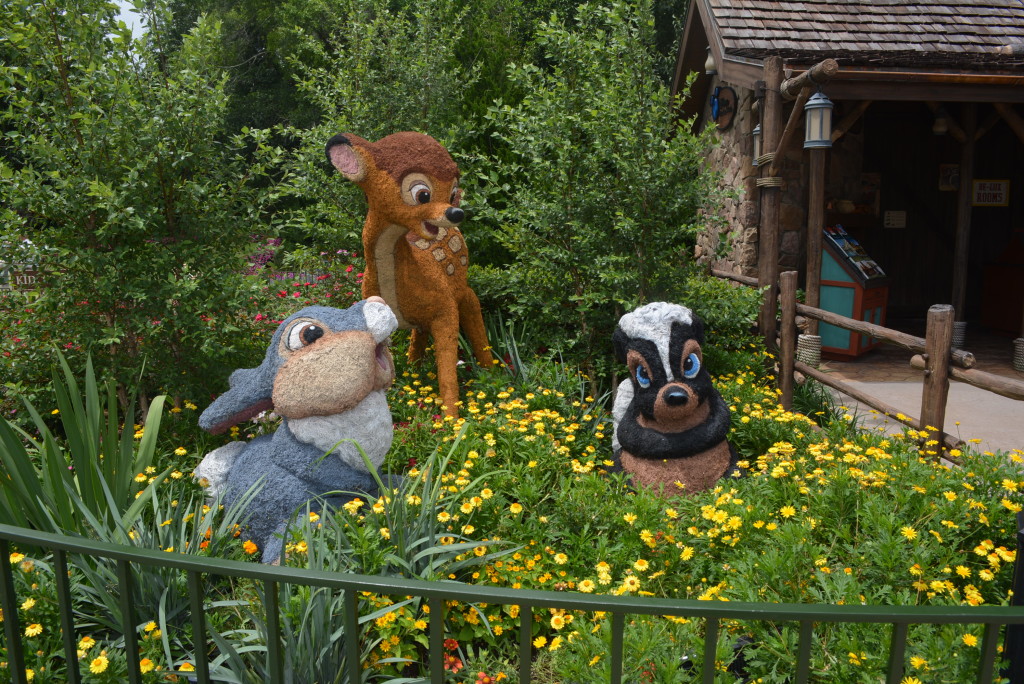 This time around we're venturing to Disney in a cooler season than we had originally planned thanks to Baby #2's arrival early to mid- summer, but we're so excited because we're going to be there for the Flower and Garden Festival, an amazing Epcot event that we were able to catch at the very end last Spring. On top of the gorgeous floral topiaries, we're so excited to revisit the butterfly garden with our little butterfly lover. enjoy some of the music that's supposed to be there that weekend, and finally make a few pit stops to some of the food stands throughout the countries, which I'm crossing my fingers that there are some gluten free and pregnancy friendly treats for me to enjoy. But on top of the special event that we're going to be around for, we've got some really exciting meals planned, some are favorites that we do every time, some are occasional meals that we like to enjoy here and there, and some are brand new places for us!
Day 1: We always try to head straight over to Magic Kingdom our first day after we arrive and sneak in a lunch and a few rides before an early dinner. We have an early dinner reservation at 50s Prime Time Cafe, which has kind of turned into a tradition of doing on the first night. What can I say, I look forward to that fried chicken for months before so why not ring in your vacation with as a great a gluten free dish as this one.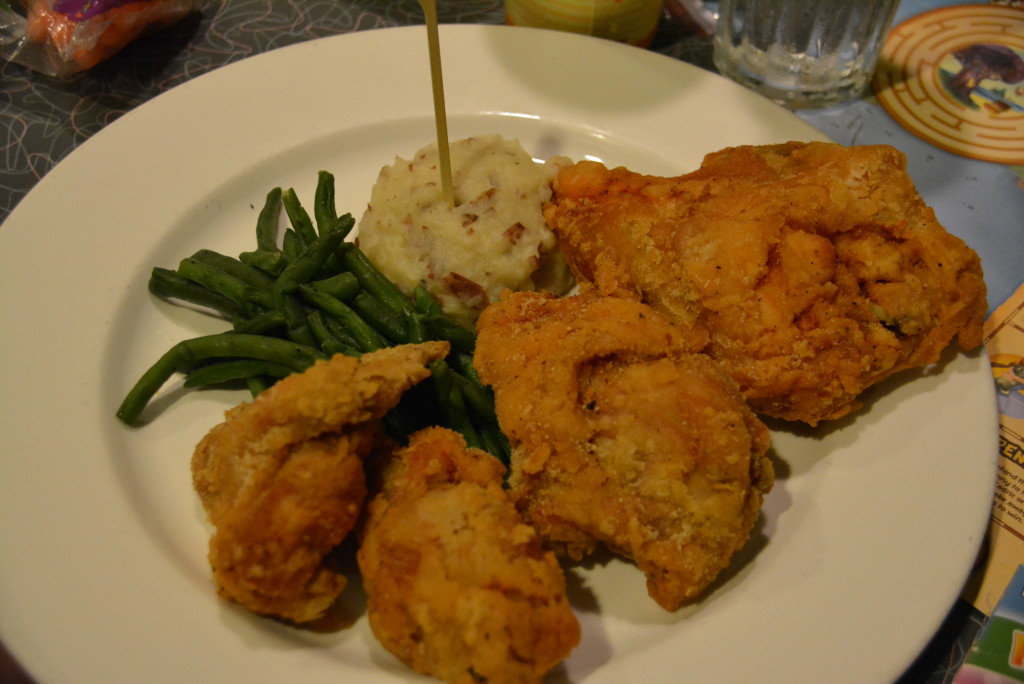 Day 2: We're heading back to Magic Kingdom to enjoy some more of our favorite rides, characters, and parades until our dinner at Ohana at the Polynesian. We haven't been to Ohana the past few trips but we think our little girl will really like the food not to mention everything going on around her this time around. I just wish they could do a gluten free lomein when they bring that delicious looking bowl full of the gluten filled version but I'll just be happy with that amazing salad to start!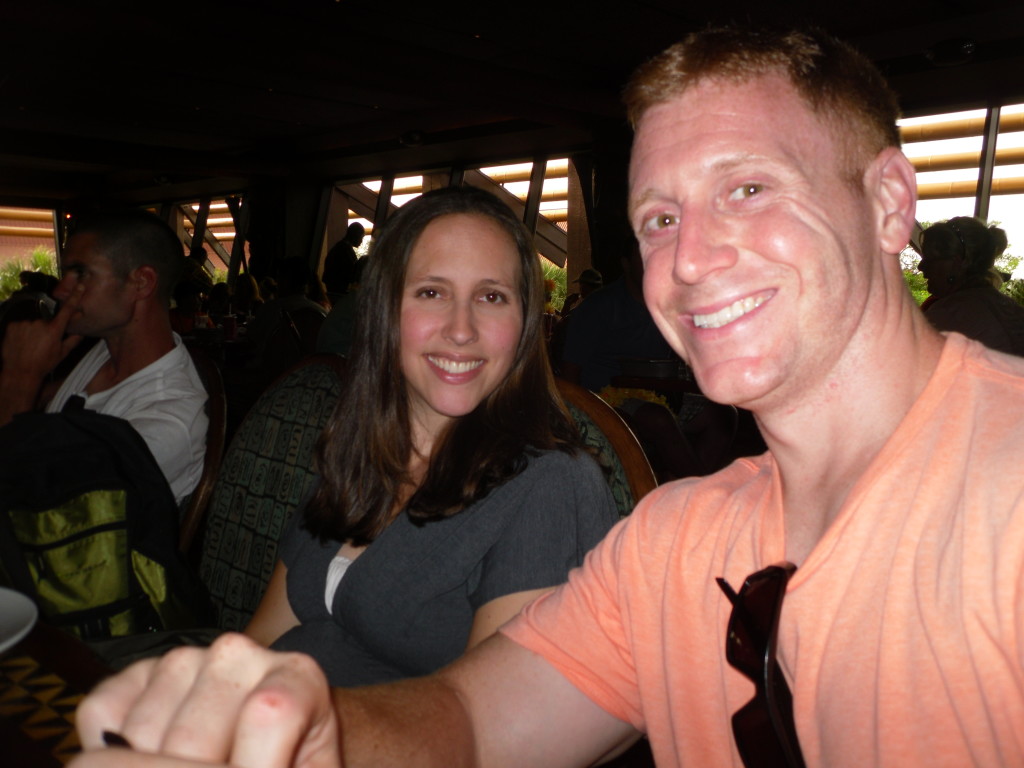 Day 3: One of our favorite stops when we're in Disney World is Epcot, and especially now with the Flower and Garden Festival going on. With most of this day spent in Epcot, we planned a new dinner for us at the Hollywood Brown Derby in Hollywood Studios. It's a two meal dinner so it's a splurge but the menu is definitely up Dan's alley and their infamous Cobb Salad is right up mine. I couldn't resist trying it this time around thanks to the amazing reviews by Gluten-Free & Dairy-Free in WDW & Gluten Free in Orlando. So excited for this one!
Day 4: Hollywood Studios is usually our shortest day so we're planning on doing a morning at that park and then maybe some pool time if it's warm enough before our dinner at the Rose & Crown Pub in Epcot. Dan loves the Rose & Crown food, I'm more of a fan of the actual restaurant and the outdoor seating right on the lake even though they have made a delicious steak with garlic mashed potatoes.
Day 5: We've always wanted to see Animal Kingdom Lodge but truthfully haven't made it over there because it's kind of out of the way. We figured there was no time like the present and we'd take advantage of our Animal Kingdom day and just head straight over to Animal Kingdom Lodge for a new dinner. Our little girl loves animals so Animal Kingdom is always a highlight of her trip so we figured a dinner at Sanaa would be a real treat for her, especially if we catch a glimpse of animals grazing by while we eat. Even though I've read pretty good reviews on the dining here, I'm still a bit nervous because the cuisine is not necessarily up my alley but Dan is beyond excited.
Day 6: Time for our second Epcot day! While I'm not too keen on all of the walking that Epcot entails while I'm pregnant, I am really happy that this trip we're not going to be doing the trek in 110 degree summer heat like we've done in the past. We decided this day to either take advantage of the food stands or do a delicious dinner at Tutto Gusto wine cellar in Italy. I'm leaning towards a nice sit down dinner where I can get my favorite gluten free Pomodoro Pasta or maybe something new!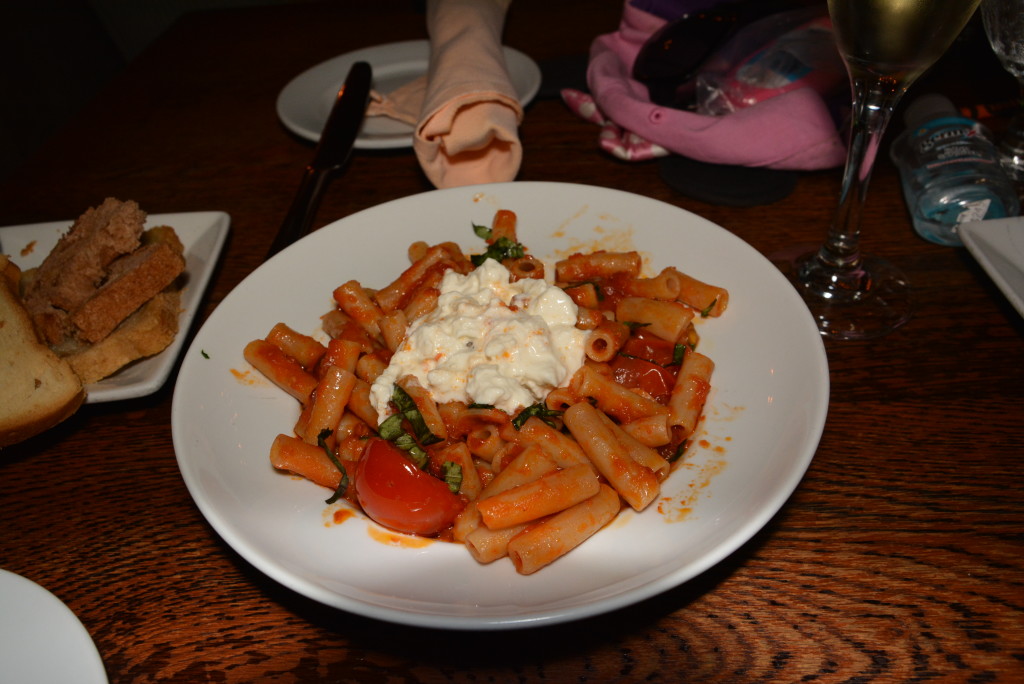 Day 7: We always try to do a character breakfast every trip, especially since we have a huge Disney lover on our hands. This time around we decided to do an early breakfast at the Crystal Palace in Magic Kingdom where you can meet Winnie the Pooh and friends. We've done this breakfast before and little one loved the humongous squishy characters who she couldn't get enough hugs from, but now she knows who they are so I think it might be an even bigger hit.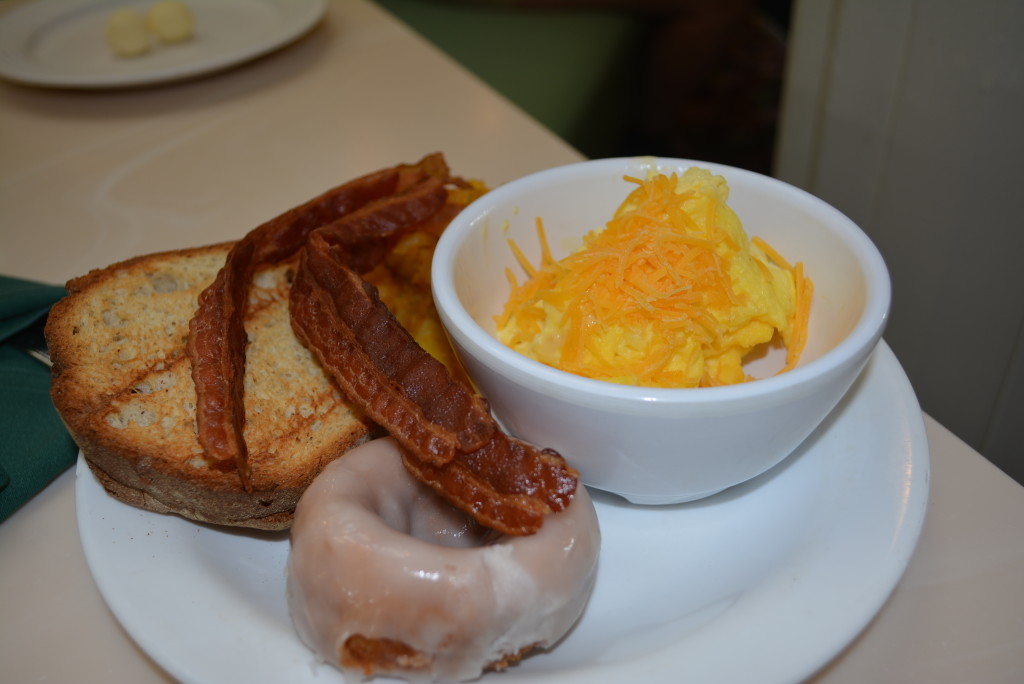 After our breakfast at Crystal Palace we'll spend our last full day in Magic Kingdom, day and night, with a break at dinner time for one of my favorite dinners at Kona Cafe in the Polynesian. This has become an every vacation tradition, and usually ends up being our last night's dinner because we LOVE this dinner location! Anywhere where I can get a humongous bowl of their gluten free noodle dish with grilled chicken that reminds me of my favorite lomein of years past is phenomenal in my book!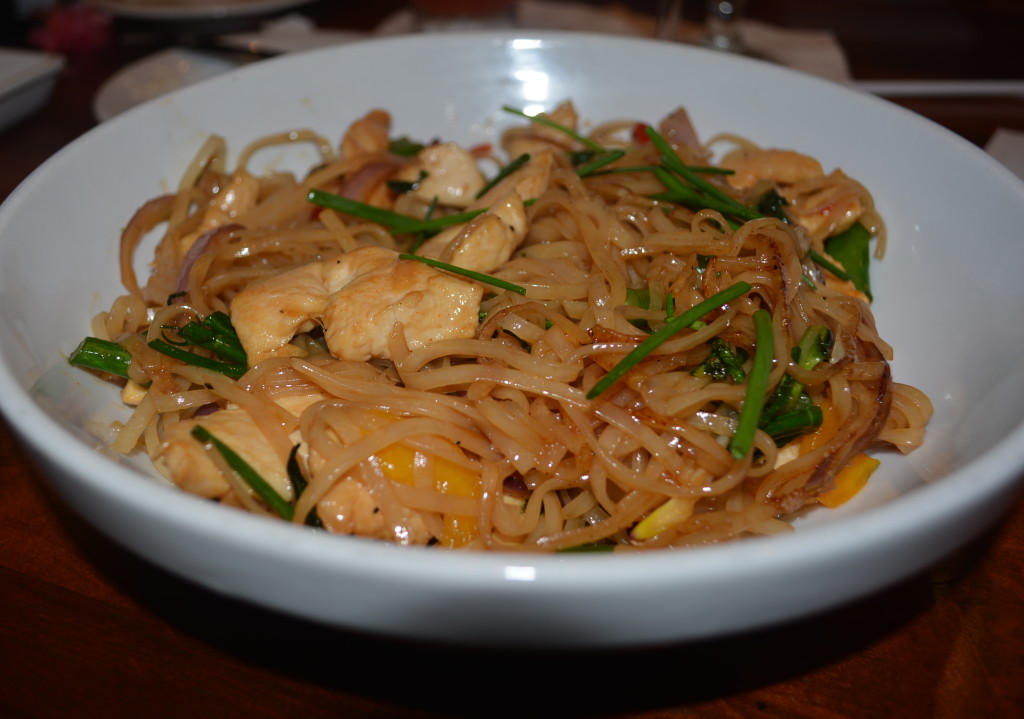 Day 8: Our last day in Disney is bitter sweet, we usually book our flight for later in the day/night so we can enjoy a fuller day at the end. We squeeze some of our last favorite rides, sit down for a nice lunch, and just relax back at the resort until our not so Magical Express arrives to take us to the airport.
We're so excited to explore Disney one last time as a family of three but also with our second little one in tow in mommy's belly makes it even more special. We vacationed in Disney in the heat of the summer when I was pregnant with our first little girl and we just love telling her that she was in Disney before she was even born and now we'll get to do the same for this little one. Since we've had some hiccups the past few vacations, my fingers are crossed extra tight that we're all happy and healthy for this adventure. We're so excited for our big vacation, and as always I'll be sharing my delicious meals with you when I get back so stay tuned to see how the dining goes but also to find out if our little girl will have a new brother or sister!
Sincerely,
Lindsay (21 weeks)