After enjoying a good breakfast with Pooh and his friends, we headed straight over to Fantasyland to start our day. We visited Anna and Elsa at Princess Fairytale Hall, hopped on Cinderella's Carousel, and road Winnie the Pooh's ride; we then made our way over to Adventureland where we hopped on the Jungle Cruise and Pirates of the Caribbean. After such a jam packed morning, little one fell asleep leaving Dan and I to wander around and figure out our lunch plans as the time was drawing near. We had yet to dine in the West Wing of Be Our Guest, so we decided to head over in that direction and catch an early lunch while little one rested her eyes.
We stood in line outside only for a short while and then followed along inside to order our meals at the kiosks. A chef was called for me to place my order which was pretty simple this time. I went with one of my favorite sandwiches there, the Carved Turkey Sandwich which had a dijon mayo and pommes frites along with it, each and every bite of which could be made gluten free. For dessert, the gluten free Lemon Raspberry Cream Puff as always.
After ordering, we headed to the West Wing to see if we could grab one of the few and coveted tables in there. Low and behold we had success, thanks to the earlier lunch time I'm guessing. Note to anyone with a sleeping baby though, when you plan on dining here for lunch be aware that there is thunder in the West Wing which can get quite loud at times, so much so it caused my little girl to stir each time. No worries though, she slept the entire time through lunch allowing some Mommy and Daddy time. While little girl slept, our meals were rolled out in their enchanted fashion and I was greeted by the familiar allergy flags placed in two beautifully put together sandwiches.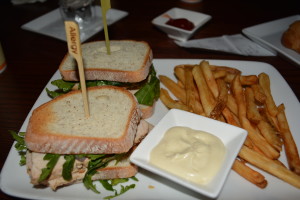 I was so excited to dine here again for lunch, as for me, as far as Magic Kingdom lunches go, this location definitely falls in my top 3. This lunch was no different, a beautiful plate of gluten free food magically found me and we enjoyed a wonderfully tasty meal in an enchanting environment. Now, the turkey sandwich itself was put together on Udi's bread I believe, and again, similar to the ham sandwich that I tried a few days prior, two gluten free sandwiches were given in place of the larger regular sandwich that others get. Sandwiched between gluten free slices of bread are large pieces of carved turkey with arugula on top. The turkey itself was moist and deliciously flavored, but my favorite is the gluten free dijon mayo that comes on the side!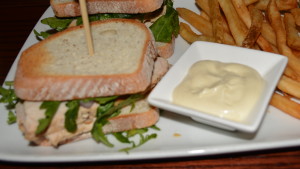 The dijon mayo is perfection and I just love adding it to both sandwiches and then dipping my pommes frites in whatever's left. It complements the turkey perfectly and adds a tremendous amount of flavor to the sandwich as a whole. TIP: Ask for extra dijon mayo, you'll definitely be happy that you did! As far as the pommes frites that come along with the sandwich, well those were delicious as always.
All in all, we just love having lunch at Be Our Guest. The environment is perfect, and the food is just that as well. From a gluten free perspective, you have so many unique options here, different really from anywhere else in Magic Kingdom. You absolutely must try Be Our Guest for both the experience and the delicious food that they offer. Take a peak at Be Our Guest's lunch menu now to see what catches your eye, and I'm sure you'll find many an item that you're interested in trying. Let me know what gluten free dishes you enjoy when you visit Magic Kingdom's Be Our Guest!
After enjoying a cool and dark lunch in the West Wing of Be Our Guest, our little girl awakened with an empty belly so we stopped at Pinnochio Village Haus to grab her a delicious bowl of mac and cheese, grapes, and apple sauce. She devoured her sized portion of the mac and cheese and apple sauce and we were off again to enjoy the remainder of the afternoon at Magic Kingdom, including the Haunted Mansion, It's A Small World, some of my husband's favorites Space Mountain and Splash Mountain, and the new Festival of Fantasy Parade, which was amazing!
Shortly after the parade, we headed on out to Epcot to explore the butterfly exhibit courtesy of the Flower and Garden Festival before our dinner in England. In route to Epcot though our little girl drifted off into a short little nap, those monorails and boats work magic on her! So Dan and I admired the butterflies for her and then scooted over to England for our dinner reservation.
We were seated outside right next to the lake and had a perfect view of the World Showcase. The chef joined our table almost immediately after being seated and drink orders were taken. I ordered the Grilled New York Strip Steak (Contrary to my ordering on vacation, I do not usually order steak daily, however their chicken options were usually dressed in sauces that were not up my alley, so steak it was.). Seeing as the sauce that was supposed to accompany my steak had gluten in it, the chef agreed to put together some type of gluten free scampi like sauce to go with mine.
As we waited for our meals to arrive our little one began to move around and did not wake up in the best of moods; needless to say, in the midst of taming a toddler I blanked on pictures at the Rose and Crown Pub, sorry. Anyway, our meals arrived and we traded off gobbling down our dishes while occupying our little girl. My steak was perfectly well done and was topped with a delicious scampi like sauce! The chef truly did a fantastic job putting this one together for me so I didn't have to have a dry steak. In fact, he even checked on me several times to make sure that the sauce was to my liking, such great customer service! For dessert, I was able to only get the fruit parfait off of the kids menu. By that point though, our little one had had it, so we took a few nibbles of our desserts and decided to head back to our home resort and enjoy some much needed pool time!
It was a fantastic day of gluten free food from a turkey sandwich and dijon mayo to a strip steak and flavorful scampi sauce. Each bite was just as delicious as the one before and the one after! I have to commend Disney's Chefs, as most of them that I've ever spoken to have been incredibly flexible and willing to accommodate in any capacity that they are able. Thank you Disney Chefs for being incredibly creative and aiming to please all of your diners!
My Disney adventures are almost at an end so stay tuned for the last gluten free bites that I enjoyed at Animal Kingdom, Cinderella's Castle, and all of the snacks inbetween!
Have A Magical Day,
Lindsay