Not a cloud in the sky, in fact a cool breeze started our 5th day in Disney as we approached the boat to head over to Magic Kingdom for an early breakfast. We hadn't done this breakfast before so we super excited to get into Magic Kingdom before park opening and enjoy some food with friends. With the streets pretty empty we just had to snap a picture of our little girl all by herself in front of the castle with her favorite balloon!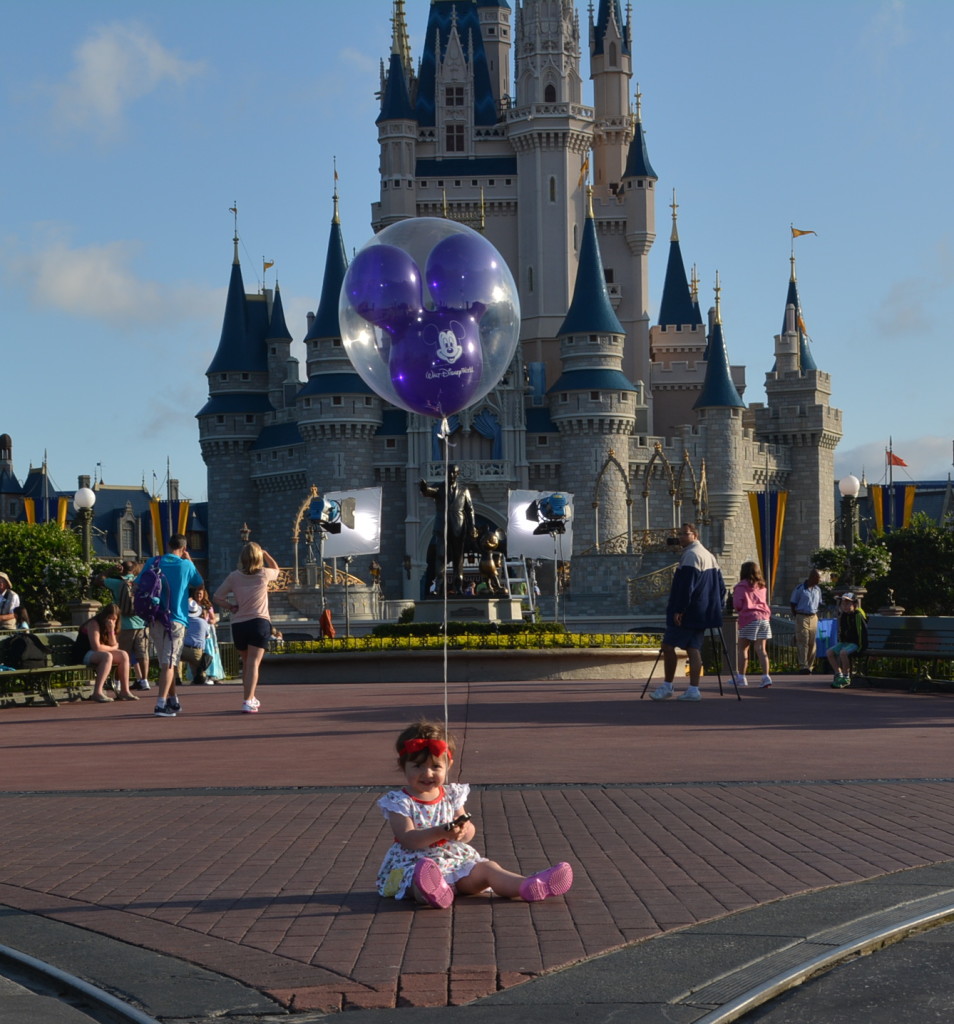 Once we sprung her from her stroller, she was off and going, just so happy to be able to run around and roam Main Street on her own; and then we were able to capture this moment! She really is the light in our life! After we took a few more pictures we made our way over to the Crystal Palace, where we couldn't wait to enjoy good food with Winnie the Pooh and some of his friends too. We checked in, and just as we were unloading the stroller we were called to be seated. As were getting our cameras out, settling little one into her high chair, and ordering our drinks, we saw the chef approaching. He told me that they had gluten free Vans waffles (sadly, no Mickey waffles here) and donuts along with traditional breakfast staples. I decided to go with scrambled eggs, bacon, hashbrowns, and toast and to also try the donuts that they had, way too much food for myself but just had to try a bit of everything. Also, the chef did say that I could get the eggs, bacon, and hashbrowns from the buffet as they were gluten free, but I instead opted to have the chef put together my dish in the kitchen to prevent any cross contamination. While waiting for my food, the characters started circulating and first up was Eeyore.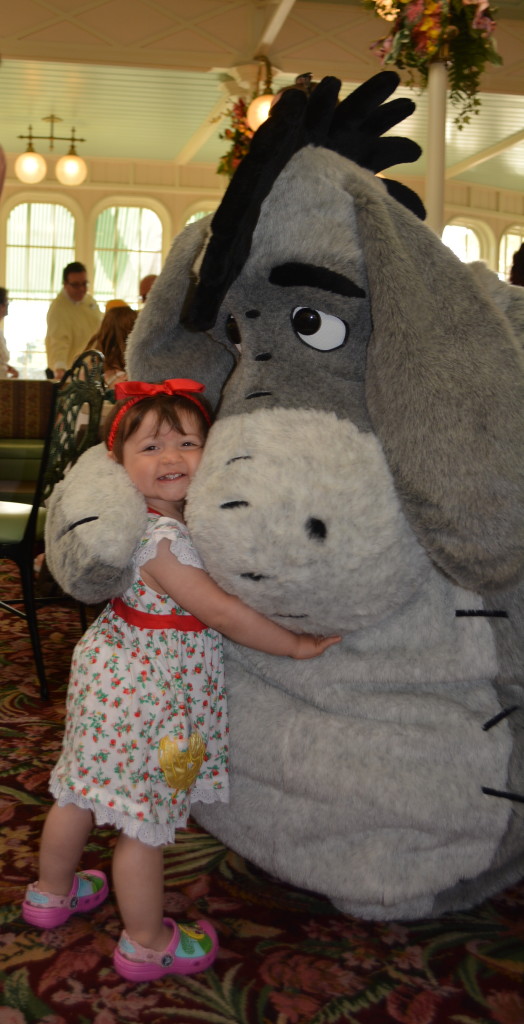 As you can tell, my daughter absolutely LOVED Eeyore! Just as she was with all of the other characters we had visited, she couldn't stop hugging him. Some moments, she would just close her eyes and smile as she wrapped her tiny arms around his nose and he squished her back! After Eeyore and Pooh had passed by, Dan visited the buffet to pick out a plate for himself and our little girl. While he was doing that my plate arrived!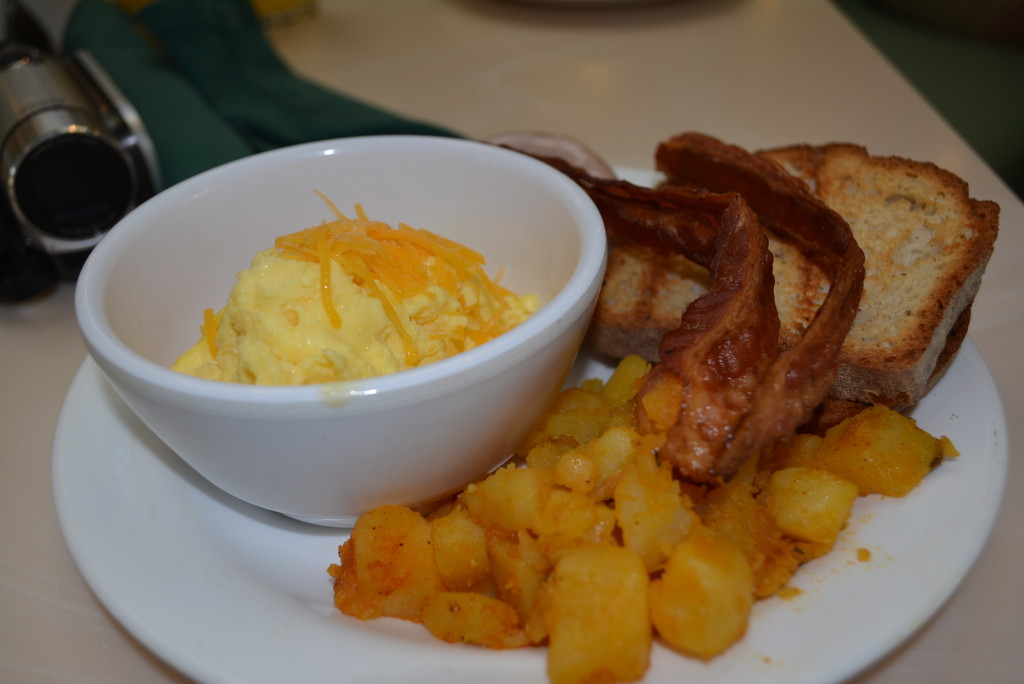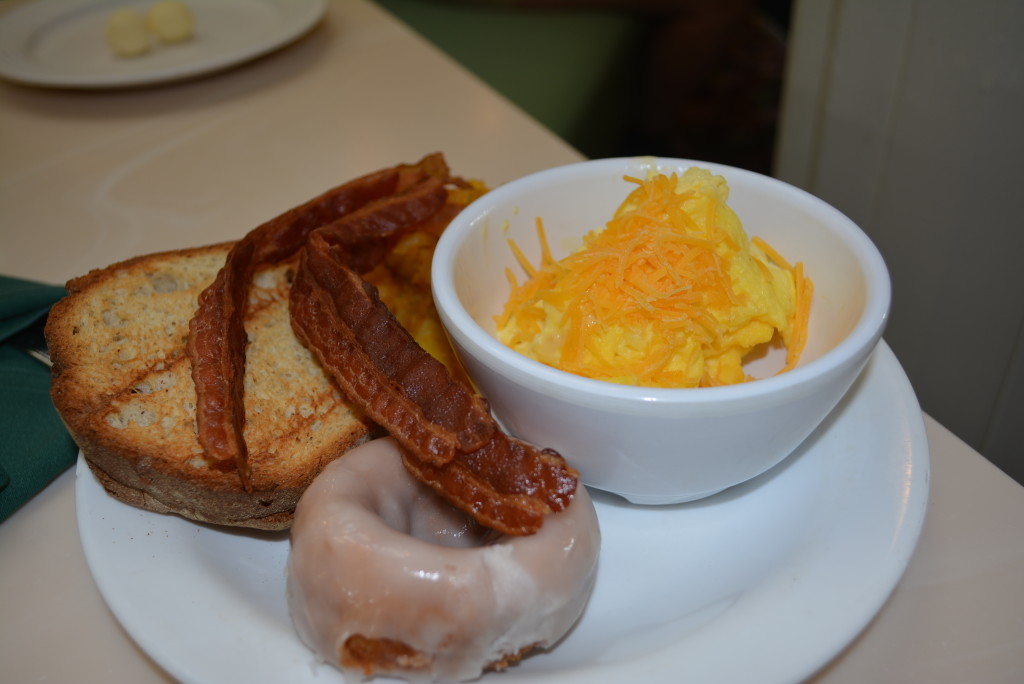 Between scrambling around to meet the characters and feed our toddler who was too distracted to really eat, I'll be honest I didn't really enjoy too much of my breakfast. But, I was sure to try each item on my plate, especially the donut! The scrambled eggs and bacon were pretty good, just what I was in the mood for, especially with a side of toast! The hashbrowns were okay, really not my favorite; I prefer a shredded potato kind of hashbrown, like the one at Chef Mickey's Breakfast. Finally the donut, it was pretty good, a bit too cakey, but it was just nice to add something sweet to a gluten free breakfast for a change. I believe the donuts that they have here are Kinnikinnick, which are kind of tiny and more cakey; I definitely prefer a Katz donut which is a bit more dense and also a little bigger too!
All in all, breakfast at Crystal Palace for the experience was fantastic, a little too much fun as my little girl wasn't keen on the sitting down and eating part of the meal, and food wise it was pretty good. I would definitely eat here again, more so for the fun of getting into the park early and enjoying some close up time with Pooh, Piglet, Tigger, and Eeyore than for the actual food though. Keep an eye out for another Be Our Guest lunch that we managed to squeeze in!
Have A Magical Day,
Lindsay