As a true Italian, pasta was one of my family's favorite dishes that we enjoyed at least once or twice a week along with a Sunday dinner or two. Spaghetti, fettuccine, penne, riagtoni, ravioli, tortellini, and lasagna, we enjoyed it in all shapes and sizes. On the occasion that we ate out, pasta was my go to meal, specifically vodka rigatoni, since I wasn't a huge meat eater. As an adult, I continued to enjoy pasta in a variety of different forms, but one of my favorites was the fresh pasta that my then boyfriend and I would make. In fact, the night my boyfriend proposed to me he made our favorite dinner of fresh pasta with vodka sauce and meatballs. A few years down the road, my diagnosis of a severe gluten intolerance appeared, and it was goodbye to my pasta days, a truly heartbreaking day for this Italian. I thought that I had said goodbye forever to a staple that was part of so many memories throughout my life.
Although it's been one heck of a process trying to find gluten free pasta that didn't disintegrate while cooking and have a lackluster taste to boot, I'm so happy to have discovered the best substitutions for gluten filled regular pasta. While the boxed pastas by Ronzoni and Barilla, that have been released in recent months, are fantastic and stand out above all of the rest, I still do miss the occasional treat of enjoying the freshness and perfect al dente texture of fresh pasta. Thankfully, my husband, being the best non-gluten free spouse that a gluten free wife could ask for, scoured the internet and found one of my favorite gluten free products to date, RP's Gluten Free Pasta.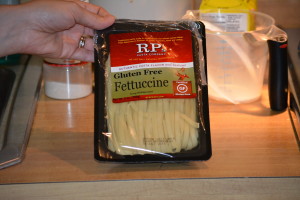 RP's Pasta Company produces a number of varieties of fresh gluten free pasta, including fettuccini, linguini, fusilli, lasagna sheets, and spinach fettuccini. After a quick 2-3 minute boil, their pasta is cooked to perfection. Toss the pasta with your favorite sauce or just butter and cheese and you're ready to enjoy!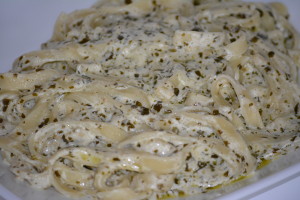 My favorite sauce to add on top is a creamy pesto, but I'm actually eager to try it with a homemade alfredo next time! I'm also super eager to try their fresh lasagna sheets which I've yet to spot at my local store, so I'm keeping my fingers crossed on that one. As far as price, their pasta is pretty affordable at $5.99 a package at Whole Foods. To stick to my family's grocery budget, I keep to purchasing the boxed gluten free pastas for my week to week grocery shopping, but RP's gluten free pasta is certainly on my list for the occasional trip to Whole Foods that I make about once every month or so. The best part is, is that the expiration date on their pastas is usually pretty far ahead, so you can store it in your fridge for an extended period of time but can always move it to your freezer if necessary later on. To check out RP's gluten free pastas and where you might be able to purchase them, just take a peak at their website here.
I can't give this product enough props, it truly is amazing what company's are able to accomplish now with gluten free ingredients! RP's Pasta Company has raised the bar when it comes to gluten free pasta with their fresh pasta version, a product until about year ago had gone totally absent in my life. They produce a standout product that will remain a gluten free staple in my home for many years to come and hopefully yours too!
Sincerely,
Lindsay