After a great day in Epcot, we headed over to Hollywood Studios for dinner. On our travels, nestled snug in my arms, little one fell asleep for a much needed nap, and I have to admit that I wished I could fall asleep along with her too. Soon enough though we pulled up at the bus stop and quickly unloaded. It was back into the stroller for our little girl and thankfully the transition didn't wake her up.
Since we arrived a bit early for our reservation at 50s Prime Time Cafe, we decided to grab a few cups of water (which by the way you can get for free at any stand!) and meander through the air conditioned gift shops. I can honestly say that I don't think I've ever been so thankful for air conditioning in quite awhile. It just felt heavenly walking through those stores, not to mention it made nap time a lot more comfortable I'm sure for a certain little girl. After looking through all of Disney's merchandise, and snagging a Mickey pretzel magnet that our toddler would just love, it was time to head over for dinner.
A short wait later and a table that would fit our group of thirteen was ready. Thankfully, there was enough room to push our stroller in with sleeping baby inside and not interrupt nap time. The chef joined us moments later, took our allergy free orders (gluten free fried chicken of course and the brownie sundae), and politely obliged to our gluten free fried chicken request and in fact shared that the chicken was almost ready, yay!!!! I couldn't have been happier to be one step closer to tasting the deliciousness of their gluten free fried chicken again.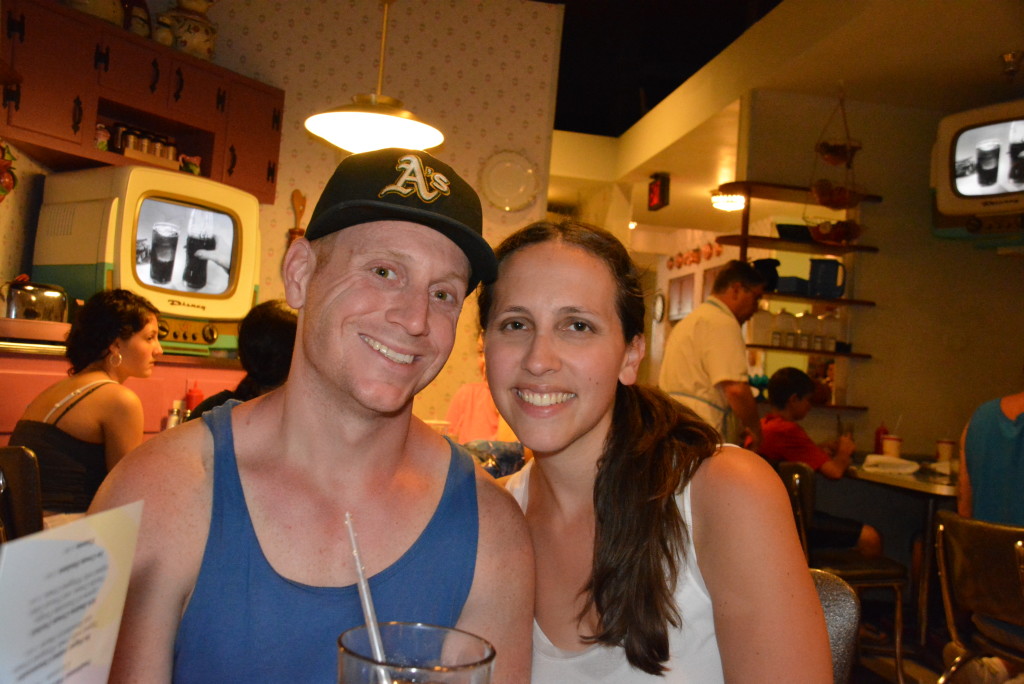 Now, how did I seem to accomplish the impossible, seeing as last time I was less than successful at 50s? Well I sent my gluten free meal request via email to Special.Diets@DisneyWorld.com, 2 weeks before we left for our trip, where they then passed it along to the restaurant. It seems so silly that this is necessary, but trust me, if you want to enjoy this gluten free item I highly recommend doing this. In one of my many discussions with Disney's Special Diets department I was informed that the restaurant no longer keeps all of the ingredients on hand at all times so they need ample notice ahead of time of a request to get everything. Better safe than sorry and from now on I'll only ever order this dish in this way, hopefully to always have the success that I did that day!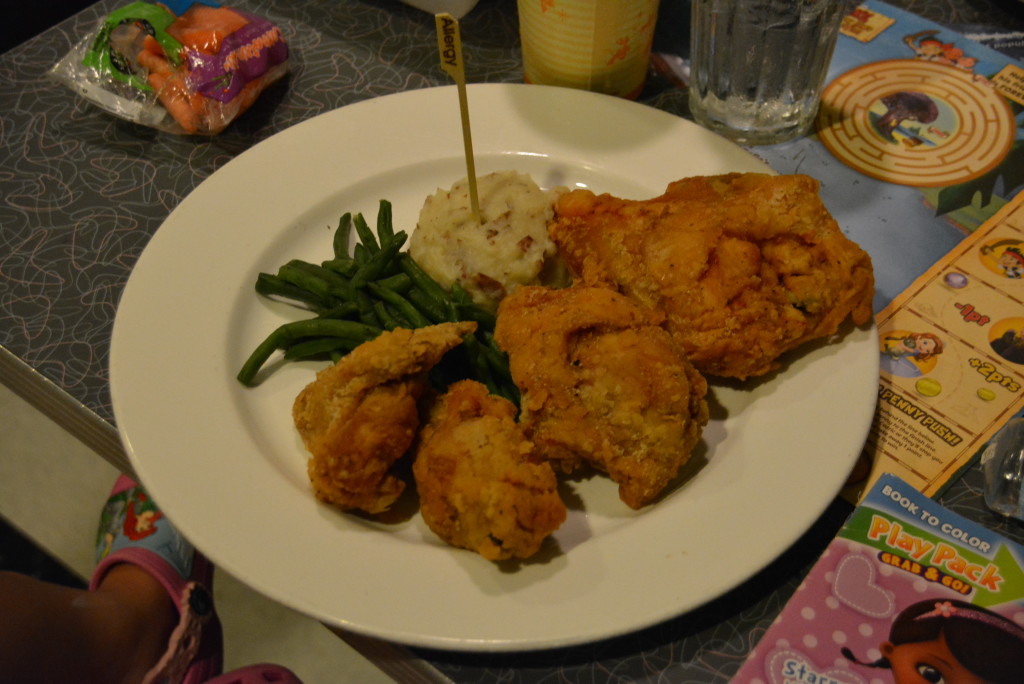 Okay, so now that all of the instructions for ordering are out of the way lets get to the good stuff. Since our gluten free fried chicken was almost ready when we talked to the chef (thanks to my pre-ordering!) our wait was cut down significantly, unfortunately though not enough for our little girl. In fact, just as our meals were arriving our little one stirred, I'm telling you they have amazing timing, and didn't wake up in the best of moods. Seeing as I have an amazing husband who knows how much I had looked forward to this meal he offered to take our little girl outside for a walk so I could quickly gobble my hot and crispy gluten free fried chicken down. I don't know how they do it but the crispy gluten free fried chicken with a side of garlic mashed potatoes and string beans hit the spot perfectly and was amazing! The outside of the chicken was perfectly crispy and flavorful while the inside was bursting with juicy flavor. The sides were just as tasty as I remembered too but there's no denying the star of that plate was chicken.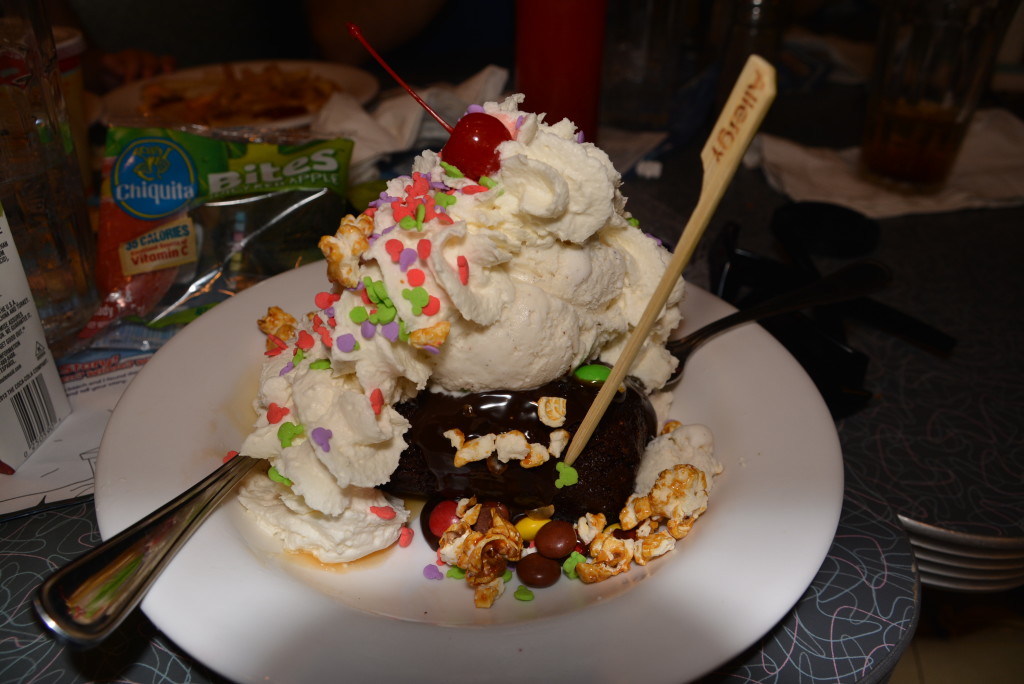 Once my perfect plate of gluten free diner food was almost done, Dan and my little one were back and it was my turn on toddler duty. Thankfully we had gotten our little girl some dinner ahead of time so she happily nibbled on some of Mommy's green beans, sandwich, and her favorite, apple slices. Before we knew it, the creme de la creme of the dessert menu had arrived, a gluten free version of Dad's Brownie Sundae, which towered over the table in all of it's glory! By this time, my little one who loves herself some dessert, had finished her meal, at least as close as we were going to get, and even had a quick change outside and was licking her lips at one look of this masterpiece. We divided the whole sundae for our family of three to enjoy, making sure each of us got to taste all of the fixings, including the homemade gluten free brownie, vanilla ice cream, hot fudge, caramel sauce, whipped cream, sprinkles, caramel popcorn, m&ms and a cherry. This dessert is phenomenal, from the delicious gluten free brownie that they make in house to the clever toppings like the caramel popcorn, each bite makes you close your eyes and give a little mmm. A sweet way to end our meal for sure!
So needless to say my faith in 50s Prime Time Cafe has been restored. With some notice ahead of time, they were able to create a gluten free masterpiece and I for one couldn't be more grateful. After such a rough experience only a few months ago, it was certainly a relief to walk out with such a different feeling this time. Hopefully this method is fool proof and gets you this plate of deliciousness anytime you want! Keep me posted on all of your gluten free experiences in Disney World too, good or bad, I'd love to hear them!
TIP: If you're contemplating making a dining reservation at 50s Prime Time Cafe and are interested in their legendary gluten free fried chicken, make sure you order ahead as I did by simply emailing your request to Special.Diets@DisneyWorld.com. This seems to be the best way to make sure that you get to enjoy what you want.
Have A Magical Day,
Lindsay