As the second day of our vacation rolled around so did our time at Epcot. We love our days and nights at Epcot, with the amazing food and drinks, the feeling of all of the different cultures around you, and some fantastic rides scattered in there too. We had big plans for this day in Epcot, an early start at Soarin', then meeting Mickey and his friends at the Character Spot, then hopping on Test Track, and finally heading over to start the World Showcase, all summed up with a ride on Nemo and a walk through the aquarium in the afternoon before dinner.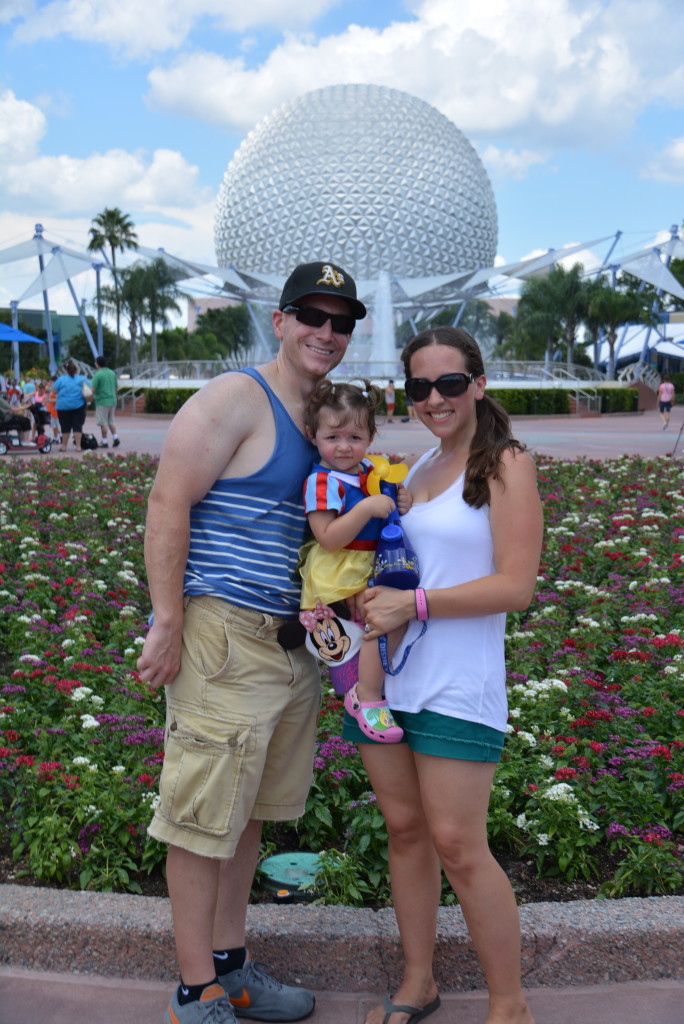 The highlight by far, as always, was meeting everyone at the Character Spot. My little girl just loves Mickey and his friends. With a running start, she charges over to each of them and embraces them in a huge hug, then quickly about faces and sits down on their lap for a picture. Nothing beats watching her hug each of them so warmly like they're her best friends and then bid them an equally warm farewell wave. It's moments like that that make me want to go back to Disney over and over just to let my little girl see her friends again.
By the time we had completed our morning rides, our little girl had drifted off to sleep, so instead of squeezing in the Mexico and Norway rides we took our time meandering around the countries and their stores. By the time we had reached Italy, we decided to have an early lunch at Tutto Gusto Wine Cellar. We happen to really love Tutto Gusto, although it isn't on the dining plan, it's a nice alternative for lunch in Epcot. Literally, the moment we pulled the stroller up to the restaurant our little one was in the midst of waking up from her nap, it's amazing how they have such good timing.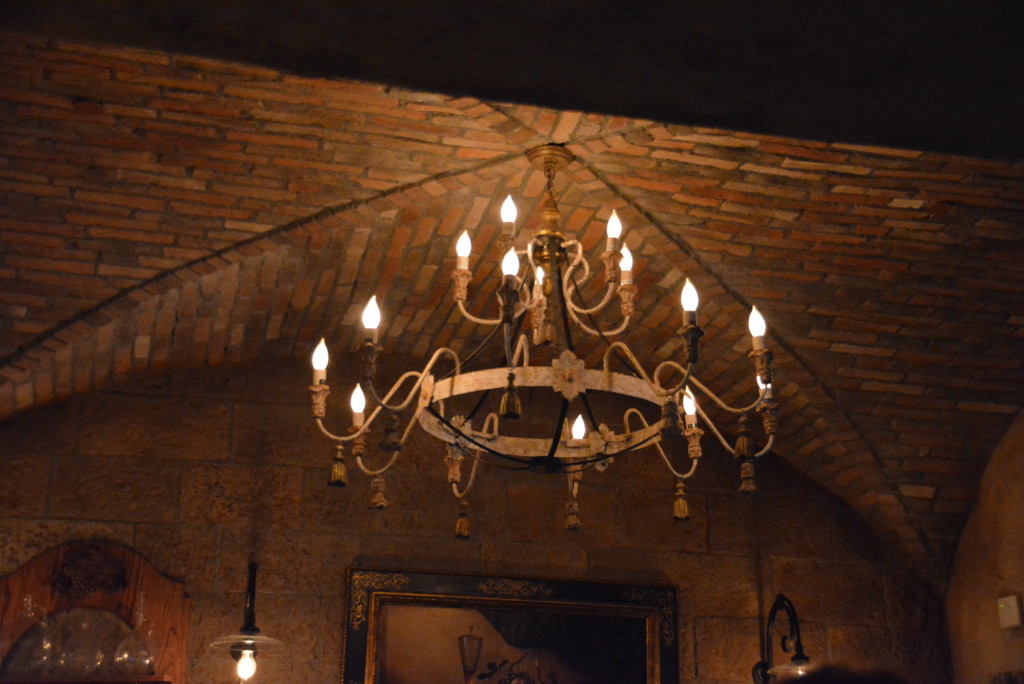 We were given a great table right in the middle of the wine cellar where we could admire the wall of wine bottles behind us along with the gorgeous authentic Italian touches everywhere, all while enjoying the wonderfully cool and dark environment that was so welcomed after baking in the Orlando heat and humidity all morning. Our server quickly met us at our table along with the chef to go over my gluten free options. They have gluten free pasta which allows for any of the pasta options on the menu, however everything on their tasting menu, meats, cheeses, etc. are gluten free too. Much to my dismay though, the chef informed me that all of these other options are kept in a communal case where their paninis and such are stored too, so there is a chance of cross contamination there. I was warned that if I was very sensitive that the case contents were pretty off limits, even though that's a bit disappointing I was completely okay with skipping out on the gluten exposure. I decided to go with my favorite dish, the gluten free pasta pomodoro with burrata cheese, that they really do so well there.
While we waited for our dishes, the server dropped off our recommended wines, I went with a sweet, bubbly Moscato along with a bonus plate of gluten free breads. There was a raisin bread and two other plain breads. They were all quite good but my favorite was the raisin bread, of which I really only had a bite or two since I didn't want to ruin my lunch. Meanwhile, our little girl couldn't get enough of the delicious looking, non-gluten free focaccia bread and crunchy breadsticks that were placed in front of her and my husband. She loved every bit of that bread plate and would've taken it all home with us if we could.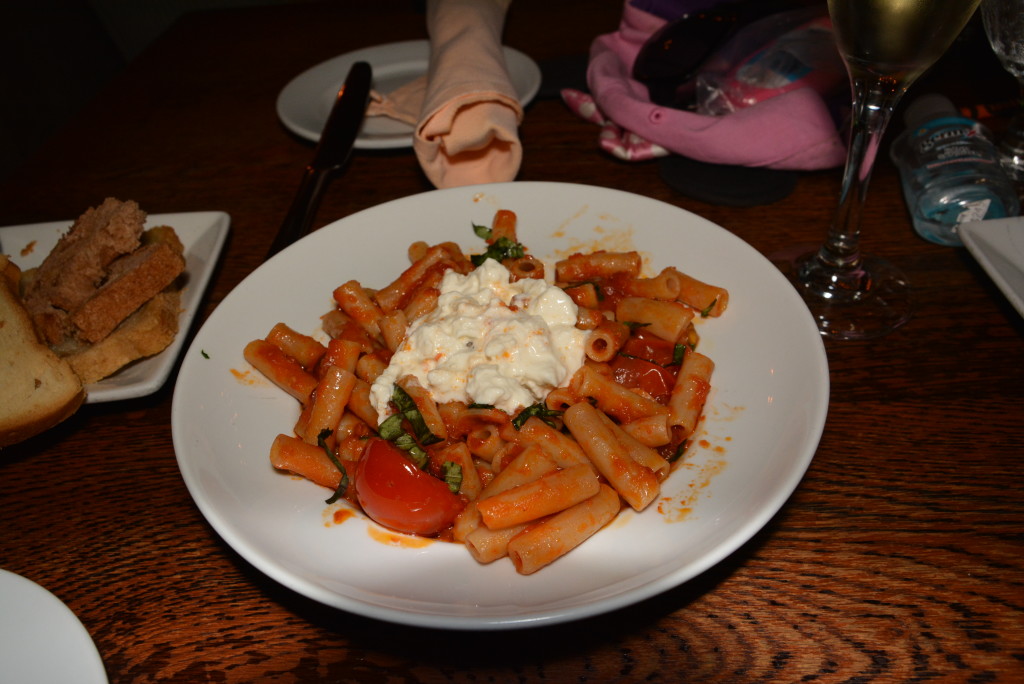 Soon enough, our lunches arrived, my husband's Tuscan pork ribs and my gluten free pasta pomodoro that would be split with my little bread monster. When we had visited Tutto Gusto before on our last trip, unbeknownst to me, the chef made me a dinner sized portion of the pasta which was way too much food and too expensive for lunch too, This time just confirmed my suspicions from before, as my tasting plate of gluten free pasta arrived and was just the right size (and price) for lunch and even to be shared with a little toddler. It was just as delicious as I remembered with whole roasted tomatoes scattered throughout, fresh basil, and creamy burrata cheese on top. Not to mention the pasta was phenomenal! It was cooked perfectly al dente and embraced all of the flavors of the sauce and cheese. Such a fantastic lunch option when you're in Epcot, just gives you a little break from the fries, burgers, and sandwiches.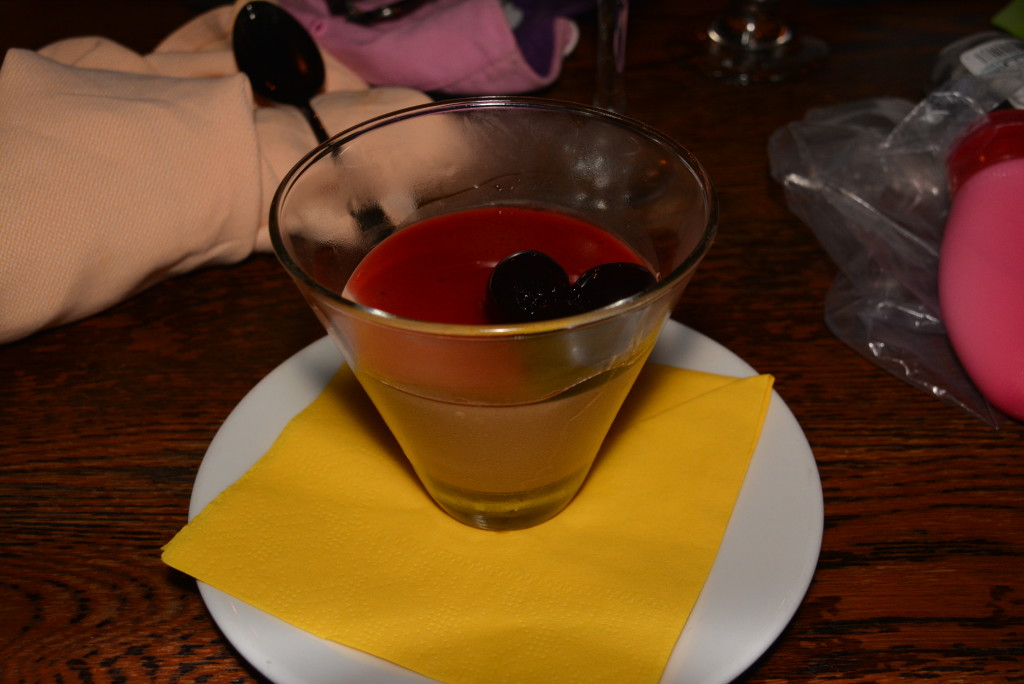 Okay, so what Disney meal is complete without a dessert? Our lunch at Tutto Gusto Wine Cellar was no different. My gluten free choice was the chocolate panna cotta with cherries on top. It was so soft and creamy, just how a panna cotta should be, and matched perfectly with the cherries. Needless to say, this dessert didn't stand a chance in my group, even though I shared it with little one (who also happen to snag a few bites from Daddy's dessert too), I'm sure the dish wouldn't have been empty anyway if it had been left up to just me.
As our meal was coming to a close, I couldn't help but look around and truly appreciate just how wonderful our vacations are together. Sure my little girl has her moments when her toddler age and impatience shows through but then there are plenty of those other moments too, where she's all smiles and laughs, making Mommy and Daddy smile too. She's a precious little gem our little girl and we couldn't be more happy to share all of these exciting moments with her as she grows up.
So all in all, I can't recommend Epcot's Tutto Gusto highly enough. They offer delicious gluten free menu options, and non-gluten free ones too, that are sure to please everyone. The only downside that I did have was that I couldn't get my hands on their recipes. Sadly, they weren't really keen on sharing those which was really disappointing for me, seeing as Disney isn't necessarily in my backyard and on my regular list of Friday night take out options. Even though I can't recreate these exact dishes at home though, it just makes it that much more exciting and tastier when we get to go back!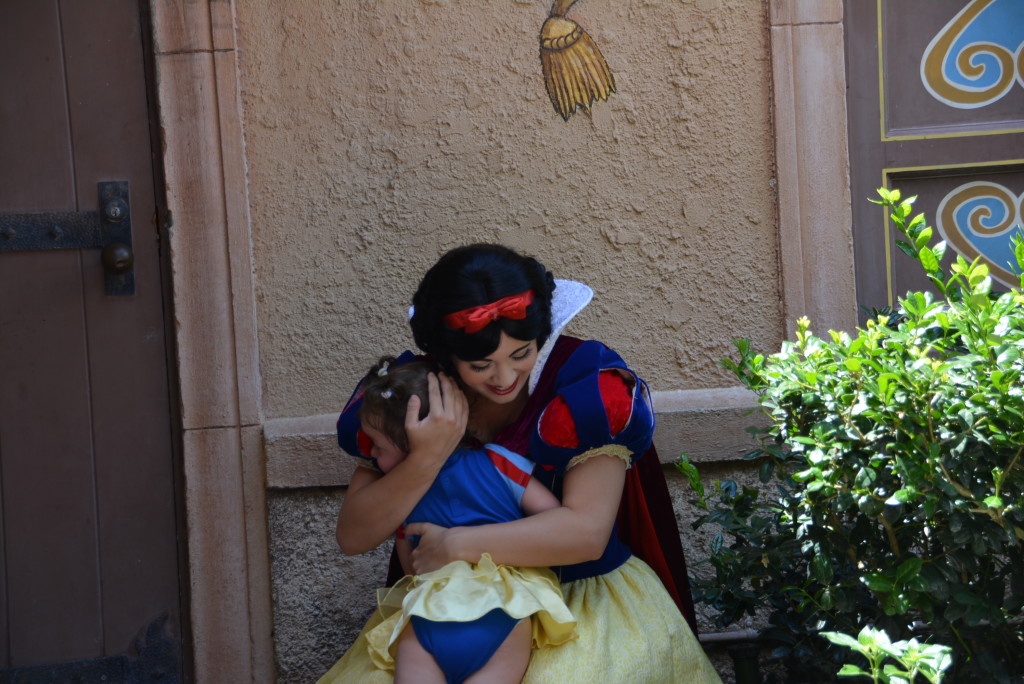 After lunch, we were all refreshed and ready to tackle the rest of Epcot. We headed straight over to Germany to meet my daughter's favorite princess, Snow White. The meet and greet went just how we expected, a huge hug, followed by being held for bit, and finally a goodbye hug and wave that made the line behind us aww in unison. After her meeting, we took our little Snow White through the rest of the countries and finally to the Nemo ride, which she LOVES! The ride itself is great, but the aquarium afterwards is a great experience that we all love. By the time we finished Nemo, it was time to head over to Hollywood Studios for dinner. Stay tuned for my most exciting gluten free news from our summer Disney vacation! I'll give you a hint, it has to do with fried chicken!
Have A Magical Day,
Lindsay