Can you believe we are in the last week of October already? I know, time has just flown by this month, as I think it always does this time of year thanks to the over abundance of things to do. Aside from the unfortunate increase in colds and flus, fall is one of my favorite seasons. From the crisp and cool fall air to the amazing festivals and activities of all kind that seem to surround us. This year, with our little girl being a hundred percent mobile, our annual fall activities of apple picking, going to the pumpkin patch, pumpkin carving/painting, and attending fall festivals here and there looked very different from last year. She just loved each and every one, from picking out her favorite miniature pumpkin/gourd and sitting on top of our big carving pumpkin to picking those little baby apples off the trees and yelling apples while placing them in her bucket. Life has changed so much in only a year, but in so many good ways.
Seeing as we're only a couple days away from the highlight of October, this week we're in full Halloween prep mode. This past weekend, our little girl painted her pumpkins while Mommy tried her hand at our first serious pumpkin carving, which for my first time I am very proud, if I do say so myself. Earlier in the week, we ran some errands to scout out some more Teal Pumpkin Project treat ideas and made Pumpkin Chocolate Chip Pancakes for dinner. And today we're going to take full advantage of the unseasonably warm air that's rolling in by spending some time outside and maybe making some Halloween shape cookies later on too.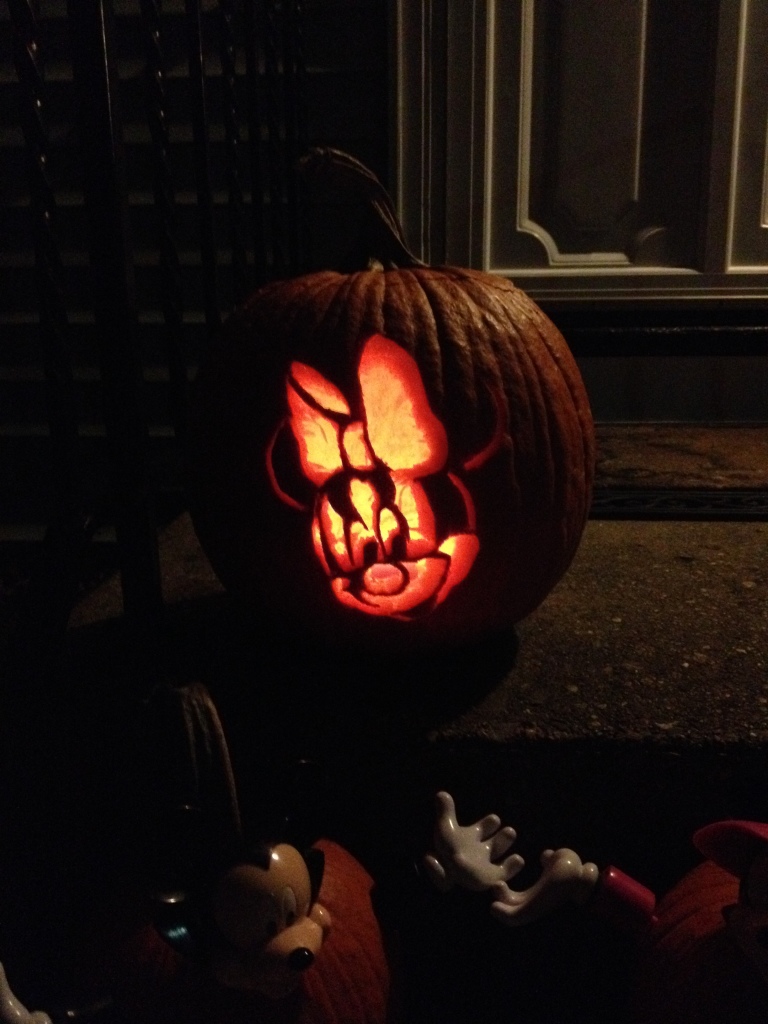 So like I mentioned, among our Halloween week travels, little one and I were scouting out a few more ideas for Teal Pumpkin Project friendly treats. Having a food intolerance myself, as well as a nephew with severe food allergies, has changed my view entirely on holidays, especially those that are centralized around food. As a little girl, I remember running from house to house on Halloween, collecting buckets full of candy that my siblings and I would then hold a formal trading session for later on that night. While half of the fun of Halloween is definitely the dressing up and running around part, the other half is easily the candy and treats that you work hard to accumulate. Even though I can't imagine what my holidays would have looked like as a child if my food intolerance were active at that time, I've been able to get a pretty good idea from watching my nephew. Now almost 8 years old, each year he's been a really good sport about the limitations for him for Halloween. He loves dressing up and trick-or-treating with his brothers and cousins but the candy side of things doesn't hold much excitement for him. Thankfully, with a ton of family local, ever since he was small we've been able to make sure that he gets plenty of edible and non-edible treats that will make his Halloween just as exciting as his siblings.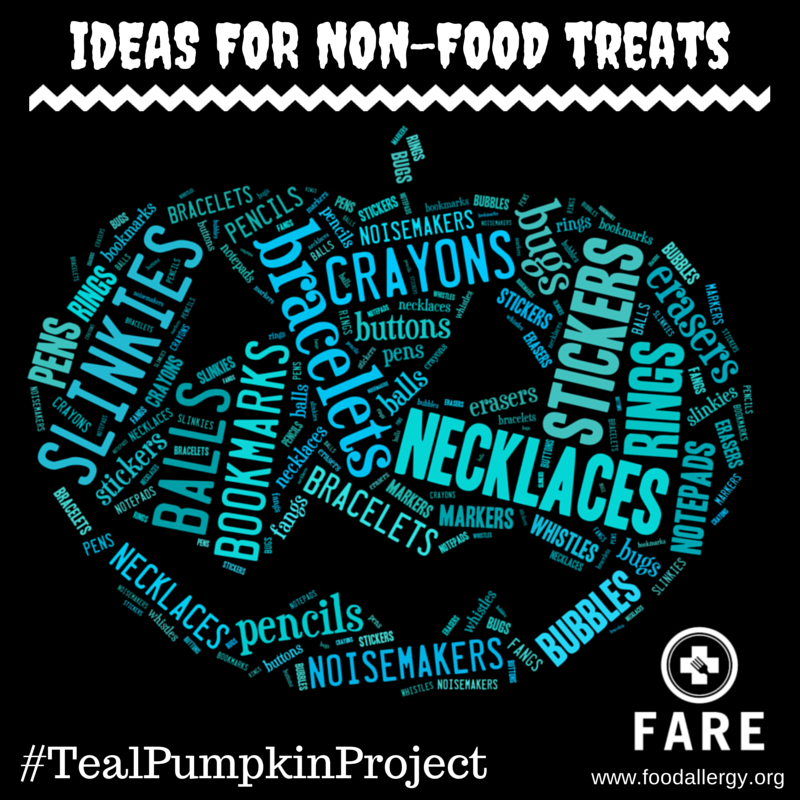 My nephew isn't the only child with stories like these from Halloween; in fact there's far more children with food allergies/intolerances than many realize, hence the inspiration for the Teal Pumpkin Project. Through the Teal Pumpkin Project, on Halloween, children with food allergies will feel included but safe at the same time with the ability to trick-or-treat for fun, non-food items. What an amazing and community unifying idea and all you have to do to participate and make these kids smile is paint a pumpkin teal or hang one of these flyers in your window/door and provide a simple, allergy friendly non-food option in addition to or instead of candy.
After perusing the Halloween section at Target and Walmart and getting over the sticker shock of how much candy is now, I figured that many of you probably spend a good $10 dollars at least on bags of candy. Why not take a few dollars out of what you're already spending and get a small selection of non-food items to pass out too! These things don't have to be expensive, in fact they can cost just as much or less than the candy that you normally purchase. Need some ideas? You're in luck, I've got some great ones that are affordable and will fit right in with your candy budget too! Check out some of my recommendations in my vlog, along some more ideas below.
Here's a whole list of cheap and fun ideas, along with where you might find them.
Target finds:
Spider rings (a bag full for $1)
Stretchy creatures or skeletons (package for $1)
Tattoos ($3 for a container full)
Glow in the dark fangs (1 for a bunch)
Festive erasers ($1 for a bunch)
Halloween bouncy balls ($3 for a package)
Halloween shaped crayons or chalk ($2 for a package)
A bowl full of crayons ($2.49 for a huge box)
Glow bracelets/sticks
Craft stores like Michael's or Acmoore and the Dollar Store too has similar finds (Michael's has 70% off their Halloween stuff already too!):
Spooky witch fingers (a bag full for $1.99)
Different color rubber bracelets (a bag full for $1)
Eyeball rings ($1.99 for a bag)
Halloween stickers books ($1, you can always give out a page to each child)
Coloring books ($1 each)
Party City has some fun treats too:
Multipack of black spiders (99 cents)
Pumpkin bookmarks (a bunch for 99 cents)
Halloween activity pads (a bunch for 99 cents)
Spooky eye patches (a bunch for 99 cents)
Eyeball ping pong balls ($1.99 for a package)
Halloween whistles ($1.99 for a package)
Halloween bubbles ($2.99 for a bunch)
Halloween puzzle cubes ($2.99 for a bunch)
Halloween eyeball glasses ($3.99 for a multipack)
Halloween punch balloons ($5.99 for a big package)
If you do end up purchasing any of these Halloween goodies, keep in mind that they make great little treats for your own little ones too. I could pick out a handful that my nephew who's 8 would have a kick out of and a ton more that my little girl, who loves everything that's small and little, would love to cart around with her too. In fact earlier in the season, I bought her a bag of the spider rings just for fun and ever since she puts one on each finger and stuffs the rest in a cup, insisting on carrying it wherever we go and I mean wherever. On our errands the other day, her toy of choice to bring along with us was the cup of goodies that now includes the spider rings, a necklace, and a pair of sunglasses, along with any other small odds and ends, all of which found itself splattered across the craft store floor and an "uh-oh" echoing from within the stroller. No worries, the cup of treasure was retrieved and nestled snugly back in the arms of my little girl, but I think I'll have to burst her bubble and insist that the cup of treats stays inside when we go our on adventures outside of the house.
So make sure you take advantage of these last few days before Halloween and head out to pick up some of these non-food treats. And don't forget to hang your Teal Pumpkin Project sign or get your kids involved (or have a little fun yourself) and paint a pumpkin teal, to tell everybody around you that you have some allergy friendly treats! It's such a fun holiday that we all look back on with fond memories, let's make sure all of our kids can do the same.
Have a Happy Halloween,
Lindsay