Our Disney adventure started out with an early morning flight, which is by far my least favorite activity of a vacation. Not only do I not love flying in general but the idea of being contained to a tiny little space with a highly active and mobile toddler is a bit intimidating too. With snacks, toys, and an ipad full of Disney Junior in hand though we were armed for the relatively short flight. All in all it wasn't too bad; it was slightly hectic when little one left us a surprise in her diaper and required a change in the tiny tiny airplane bathroom but after some walking back and forth she passed out for a short nap until we landed in Orlando.
I don't know about any of you but just stepping off of the plane in Orlando you get that magical feeling that Disney brings. After a short tram ride through the airport we were whisked away by Disney's Magical Express to one of our favorite resorts, The Wilderness Lodge. The ride was filled with so much anticipation as our little one just sat in awe watching the bus tv as Mickey splashed across the screen. Only 30 minutes later and "we were home". After checking in and leaving our carry-ons at the front desk, we were off to start Day 1 at the most magical place on Earth.
One of my favorite perks (and my daughter's too) of staying at the Wilderness Lodge is the option to take a quick and scenic boat ride to get to the Magic Kingdom. Going with tradition, we headed over to Magic Kingdom first via the boat and a short 10 minute ride later we caught a glimpse of the castle for the first time. Just seeing the castle makes you feel like a kid again, filling you with so much excitement and anticipation. Soon enough we were docking right in front of the gates to Magic Kingdom and we couldn't wait to unload and experience the magic.
Little one was a bit sleepy after a long commute earlier that morning but awake enough to point and scream with excitement at the all of the sights and sounds that filled Main Street. She just loved the hustle and bustle of it all, so much to see, hear, and smell for my little 1 1/2 year old. Her signature twinkle in her eyes grew ten sizes that day with her first gaze of the castle and the character show going on in front of it, a little expression I'll never forget. We headed straight for Fantasyland to start our trip off with my little girl's favorite ride, It's A Small World. Even as an adult I love this ride too, but my little one just couldn't take her eyes off of all of the dancing and singing dolls. She loved this one 9 months ago when we first took her to Disney, so much so I had an It's A Small World inspired 1st birthday party for her! This time on this ride was filled with just as much amazement.
After riding through It's A Small World, we headed over to Frontierland to get some lunch. Little one had a sandwich along with applesauce and fruit while Dan and I indulged in one of our all time favorite lunch options at Disney, and it's gluten free! We love love love the Turkey Legs, you know those huge, smoked hunks of meat that look like they belong in a Flinstone's episode. If you haven't had one of these, I'm sure you've at least seen someone at some point walking around with one during one of your Disney trips. They are amazing and more amazing they are safe for those that are gluten free!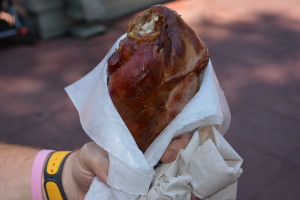 These smoked turkey legs are huge and make a perfectly filling lunch that is a little different then a burger or hot dog and fries. Each bite is filled with a juicy and smokey tasting piece of turkey that actually tastes a bit more like a ham with texture of turkey. My favorite part about these is that they are far from your traditional turkey that can be dry, these actually are incredibly juicy so make sure you arm yourself with plenty of napkins. I just love that these are safe for those that are gluten free and that both my husband and myself and one day little one can enjoy these together!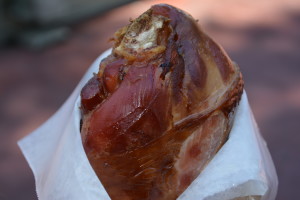 Just a heads up these turkey legs are messy and cannot be eaten in a pretty way so get ready to dive in and just enjoy the tastiness of this one! Also, they are a bit pricey, coming in at about $9 a piece, but are totally worth every penny. Like I said, these are huge and can certainly be shared if you don't mind. Also, if you have a dining plan too this makes for a great quick service option! It counts as a quick service meal and you get one turkey leg, one drink, a bag of chips, and a pack of cookies which I believe equates to about a $20 meal, a great deal for a quick service option on the dining plan. We always use at least one or two quick service meals each at a turkey leg stand during our trips!
So next time you're in Magic Kingdom, head over to Frontierland and check out their turkey legs! These are a delicious gluten free lunch option while in Disney and are actually available in several if not all of the parks! As always though, when you visit be sure to look at their allergy binder for any item that you want to try to check the ingredients as these can change.
Stay tuned for our dinner on Day 1!
Have A Magical Day,
Lindsay