We love our Animal Kingdom days not only for the park itself but also the sheer fact that they are hands down much more relaxing and slower paced than any of the other days in our vacation. This time around our Animal Kingdom day was no different and was perfectly timed right in the middle of our trip. So with a little extra sleep under our belts and a slightly later breakfast we were off to indulge my little animal lover in one of her favorite adventures in Disney.
First on our schedule was the safari which I know some say is off limits when you're pregnant but having ridden the ride before when pregnant I felt more than comfortable. We requested the front row in our vehicle so it was slightly less bumpy for this expecting mommy and we were off to enjoy the safari. We all loved this ride, by far one of our favorites in Animal Kingdom and if you haven't heard this recommendation before, I highly recommend hopping on this one first thing as most of the animals are up and about. After our safari ride we wandered the shaded, curvy paths, letting our little girl get some energy out in a less congested venue while seeing some her favorite animals. With animal watching checked off the itinerary it was time for some snacks, a gluten free, frozen chocolate and nut covered banana for mommy and a Mickey pretzel for little one while we headed off to watch some of the best shows Animal Kingdom has to offer and Dan hopped on a rollercoaster. P.S. I love the frozen banana, such a delicious gluten free treat!!!!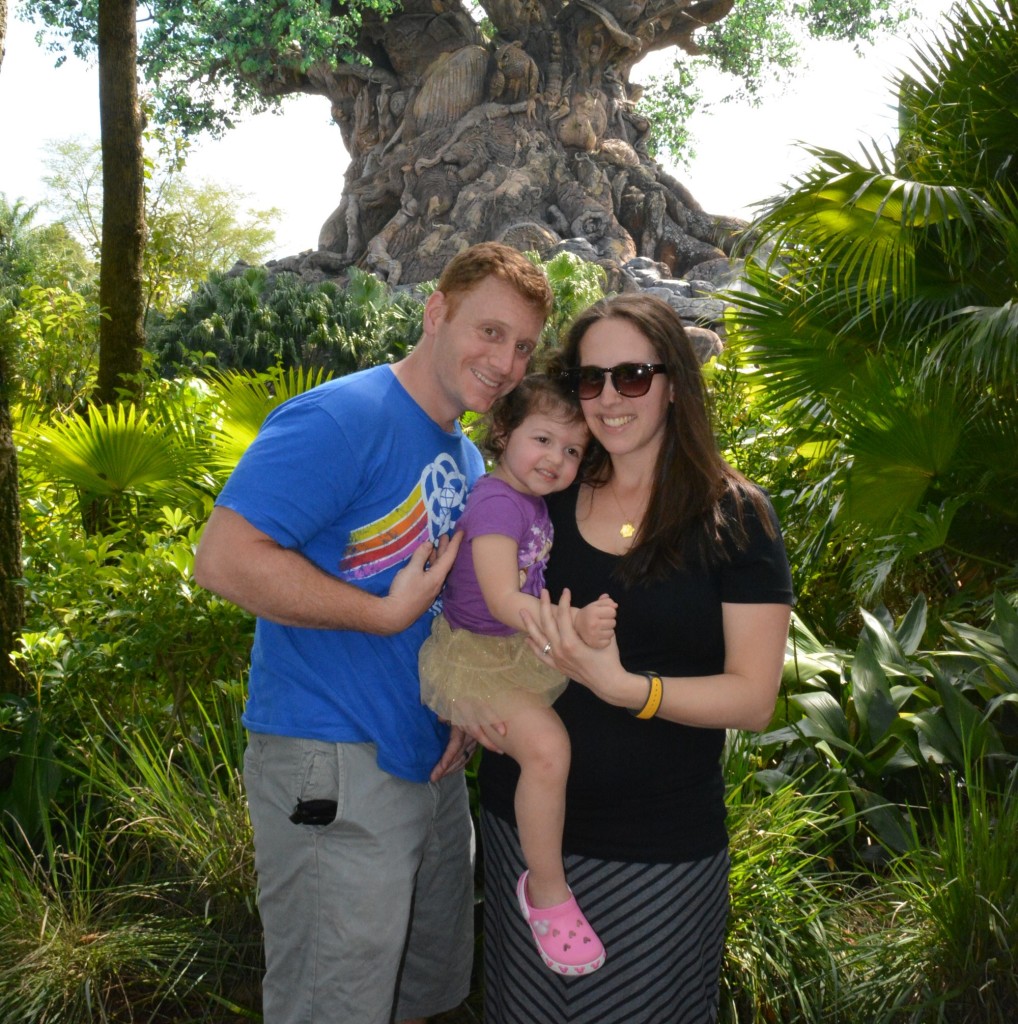 With a full morning of fun we were more than ready for some lunch. Now this was an adventure to say the least. Just a word of warning if you're visiting Animal Kingdom right now, there's a lot of construction going on in certain areas so that means a lot of walls which isn't a huge deal. Unfortunately though, our all time favorite lunch location in this park, Flame Tree Barbecue, has been closed for refurbishment since earlier this year so it too was walled up and missing. Good news is that you can still order some of their amazing barbecue offerings at other stands nearby and even dine at some of the pavillions towards the river but for the gluten free vacationer things are a bit more complicated than usual. Thankfully I could still order myself some gluten free pulled pork with a manager who was called to the stand, but the portion was much smaller than usual and you were limited to only getting a bag of chips for a side rather than the delicious fries that I love so much at Flame Tree. The meal was delicious as always of course but I just could have gone for a lot more pulled pork than what I actually got. I for one can't wait until the refurbishments are finished and I can enjoy some gluten free barbecue in all of the splendor Flame Tree is known for!
While lunch was a little different than always, it was a huge relief that I could personally still enjoy my usual but sadly there was an even bigger disappointment in store at Animal Kingdom for the gluten free folks. One of my all time favorite perks of visiting Animal Kingdom is indulging in a BabyCakes breakfast treat, courtesy of the allergy stand, but unfortunately the menu has changed a bit and there appears to be little to no BabyCakes gluten free treats at the allergy stand any longer. I had heard that the product offerings had changed but crossed my fingers and hoped for the best anyway that maybe that day would be my lucky day. Sadly, it wasn't, they no longer seem to offer my all time favorite gluten free treats by BabyCakes, their delicious and perfect donuts. I believe they still offer the cupcakes but I can't tell you how disappointed I was that instead of the fresh BabyCakes breakfast treats they now offer the donuts by Kinnikinnick. I'm hoping that one day I'll be lucky enough to witness a return of BabyCakes gluten free donuts, and maybe even more products, to the Animal Kingdom allergy stand and hopefully even more locations throughout Disney.
Overall our day in Animal Kingdom was fantastic as always with a few hiccups dining wise but with an early dinner scheduled at a new dining location for us we couldn't have been more excited for our meal to come. So we called it an early afternoon and took a short bus ride over to Animal Kingdom Lodge. We'd never dined at any restaurant at Animal Kingdom Lodge before but we've always wanted to take a peak at the stunning resort and dabble in some of the eats, Dan more so than I seeing as I'm much more of a conservative and less adventurous diner. So this vacation we thought it would be a great time to dine with the animals in clear view and enjoy some new cuisine at Sanaa.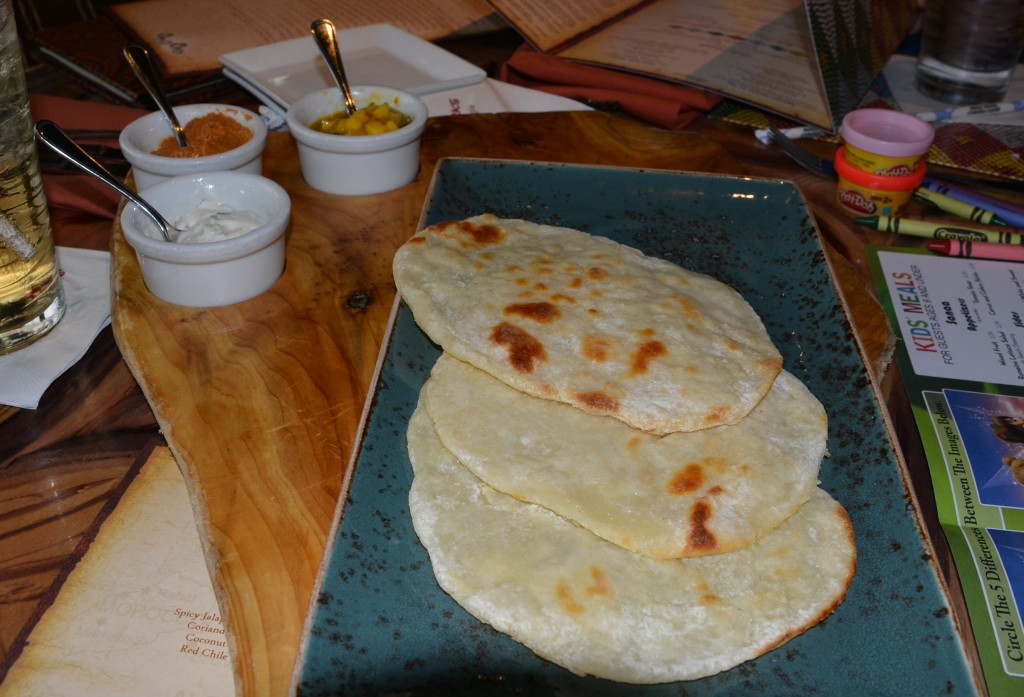 We arrived early afternoon to hopefully explore the resort a bit while little one napped. The nap part was successful but instead of exploring we/I decided to rest our feet on a beautiful, shaded porch where we could watch giraffes, birds, and zebras wander by. It was the perfect, relaxing nap time with amazing views of all Animal Kingdom has to offer but the views from the porch were nothing compared to the front row seating at Sanaa itself. We checked in early and managed to snag a perfect seat right in front of a window allowing us to see all kinds of wildlife pass by. Little one was in rare form to start the meal so things were a bit chaotic at the beginning but thankfully they calmed down a bit allowing all of us all to take in the beauty of the experience.
Normally I'm hesitant to try new things but while pregnant I'm even more so mostly because of my extraordinarily sensitive palette and stomach. The gluten free menu had a huge selection but I decided to go simple and start with the gluten free version of the bread service that I've been reading so many phenomenal things about and try the tomato soup for my main dish. Along with the gluten free naan I chose three accompaniments including the Roasted Red Bell Pepper Hummus, Mango Chutney, and Cucumber Raita.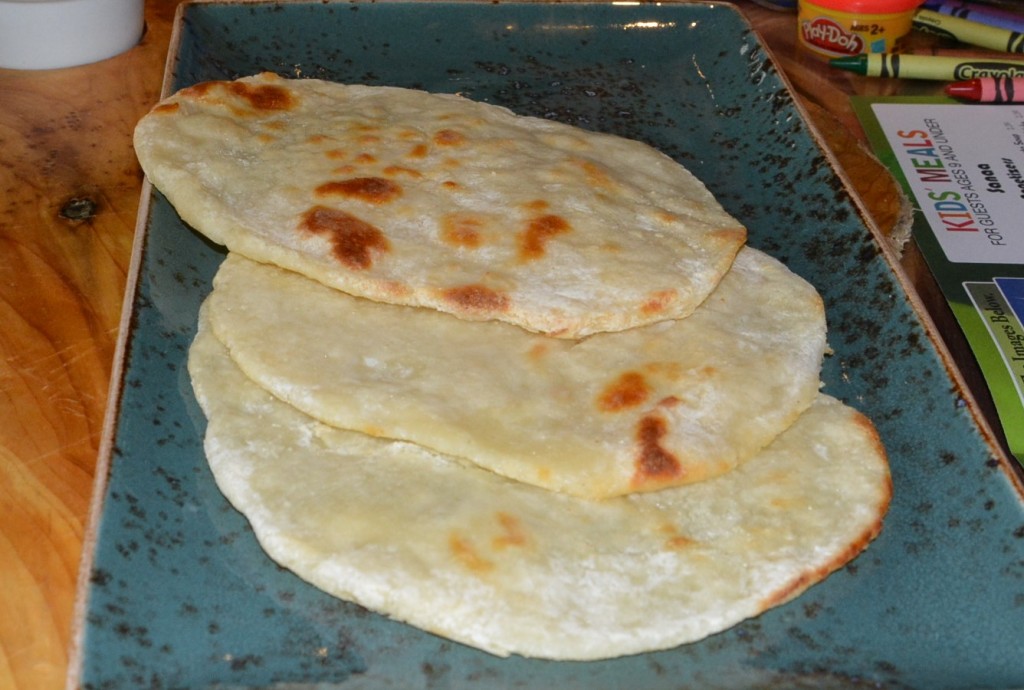 I cannot say enough fantastic things about the gluten free naan. It was AMAZING!!! While I'm not sure what regular naan is supposed to taste and feel like, the gluten free version is beyond phenomenal. I only wish I could indulge in the soft and chewy textured bread service while at home but that's why vacations are special right! As far as the three accompaniments, I mostly chose them because the chef suggested them as the non-spicy options and I'm so glad that she did. The hummus and raita were by far my favorites, the mango chutney wasn't really up my alley mostly because of the sweetness but Dan personally loved it. Thanks to the gluten free bread service alone at Sanaa we'll definitely be back in the future, and I may even order my very own bread!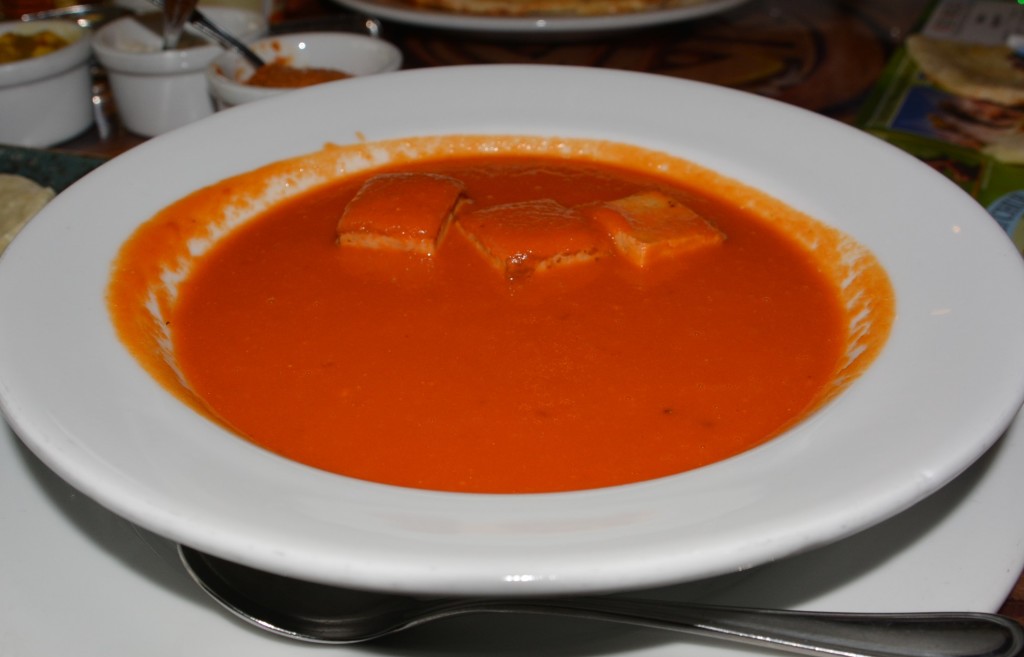 While Dan and little one's main dishes arrived, my tomato soup had as well. The tomato soup was perfectly seasoned with a few pieces of cheese floating around as well, making it a perfect little dish. Even though the soup was definitely tasty, one of my least favorite pregnancy ailments had been large and in charge that day of our vacation so thanks to my acid reflux I only could enjoy a little bit.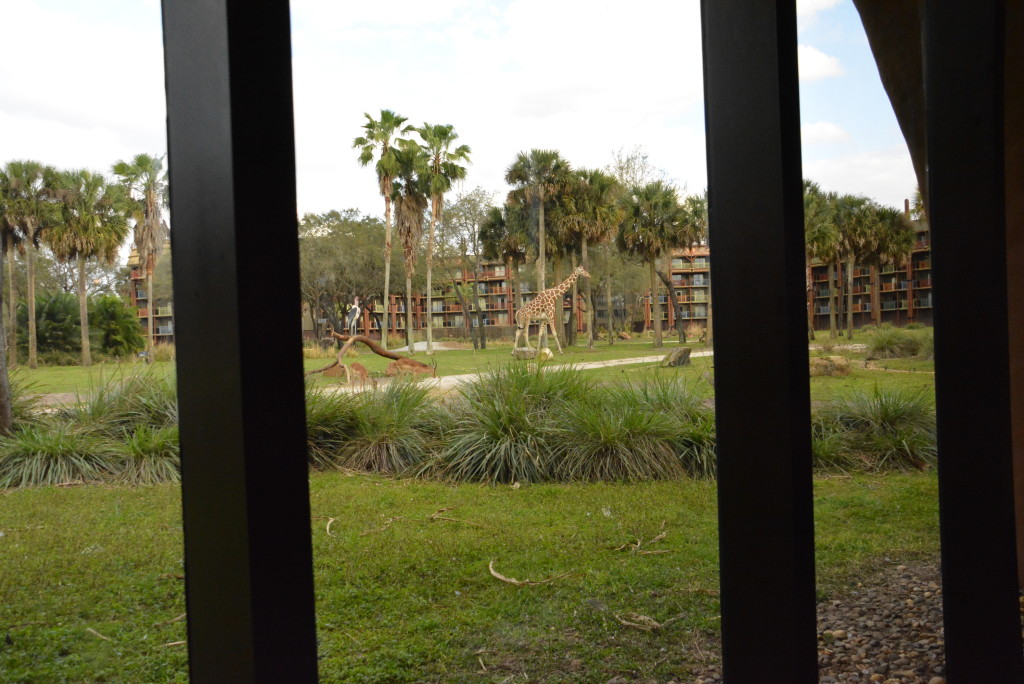 I just couldn't get over the amazing view we had while we were eating dinner. Most of the animals we were able to see grazing around and occasionally walking by but we were fortunate enough to have a closer visit from a little someone. Excuse my lack of knowledge of wildlife but we liked to call him the funny haired, tall bird who seemed to really enjoy the restaurant diners, coming over repeatedly and pecking at the windows where we were seated, definitely brought a few smiles to our little girl.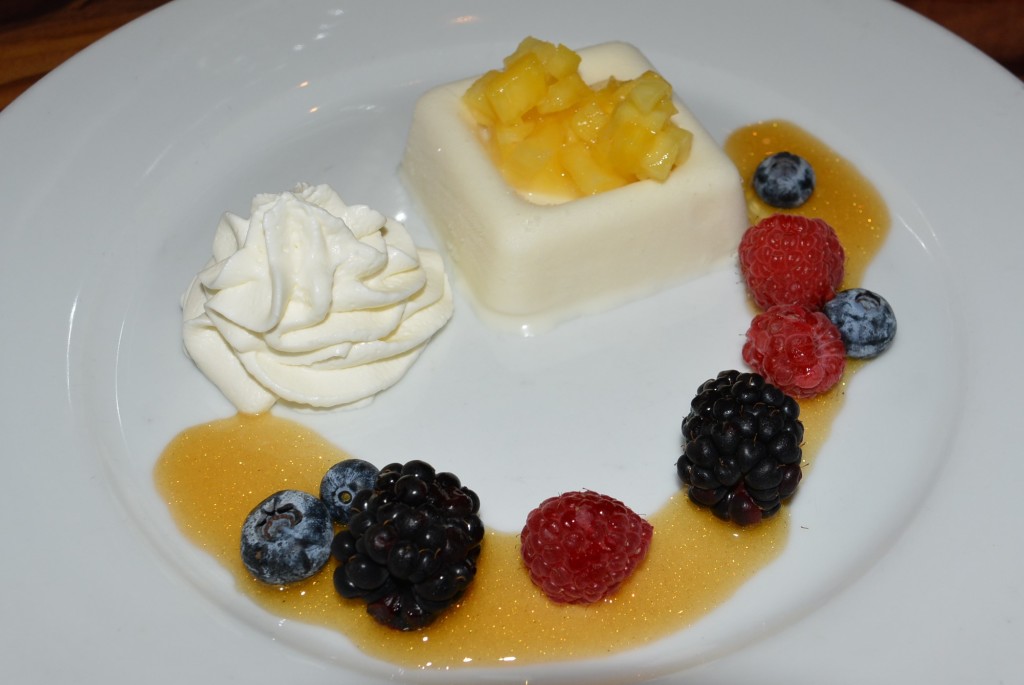 Dinner at any Disney restaurant isn't complete without dessert so after rave reviews of all of our main dishes, we were ready to enjoy something sweet. I opted for the gluten free Kulfi which happened to be coconut that evening with some fresh fruit. It was certainly a delicious dessert but I'm personally not a huge fan of coconut so I only took a few bites and shared my fruit with little one who seemed to prefer mommy's dessert over her own s'more sundae, certainly not what her mommy would've chosen out of the two. I've read that the Kulfi flavors do change so I'm certain I would've loved a different flavor but for me this one was just too much coconut.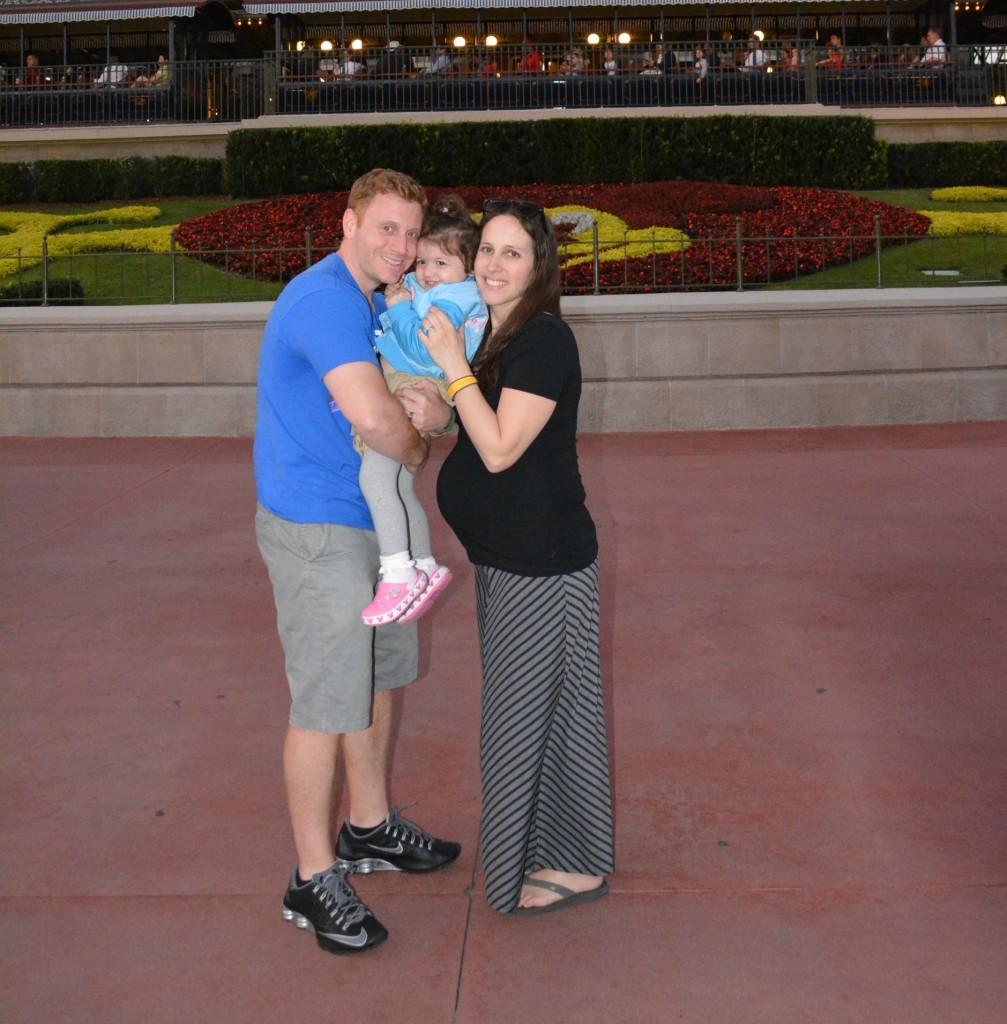 Our day at Animal Kingdom and dinner at Animal Kingdom Lodge were fantastic! It's still one of our favorite days during our vacation and I can officially say after rave reviews from Dan and nearly finished portion of naan pizza by little one that we'll be dining again at Sanaa. I'd say this Disney day was a success and I'll be dreaming of that amazing gluten free naan until we meet again!
Sincerely,
Lindsay (28 weeks)