Okay so I guess I've been bitten by the Chinese food bug lately. I blame Disney; ever since our trip a few months back and I enjoyed that fabulous Pan-Asian noodle dish at Kona Cafe, I've been craving Asian inspired cuisine like crazy. As I eluded to yesterday, when I'm not enjoying my homemade Chicken And Green Veggie Stir Fry at home, I'm getting my Chinese food fix at our local P.F. Chang's. For those of you who haven't been to a P.F. Chang's, you absolutely must try it, their gluten free menu is fairly large and offers some very tasty Asian cuisine.
Now, anytime I venture out of the house to attempt a gluten free meal I feel incredibly nervous, with a bit of anxiety. It's actually kind of sad to feel that way about having a night off from cooking and enjoying a meal out with your family, but unfortunately everywhere in the world is just not quite as prepared to offer entirely gluten free food causing myself to be glutened. Sadly I have been glutened before and it is an excruciating experience for me, so I never take eating out lightly at all. I usually only go to places that have had a great reputation as far as allergy free cooking is concerned, also they have phenomenal reviews from other gluten free diners, and finally that offer an impressive gluten free menu that truly demonstrates their desire to accommodate gluten free diners by not only offering a large variety but also items that include all of their parts and not just a plain piece of meat. That being said, it's obvious that I'm extremely selective on our locations when we dine out, but hey I have to be.
Over the past few years, we've dined at P.F. Chang's and will keep dining there as each and every experience that we've had has been nothing but impressive and enjoyable. Their staff is always extremely knowledgeable and they can accommodate not just gluten free folk, but allergies of all shapes and sizes, as even my dear nephew who has seemingly every food allergy under the sun has even successfully dined there without any reactions. You feel the love after just sitting down and taking a look at the menu and seeing their pretty large gluten free section, right there in the main menu, that's right no separate menu for us! (Just a tip, if you have any other kind of food allergy, just request another menu that specifically addresses that allergy.)
While P.F. Chang's menu is intended for items to be shared, for us we usually don't do this since my dishes are gluten free and my husband usually prefers to order a seafood, non-gluten free item. So, ordering for me is pretty simple, I typically go with the gluten free Chicken Lettuce Wraps and a Beef and Broccoli entree. I'm a creature of habit I guess and usually order the same thing, but I know what I like and I've never really gone wrong with either one of these. While ordering, I usually remind the waiter of the severe gluten intolerance that I have again, even though I already did that when ordering my drinks, but it makes me feel better if I state it a few times, impressing upon the staff the dire consequences of a slip up.
Soon enough, my gluten free Chicken Lettuce Wraps arrive on a beautiful allergy plate with a logo and line circling around it; that's right, P.F. Chang's identifies allergy free dishes with a different plate from other diners, a great identifier for yourself when your dish is placed down in front of you. When my husband hasn't ordered an appetizer for himself then we usually do share this one since it's usually way too much for just myself to finish. However, his new favorite small plate, non-gluten free appetizer are the steamed pork dumplings, so when that's the case then it's leftover Chicken Lettuce Wraps for tomorrow's lunch, which is fine by me!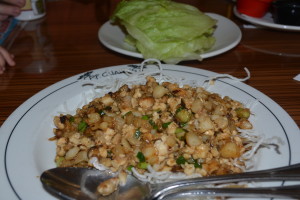 Now, down to the taste of these wonderful wraps! They are DELICIOUS! Every single time I order them I love them more and more. Chicken, green onions, and water chestnuts smothered in a gluten free soy sauce and all scooped into a lettuce cup, it's such a great bite of food and a perfect appetizer. While these are a total winner for us adults, not everyone at our table agreed though on this dish.
On our most recent visit to P.F. Chang's, which has really only been my daughter's second time there her entire year and a half of life, we decided to leave behind a dinner from home and give her some of our meals. First up, were the chicken lettuce wraps which after my little girl's first bite produced some type of sour face and shiver. Let's face it, I knew it was a gamble giving her Asian cuisine, especially a dish with all new flavors and textures, like ground chicken and water chestnuts. Thankfully though our waiter came to the rescue and brought out some fresh veggies for her to munch on, which she LOVES, and she actually happened to really enjoy my husband's steamed pork dumplings too. So, while little one enjoyed her Daddy's dish, Mommy actually was able to gobble down a few lettuce wraps uninterrupted!
A few minutes later and our entrees had arrived. My gluten free Beef and Broccoli looked just as tasty as always. A huge allergy free, logo lined plate was placed down in front of me and was filled with thin, bite size pieces of flank steak and broccoli florets all cooked with fresh ginger, green onions, garlic, and a beautiful sauce. I love everything in this dish, but the star for me is the sauce that flavors it all. The seared beef and broccoli are perfectly flavored thanks to it and I always leave wishing that I knew how to recreate such a spectacular dish. Although I love this dish, I rarely am able to finish it in the restaurant. So even better, I always have leftovers for the next day's lunch or dinner and let me tell you the Beef and Broccoli reheats perfectly, tasting just like it did the day before.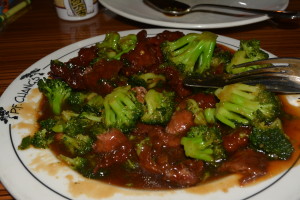 Every single meal at P.F. Chang's we've enjoyed, while all for the great food and even better company, others thanks to extra special memories like watching our little girl enjoy a different cuisine for the first time. It means so much to my family to be able to create memories like these and enjoy a meal together where all of us are eating dishes that are equally tasty and safe. So many thank yous go out to P.F. Chang's for offering a restaurant that not just myself, but many other allergy diners too can sit down with their families and share in the enjoyment of dining out. If you have a local P.F. Chang's near you, make sure you pay them a visit and check out their gluten free menu ahead of time to pick out your favorite dishes!
TIP: One of the perks that I love about P.F. Chang's is that they offer lunch sized portions of their gluten free menu so you can enjoy their dishes at either meal. In fact, since we usually don't share dishes, we've sometimes ordered lunch takeout on Saturday before 4 pm and have paid considerably less for plenty of food for dinner (not many leftovers, but certainly enough for dinner). Another feature that I love with P.F. Chang's, is that they offer pretty good happy hour deals too. These typically run until 6 pm, I believe, and you can save a few dollars on their Chicken Lettuce Wraps, which happen to come in a gluten free version! Yay for saving a little bit of money while being gluten free!
Sincerely,
Lindsay