On one of the many beautiful fall days that we were blessed to have this year, little one and I ventured out for an early little lunch at my favorite gluten free friendly restaurant. Wildflour Bakery/Cafe is a local hidden gem that offers a huge selection of gluten free breads and pastries along with a savory menu, all of which you can enjoy in house or on the go. Since we were out to have some extra special Mommy and Me time, a lunch out was definitely in order so we picked the perfect table in the empty dining room and nestled in to enjoy a wonderfully gluten free lunch.
While the highlights for me at Wildflour Bakery/Cafe are by far on the bakery side of things, the dining menu is just as wonderful, they've just been super successful in wooing me with all of their delectable gluten free treats. As far as the menu, they have so many delicious choices, take a look for yourself here, but I usually am a creature of habit and if I find something that I like I tend to go with it each time after until I need a break. I decided this time around to go with a perfect lunch option that both me and my little one would enjoy, a grilled cheese sandwich big enough for us to share and my favorite, their strawberry banana pink smoothie that would sure to please my little girl. While we waited for our sandwich, I decided to request a few of their doughy, cheesy heavenly Brazilian Cheese Puffs, just to tide us over. These are one of Mommy's favorites and turns out now one of my little one's favorites too.
Soon enough our Grilled Cheese and Pink Smoothie had arrived. Little one dove into her very own cup of smoothie and couldn't get enough of it. I had to insist on a few breaks to get in some of the grilled cheese but the winners by far in her book were the smoothie and cheese puffs. The grilled cheese for mommy was just as delicious as I remembered. It's made on their housemade gluten free bread which beats any of the store bought varieties, you can just taste of all of the love that's cooked into their food.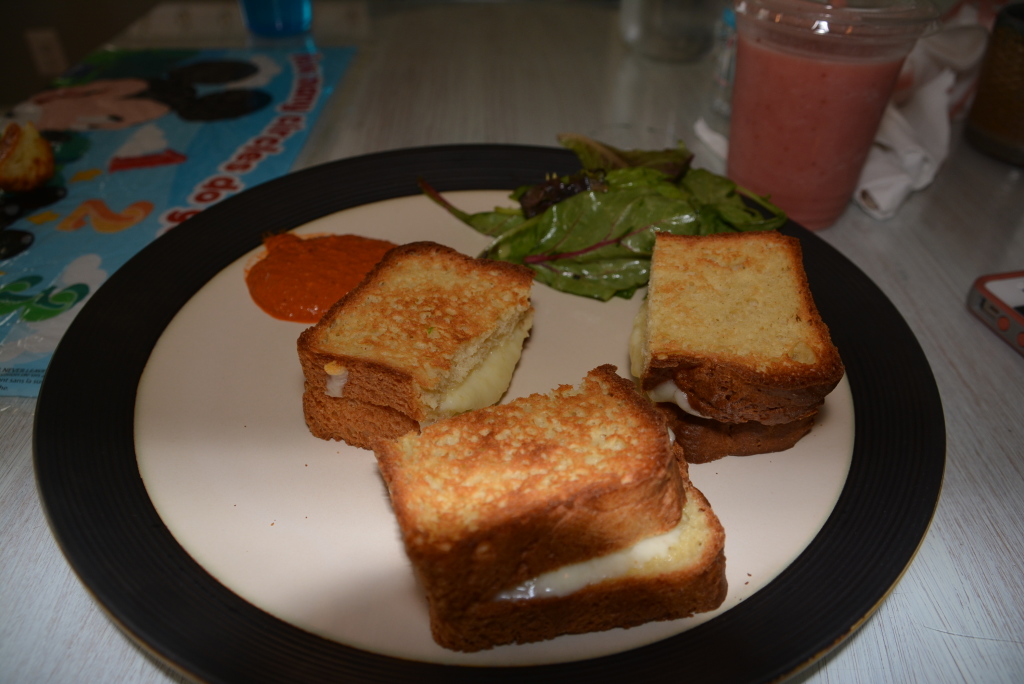 With our smoothies disappearing and our sandwich plate beginning to empty, I decided to top off our special lunch with a sweet treat. So I sprung my little one from her highchair so we could head over to the bakery cases and pick out just the right treat. Cookies, tarts, scones, cheesecake, and brownies galore, the cases were just overflowing with mouthwatering gluten free goodness. My little one though had her eye on an extra special chocolate treat, a chocolate brownie cake covered in a banana ganache icing. So we picked out our dessert, made our way back to our private table, and waited with anticipation for its arrival. Finally, our sweet finish had arrived, it was the perfect dessert made for sharing for just little one and me. The chocolaty cake was so moist and brownie like and when combined with the banana icing, so delicious! Our plate was cleaned with only a few minutes worth of work, so I think that's a pretty reliable testament to just how tasty this dessert was. It was a perfect lunch for just us two, good food, full bellies, and plenty of smiles and laughs to go around!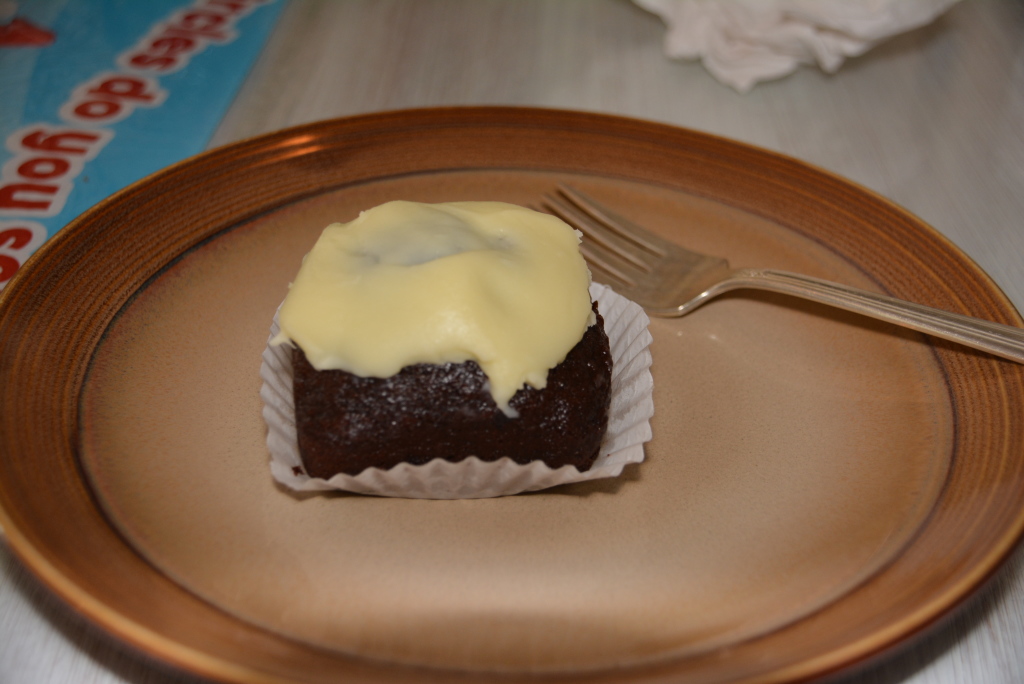 Besides the delicious menu items that Wildflour Bakery/Cafe offers, the true joy of dining here is the ability to eat a meal with comfort and without fear of cross contamination. This restaurant is 100% gluten free, hence their bakery cases that are filled with unique bakery sweets and their menu overflowing with sweet and savory concoctions are 100% gluten free too. What an absolute treat to be able to choose from anything off of a menu without adjustment. As always, this trip to Wildflour's was a true pleasure and I'll anxiously be planning our next to go or dining in visit. Make sure you take a peak at all of my other Wildflour adventures in Gluten Free Living In A Non-Gluten Free World.
Sincerely,
Lindsay