Being a member of the forbidden bread group, typically bagels do not usually fit in to the gluten free diet. However, several companies have produced gluten free options such as plain and cinnamon raisin bagels for the gluten free eater to enjoy. Katz has once again raised the bar, providing several new varieties of bagels that I for one have not seen or smelled since I walked into my local bagel shops many years ago.
During a pregnancy with dietary restrictions, you find yourself constantly making compromises during each meal finding what you want to have does not necessarily match with what your diet allows you to have. Many a pregnant morning, I craved a doughy everything bagel that was toasted and layered with cream cheese, a huge no no according to my gluten free diet. Sadly, this was one craving that I had to ignore or at least substitute with a frozen plain bagel from our grocery store. Although I was quite happy and thankful for this option, especially how convenient it was, that nagging craving motivated me to do a little searching online. That's when I stumbled upon Katz's bagel options; I was elated when I discovered that they offered my all time favorite bagel flavor and at a reasonable price. After an extremely quick shipping period, I finally was able to enjoy one of Katz's everything bagels with a thin layer of low fat cream cheese along with a piece of fruit on the side, a perfectly filling and nutritious breakfast that could tidy me over until a late morning snack.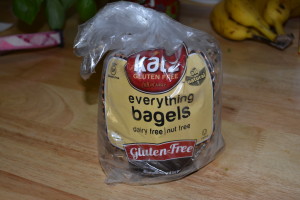 Their everything bagels are covered in a combination of garlic, onion, sesame seeds, and poppy seeds and are enjoyed best by a light toasting. They are a bit thinner than the average regular bagel but still maintain the wonderful doughy texture that is signature to the bagel.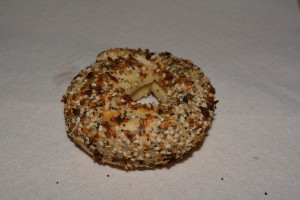 Once toasted, they are perfectly complimented by a low fat cream cheese spread or butter if you prefer.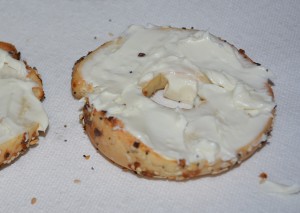 I have welcomed everything bagels back into my life with open arms. They are a wonderful treat every now and then, pregnant or not pregnant, and have made many gluten free eaters feel a bit more welcomed in a world of gluten! To check out other Katz bagel varieties and pricing take a look at their website here and make sure to sign up for their emails as they frequently have promotions on their products.
TIP: When following a restricted diet, especially while pregnant, don't be afraid to do a little searching on the internet to find what you're looking for, you may just discover a wonderful company as I had in Katz who will provide you with a number of delicious options that will make both you and your baby very happy!
Sincerely,
Lindsay