I know I know, it's been awhile since I've treated you to Disney dining from our vacations. Sorry to leave you hanging on the rest of our last Disney vacation but there were a couple of other non-Disney blogging items that needed to be checked off the list. So without further delay I'll fill you in on the events and meals that filled our last few days in Disney.
This vacation we decided to treat ourselves for a day at Blizzard Beach and thank goodness we did. The August Florida heat was kicking our butts, okay mainly mine, and we were in desperate need for a cool down day. Our little girl is definitely a water baby, she loves taking baths, going in swimming pools, and splashing in knee deep ocean water so we knew that she'd be a huge fan of the water park. So when day 6 rolled around we donned ourselves in our bathing suits, water shoes, and plenty of sun tan lotion to enjoy Blizzard Beach.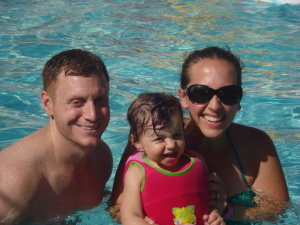 If you haven't been to Blizzard Beach I highly recommend it. No not necessarily for all of the delicious gluten free eats and treats, which are kind of few and far between aside from your usual snacks, but rather for the family fun that can be had. They have a wonderful toddler/little kid zone equipped with a toddler deep pool with floating ice sculptures, squirters, and some really cool slides that even my little one could partake in. Even though we squished her little butt into one of those life vest swim suits we were still hesitant to send her on her way down a water slide. Following her lead though, she was ready and raring to go and scooted her way down the big slide with Dan at the top to send her off and me at the bottom to catch her safely. She loved every bit of it, especially the independence factor, and would've been content to spend the rest of the day in her area but we decided to check out the rest of Blizzard Beach.
We headed over to the older kid play area filled with tube slides, an obstacle course of floating ice caps to walk on, and a zip line, not really a play area for our little girl so Dan and I hopped in the pool and bopped around with her for a bit while the rest of her cousins explored their attractions. We did send her down a bigger version of the little kid slides and she loved every second of it. It was a little scary watching our tiny little girl do these big kid things but seeing as she had her life vest on and a once competitive swimmer for a Mommy waiting at the bottom we decided to let her give it a try. Afterwards it was onto the lazy river and wave pool, both of which were big hits for our little girl. All in all, a day with nothing but water is a winner for our family. Our little girl was a happy little clam and would've probably enjoyed a whole vacation just at Blizzard Beach.
We called it a day early- to mid-afternoon so we could head back to our resort, eat something little, get cleaned up, and head out for dinner at Hoop Dee Doo Revue. After reading some pretty good gluten free reviews we decided to give it a try. With an early dinner/show reservation at 4:00 and a less than direct route to Fort Wilderness we headed out early to make our way to Magic Kingdom to get a boat over to Fort Wilderness. Soon enough we had arrived at the restaurant and waited to be let in for our dinner time. Our group of 9 were escorted to our table, which had a great view of the stage. The waiter brought the chef over shortly after we were seated and he reviewed all of the gluten free options with me. On the menu that evening was a garden salad, gluten free corn bread, grilled chicken, baked beans, corn, mashed potatoes, and ribs, sounded good to me! And let me add that you get bottomless sangria too, yay!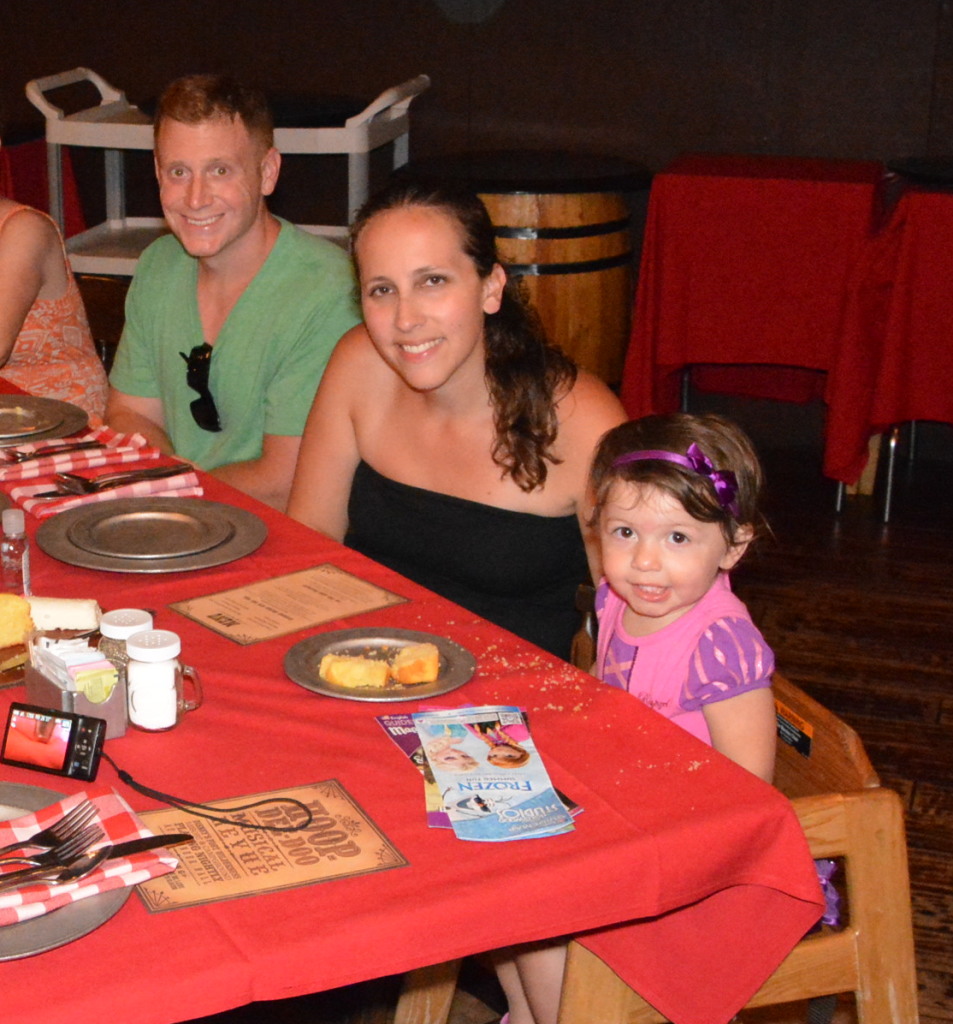 While we waited for our food to arrive the show had started which turned out to be a real blessing for our little one. Between nibbling on corn bread, coloring in and out of the coloring book, and watching the endless song and dance up on the stage, our little one was a happy camper. She would laugh and clap along with songs and even got the spotlight put on her, mid- corn bread bite I'd like to add, as the cutest little princess at the show.
Our little girl was certainly a fan of the dinner and show but I had yet to taste any of the gluten free food to be a judge. While everyone else's food had arrived, I anxiously awaited mine while I cut up a plate full for little one. Just as I was finishing, an overflowing plate of barbecue heaven was plopped down in front of me. I didn't take a picture of my food at this dinner, mainly because it was so dark, but also because we had a major distraction during our meal which I'll tell you about in just a minute. So back to the food, the ribs were delicious, fell right off the bone, and were definitely one of my favorites along with the mashed potatoes. The chicken was just grilled chicken, nothing fancy here, and the other accompaniments were okay as well. The gluten free cornbread was pretty good, a little dense for me, but tasty nonetheless.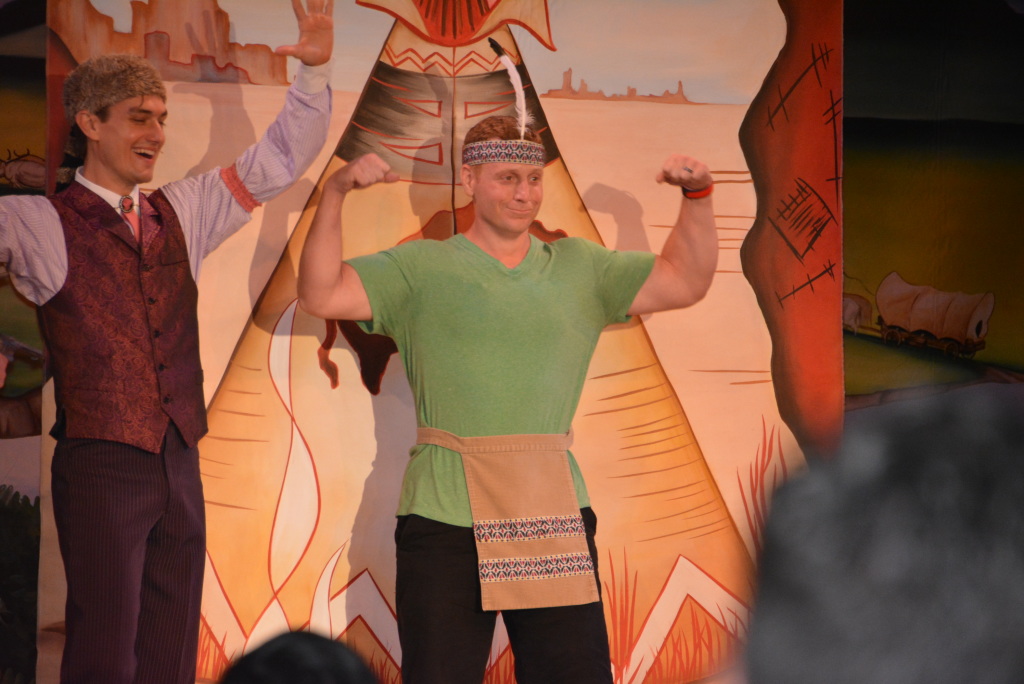 I barely had begun to enjoy my food when one of the performers was next to our table asking Dan to join them up on stage. Now, if this were me I would say no so fast but my husband is definitely a team player and took one for the team here. So up he went and my dinner was put on hold as I had to capture these moments on video. I couldn't stop laughing at my poor husband's impromptu acting debut that lasted for a good 20 minutes. Our little girl was ecstatic watching her daddy perform and just kept pointing at him. He was definitely a trooper, more specifically a brave little Indian, and gave us a memory that we'll be able to share with our little girl for years to come.
When the star of the show returned to our table our dessert was waiting for him. Strawberry shortcake greeted everyone else and I had a plate of fresh strawberries and whipped cream. The strawberry shortcake got rave reviews, especially from our little one who couldn't get enough of the super sweet strawberries and cake combo. My dessert was tasty, nothing to write home about, but that was okay since I was planning on a gluten free Dole Whip later that night anyway.
All together, our dinner at Hoop-Dee-Doo was a night to remember, thanks mainly to my husband's performance. The food was pretty good and the show was so-so but it was nice to have some entertainment that kept our little one's attention, allowing us some time to ourselves. It was a great experience and we'll definitely be back there one day but we have lots of other new restaurants to try before we return.
Stay tuned for our last full day of gluten free meals from Kona Cafe's noodle dish to a Lefou's Brew!
Have A Magical Day,
Lindsay