Since getting married, Dan and I have taken two incredibly memorable European vacations, one of which was gluten free and the other wasn't quite there yet. Our first adventure was days after saying I do and sailed us through Spain and a number of Italian cities. Thanks to Norwegian Cruise Line, we were able to see some of the biggest landmarks like Rome's Trevi Fountain, Florence's Ponte Vecchio, the Leaning Tower of Pisa, Barcelona's Las Ramblas, and the breathtaking views and lemon trees taking over the Island of Capri.
Between the tours of each cities' staples, we had some free time to wander along the cobblestone streets and take in the sights, sounds, and even tastes that some that each had to offer. At the time, I was testing out a lactose intolerant diagnosis so I was armed with a box full of lactaid to help me survive our honeymoon and survive I did. I'm so grateful that my body held out for me to enjoy an authentic Italian pizza topped with prosciutto, cheese filled Spanish croquettes, and finally our favorite sweet finish was the sweet and creamy gelato, appearing on almost every street corner. I'll never forget the moments that we shared eating at the little cafe in Florence and the water side restaurant in Barcelona, along with wandering the streets of each city hand-in-hand as we gobbled down our quickly melting gelato. Our honeymoon was one of the last vacations we took before we walked into the gluten free world and will certainly go down in infamy.
Flash forward almost two years later and I was newly pregnant and living a gluten free life. We'd had quite a bit of practice traveling gluten free over that time, including overnighters to Washington D.C., a couple of trips to New Orleans (We love this city! Great place for gluten free diners by the way!), and a cruise to the Caribbean. However, we hadn't yet made it back to Europe, a place we vowed to venture back to in the near future. With enough miles to fly to Venice for free and a great deal on another Norwegian cruise, we just couldn't resist the urge to explore some new places in Italy and Greece. This adventure would be way different than our first, now eating under a gluten free diet and expecting our first baby.
Gluten Free Pregnancy Prep For Travel:
First thing was first, to talk to my doctor about precautions while traveling in my first trimester. My doctor's main advice was centralized around eating, which thankfully I was extremely cognizant of since having to pay extra attention to my diet anyway. Next up, not to overdo it too much, making sure to sit down and relax, especially if I was feeling sick at any point. Seems like a silly reminder I know, but my doctor certainly does know me and knows that I'm a pusher and like to forge ahead regardless of what my body tells me. At this point in my pregnancy, I was experiencing some of your typical first trimester symptoms, extreme bloating and occasional nausea were my prominent ones so it certainly was important to mind what my body was telling me now. Finally, in terms of the flight, ugh the necessary evil of every vacation for me, just to make sure I wear my anti-nausea bands, have plenty to eat and drink, and to get up and walk around frequently to prevent leg swelling. With some great advice from my doctor, I was ready physically, well as ready as I was going to be, to go on our first adventure while I was pregnant with our little girl.
Do Your Gluten Free Homework Online:
No preparation for a gluten free vacation is complete though without tons of googling on the best dining locations. As far as this information in Italy and Greece is concerned, it is pretty hard to come by; however you may stumble upon a couple hidden gems like I did, finding a location for a gluten free pizza as well as gelato in Venice! What I found was most useful, in conjunction with the power of Google, was asking your hotel staff. They will be able to not only advise you on great restaurants in a variety of different locations, those central to your hotel and those that are a bit farther, but also will be able to call those restaurants and inquire about their ability to accommodate. Their help is extremely critical, especially in a foreign country where the language barrier can prove to complicate your dining situation even further.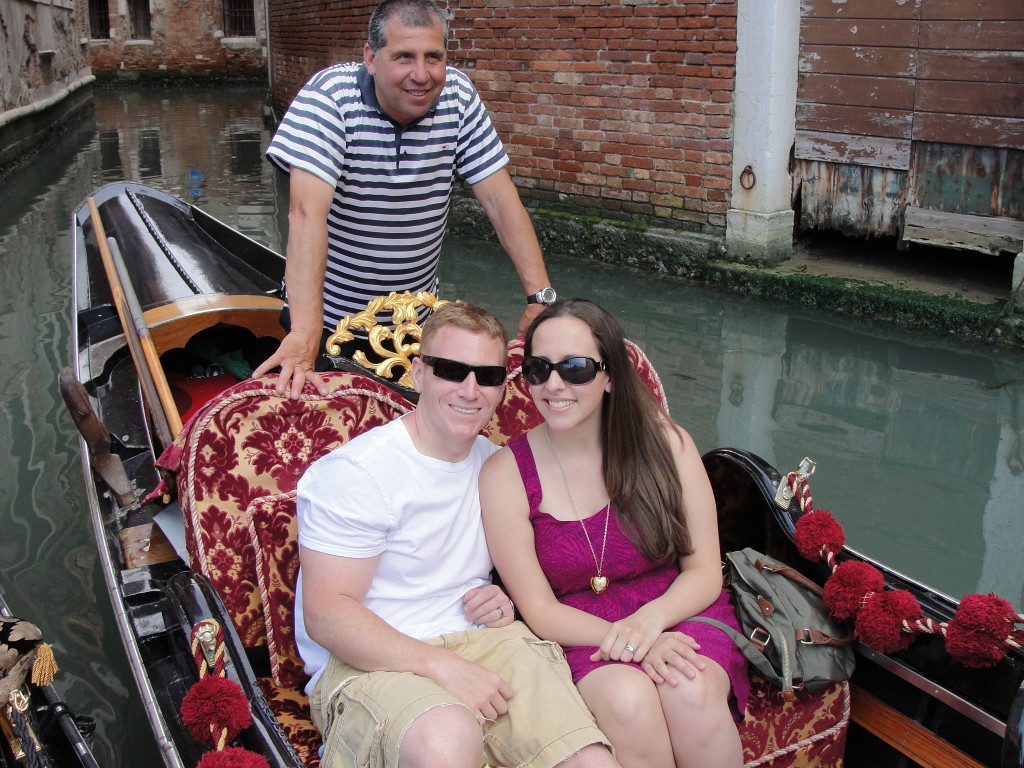 Gluten Free Adventures In Venice, Italy:
We were so fortunate with our choice in hotel accommodations; we stayed at AD Place in Venice which is pretty centrally located between St. Mark's Square and the Rialto Bridge. Upon check in, I passed on a friendly reminder of my gluten intolerance and was told that they'd be going to the store to pick up some gluten free treats for me for breakfast. And boy did they deliver on their promise. Each morning I was greeted with an array of gluten free options including muffins, bread, meats, cheeses, and fruits. Not to mention, they delivered a number of gluten free desserts in our room. They were so accommodating and really took the guess work out of breakfast for us.
As far as dinners were concerned, those we decided with the help of the front desk, who guaranteed some gluten free reservations for us. My favorites in Venice were A Beccafico and Rosa Rosa, which both treated me to outstanding gluten free pasta dishes, combining the best gluten free pasta I'd ever had with the tastiest pomodoro sauces, along with some phenomenal gluten free dinner rolls. The creme de la creme though in the gluten free sector of Venice was GROM's gluten free gelato shop, a hidden gem that I discovered online before our trip. Be wary though of gelato when visiting Italy as not all flavors are gluten free and many shops may not take the precautions to prevent cross contamination. GROM however, is an Italian Celiac Association rated gelato shop where they offer numerous non-gluten free flavors (and a few non-gluten free marked by a wheat symbol) along with staff that are trained to prevent cross contamination and safely deliver you a tasty treat. All in all, my gluten free experience in Venice was extraordinary, thanks to the power of the internet along with the knowledgeable staff at AD Place.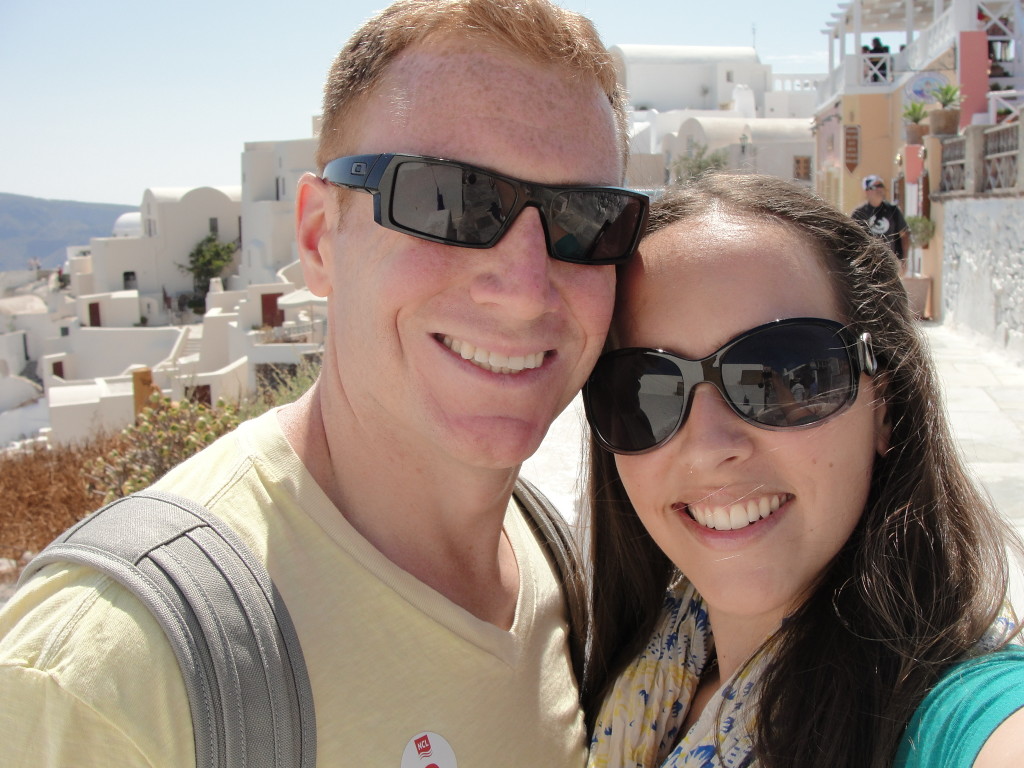 Gluten Free Cruising:
The bulk of the rest of our eating on our cruise throughout Greece was spent on our Norwegian cruise ship. Norwegian cruise line does a fantastic job as far as allergy dining. We've cruised several times since going gluten free and each time I've been extremely pleased and satisfied. Along with giving ample notice upon making our travel reservation, I always stop in at the front desk in the lobby of the cruise ship, on Norwegian this would be the reservation desk for dining, etc.. After making our reservations first thing after getting on the ship, we always request to speak with each chef at each restaurant, and even place my order with them, either the day before or morning of that reservation. This might seem like a nuisance, but trust me, it's the best way of going about ordering your food. Giving each restaurant ample notice of what you'd like to order is both beneficial for you, so you can eat what you'd like, as well as for the kitchen to be able to prepare things ahead of time. Keep in mind, as far as gluten free food is considered, on cruises chefs typically have to move about between kitchens to retrieve ingredients that may be necessary to complete an order, giving them some extra time to do this may make a difference in getting to eat what you'd like to. As far as the buffets for breakfast and lunch, just request a chef to come out and walk you through the lines; they're more than happy to do so and will provide you with anything additional that you may need or want, so don't be afraid to ask.
For us, cruising through Europe, as a whole, is a great way to see a number of different places in a short amount of time, but also from a cost perspective it's the most economical. From a gluten free standpoint, you're able to dine worry free and be assured that no matter what, you'll have something good and safe to eat. Breakfast, lunch, and dinner were all exceptional, and in my book, anything that leaves a hungry, pregnant and gluten free woman extremely full and satisfied is a success story. Congrats Norwegian on a great job for gluten free dining! But while half of the enjoyment of cruising is dining on the ship, the other half is leaving the boat to see the world. When it's time to do that, you'll need to be good and rested for the full day ahead of sight seeing that you have in front of you, so arm yourself with lots of snacks and try to do your homework on each sight.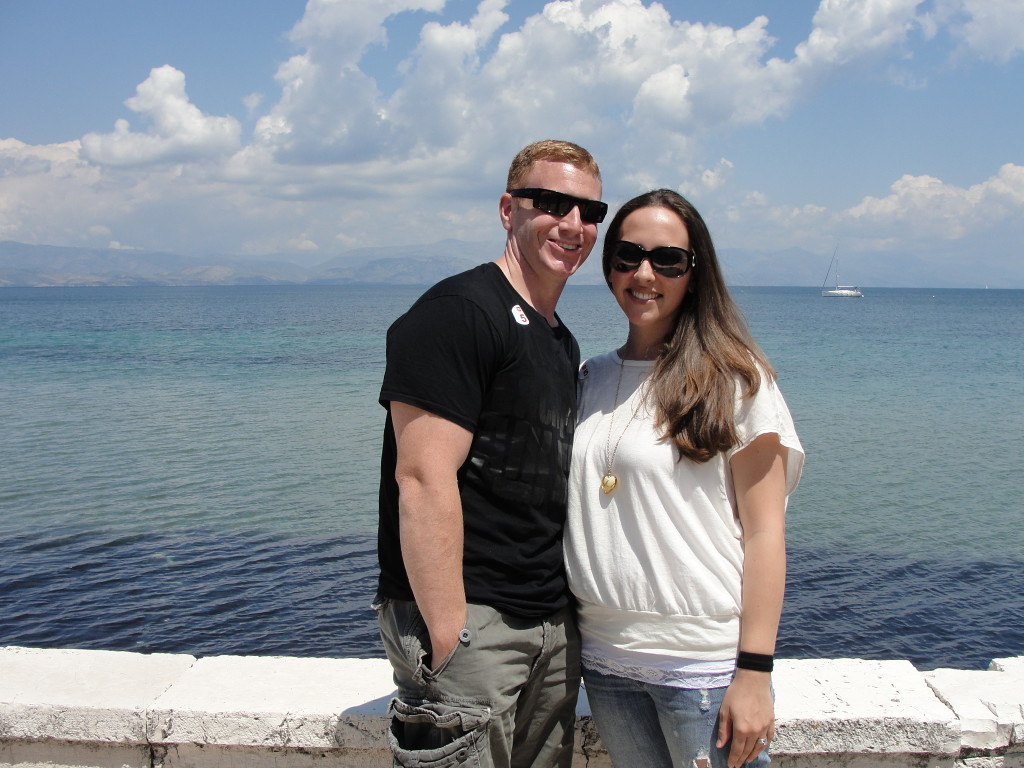 Gluten Free Adventures In Greece:
As we cruised through Corfu, Santorini, Mykonos, and Olympia, Greece we took in so many gorgeous sites from the crisp blue water to the cliff top villages, all of it is certainly a sight to see. Food wise, Dan was in love with the cuisine, he indulged in truly everything, from bowls of seafood extravaganza and beautifully stuffed whole squid to his favorite, baklava in all shapes and forms. Greek food for me was not as adventurous or exciting but was certainly delicious. After some googling and coming up a bit empty handed on the gluten free front, that paired with the fact that I don't eat any seafood, I pretty much knew before we left that I'd be sticking to the salad portion of the menu for the few meals that we'd be enjoying on land in Greece. Being pregnant and eating gluten free I was even more hesitant of the foreign menus so I decided at our few stops to stick with a traditional Greek Salad, filled with fresh veggies and delicious olives and fresh feta cheese. It was a safe and tasty choice for me and little girl that was available at each restaurant. FYI, an authentic Greek Salad is tomatoes, cucumbers, onions, peppers, Greek olives, feta cheese, olive oil, and seasonings, there's no lettuce component, news to me after I had my first one.
As far as our Greek dining experiences as a whole, while Dan enjoyed all of the authentic Greek food that he could ever ask for and I my perfectly flavored Greek salad, we couldn't get enough of the beautiful breeze at the water side restaurant on the island of Olympia, the gorgeous sunset at the clifftop village of Santorini, and the locals meandering around the restaurant nestled in the center of a village in Mykonos. Although we always choose tours that take us through the main attractions of each city, some of our favorite moments are when we can truly walk the streets of that particular place and absorb all that it has to offer. This vacation was no different; we created so many amazing memories from the worlds we explored and cannot wait to one day introduce our little girl to them as well.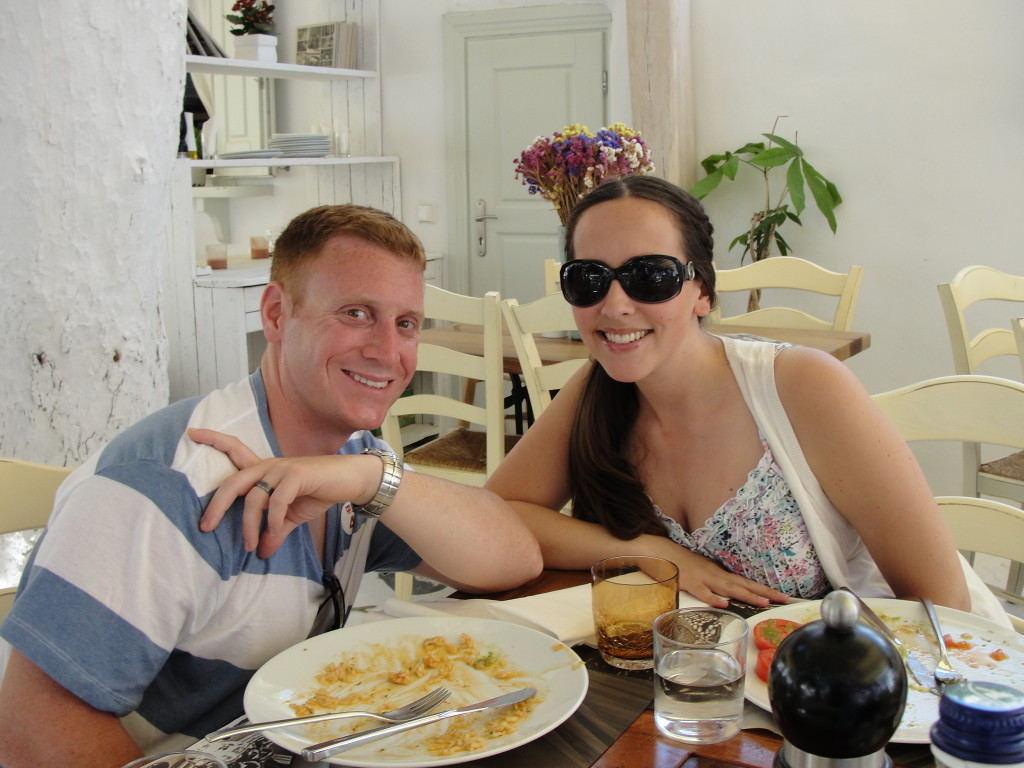 Gluten Free Snacks For Those Pregnancy Cravings:
Our travels through Venice and Greece were beautiful and delicious at the same time, but when pregnant and eating gluten free in foreign countries I was sure to arm myself with a bag full of snacks to get me through those hunger pangs that would most certainly hit and frequently too. Some of my favorite gluten free salty treats that come in snack size bags, perfect for travel, were Snyders pretzels and Pirates Booty. On the sweet side of things, I loved Bakery on Main's gluten free peanut butter and jelly granola bars along with a couple bags of either hard candies or gummies like Swedish Fish or Jolly Ranchers. Along with snacks that you pick up before your trip, make sure you grab a couple extra pieces of fruit at breakfast to toss in your bag for later. Also, keep an eye out for some gluten free snacks along your travels. When we wandered through Venice, we found a few prepackaged bags of gluten free biscottis in some sweet shops and I just couldn't resist picking them up; mind you, knowing the country's term for gluten free is incredibly helpful here as these were marked senza glutine, which is the signature gluten free phrase in Italian that we learned before our travels. So make sure you keep a little stock in your purse at all times and don't be afraid to wander through local bakeries and shops while keeping an eye out for prepackaged bags of gluten free treats, just make sure you resist those gorgeous non-gluten free sweetsl
Gluten Free Pregnancy Packing Tips:
Remember, preparing ahead of time is the best way to travel, especially when you're gluten free, and even more so when you're pregnant. I spent weeks before, making lists of necessary gluten free must bring items, along with scouring the internet for the best gluten free restaurants to enjoy. After so much prep, you'll definitely feel better about your upcoming vacation, but remember to always have back up ideas for restaurants and extra snacks along with just-in-case resources. Traveling while pregnant and gluten free has made me the queen of packing for the just-in-case situations, from cold medicines galore and being glutened meds to a heat pad for sciatica and an ice pack for my lovely migraines that my head loves to get. While pregnant you never know what feeling may creep up, so one of my favorite just-in-case items that I can't recommend enough were my motion sick wrist bands which proved to be especially important when flying 9 hours each way and boating through an entire week and a half vacation. Seaband makes amazing pressure wrist bands that I sported not only on our vacations but also throughout a lot of the beginning and end of my pregnancy (I'm sure you could spot them in one or two of my pictures!).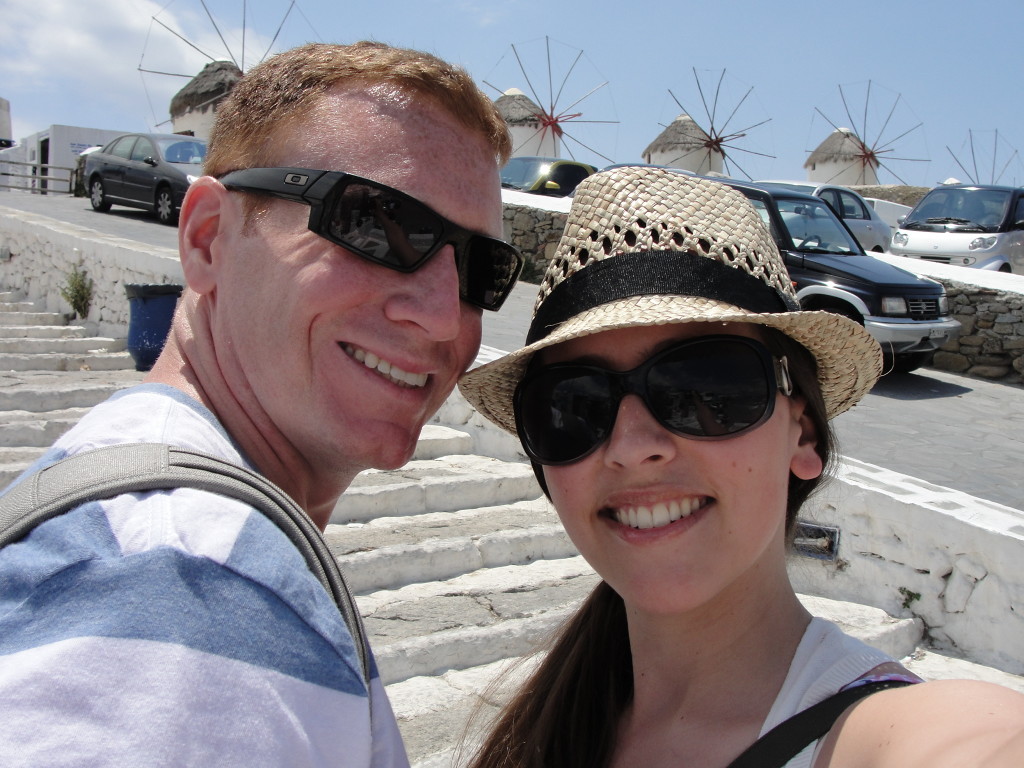 All together, taking an adventure while pregnant and eating gluten free is so exciting and something really cool that you can share with that little one inside of you one day. Dan and I joke all of the time how well traveled our little girl is at only 1 1/2, having been to Disney, Italy, and Greece before she even left the womb. There are so many stories that we look forward to telling her when she's a bit older, especially those with her along for the ride. Although it was a bit intimidating going to a foreign country without knowing the language, having a dietary challenge, and with a baby on the way, we had an amazing time and created some very special memories that we'll share with our little girl for forever.
Here's a few tips that could help prepare you for vacationing while being pregnant and gluten free:
Do your homework: This is probably the best tip I can give anyone. Google google google. The internet has allowed us to help others and receive help too, so make sure you search for anything gluten free when it comes to your destination.
Snacks: This is an absolute must and goes for those that are just gluten free or those that are gluten free and expecting. I always travel with snacks, pregnant or not; it just gives you comfort that you'll always have something to eat if you're in a pinch. So bring plenty of snacks with you, and make sure you cater to both sides of your cravings, salty or sweet, you never know what you'll be in the mood for.
Translation cards: This is crucial and can really help bridge the gap between you and your waitor, hostess, or chef. If you don't know the language in the country you're visiting, either learn a few key phrases, i.e. do you have a gluten free menu, is this gluten free, cross contamination, or bring along translation cards (these are a great option to prevent any lost in translation moments where your pronunciation of said phrases isn't the best).
Cruising tips: highlight gluten free on your trip reservation months ahead (not just on your dining reservation), stop at guest relations or the ship's reservation desk to make reservations ahead of time, meet with the chef ahead of time to place your order
Pregnancy tips: Make sure you don't overdo it, eat plenty, keep some hard candies on hand (they help with the nausea and are a good blood sugar booster), and finally keep those motion sick bands on hand at all times (these were a lifesaver for me).
Have fun, travel safely, and eat well!
Sincerely,
Lindsay