A couple of years ago, pre-gluten free, my husband and I first dined at Carmine's in New York City, Times Square. We'd heard fantastic things from family and friends who had visited there in the past, so we were definitely excited to experience the Carmine's deliciousness ourselves. And that we did, we left there full and satisfied, even planning our grand return in the future. We never did get back there to have our pick of the menu but we have triumphantly returned thanks to their massive gluten free selection taken right off of their regular menu with only a few adjustments.
Carmine's has only a few locations, two of which we've visited in the gluten free phase of life. Just recently, we decided to take little one to the National Zoo in Washington D.C., which also meant a trip to Carmine's too! While I'm always excited for a trip to the zoo with my family, it's equally as exciting to go to Carmine's again. We don't get to go too often since we aren't right around the corner, but whenever we're in the area of one we're sure to take advantage. We just love the family style serving theme of their delicious Italian food, not to mention the family and friend vibe that we always get dining here.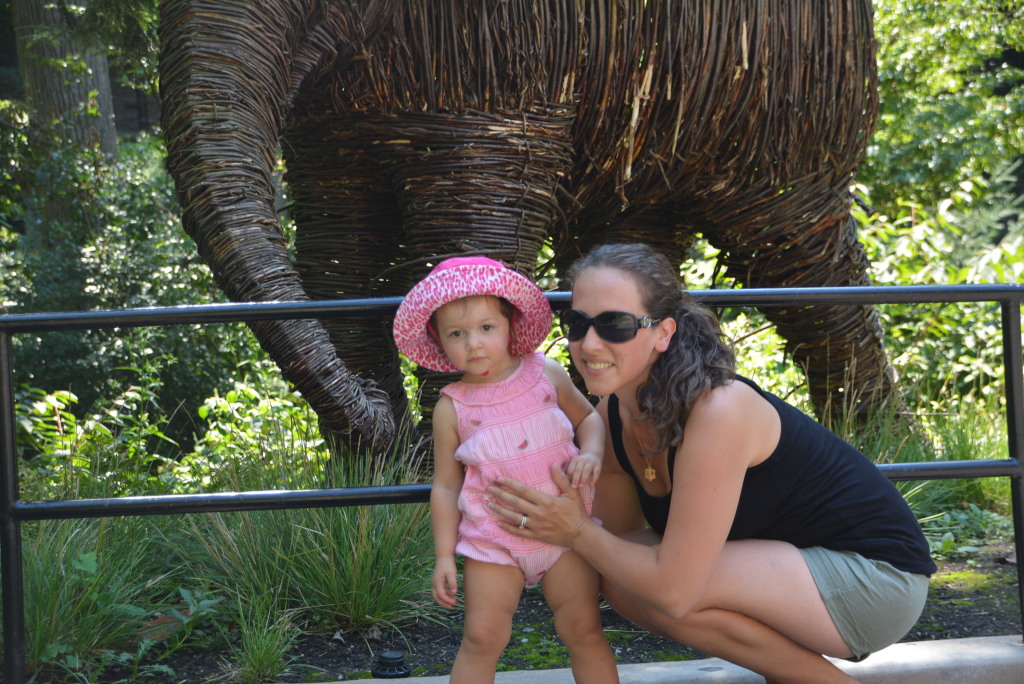 After a couple of weeks in anticipation of the Carmine's/D.C. day it had finally arrived and we were headed out for a little road trip. Even though it was early September, the weather lent itself more to a hot, summery day which was more than welcomed seeing as the weather forecast predicted rain instead of the sun that appeared. With a long drive behind us, we were raring to go to explore the gorgeous National Zoo. This zoo is phenomenal, home to all kinds of different animals, but perfectly set into nature with hilly paths and trees all around. If you haven't been and are in the metro area, you absolutely must go and enjoy this day's worth of adventure. Our little one surely loved it, even took to exploring a lot of the zoo on foot. Some of our favorites were the seals who made our little girl burst out in belly laughs when they starting talking to each other, the elephants, which she now calls by name and imitates all of the time, and the cheetahs, who she greeted with a growl! It was a great day in D.C. and made our little one's weekend for sure.
A little tired and a lot hungry, we were ready to drop our stuff off at our hotel and head over to our dinner destination. While the food at Carmine's is always a huge perk for me, I was also super excited this time to share our family style dinner with one of my good friends Sara, who lives in the metro area now. So after a quick drive to our hotel, we dropped our stuff off and headed out to catch the metro. A short ride later and we had finally arrived at our Gallery Place stop. As we made our way to the familiar red awning, I could just smell the gluten free Carmine's Salad, Vodka Rigatoni, and Titanic soon to be coming our way.
Inside, our party of four was escorted to our table and we were set up with a gluten free menu, while the regular menu was displayed in their signature fashion, largely on the wall. Whenever we go to Carmine's, my husband is always on board to partake in my gluten free choice since the portions are intended for an entire family, but always, per my encouragement, is sure to get a dish of his choice too though, gluten free or not. For dinner that night, Sara was more than happy to enjoy the gluten free Carmine experience with me, along with anything else Dan might choose.
On our menu that evening, we decided to go with the gluten free Carmine's Salad and Scarpariello Chicken Wings to start, the gluten free Vodka Rigatoni and non-gluten free Chicken Parmesan for our entrees, and for dessert, the gluten free Tugboat, a miniature version of the Titanic, their signature dessert. Within just moments of placing our order, a basket filled with all types of non-gluten free breads were placed on the table. Some focaccia pieces were just seasoned while others seemed to be topped with a tomato sauce of sorts, I hate to say it but they looked incredible, but a no go for us gluten free folk. A great start to the meal though for my little girl, especially since she was chomping at the bit for some dinner.
Not long after though, the gluten free Carmine's Salad had arrived and should have really come with a trumpet fanfare too, that's how fantastic this opening dish is. The salad unfortunately did not survive for a picture (sorry) but no worries I was able to capture pictures of each of the other gluten free dishes before they were disturbed. Before we get there though, I have to tell you how delicious their salad is. I know I've mentioned it to you before when I made my own Carmine's Salad at home, but it's just so good. When the waiter placed down the masterpiece of salad in front of us the table fell silent in amazement. Their signature salad is a huge plate with a mountain of mixed greens, tomatoes, pepperoncinis, cucumbers, onions, roasted red peppers, celery, radishes, olives and assorted meats and cheese mixed throughout, including provolone, mortadella, salami, all slathered with their house vinaigrette. This salad is by far the best salad that I've ever had and is a meal in itself!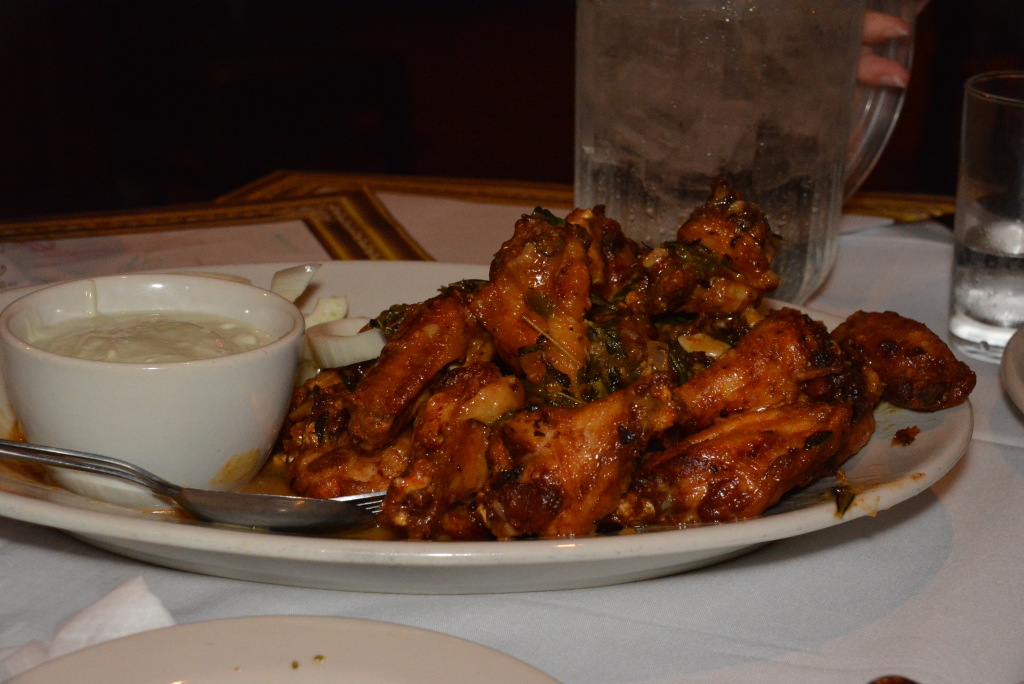 Now, our second appetizer were the Chicken Scarpariello wings, courtesy of my husband. These wings are one of Dan's favorite Carmine's dishes and actually happen to be gluten free without any changes. With their arrival, Dan's face lit up and you could just see his excitement as he glanced over the heaping plate, piled high with beautifully glazed, crispy wings. The wings are cooked to perfection, with a crispy outside and juicy inside. On the flavor side of things, these wings are seasoned with a variety of herbs, most potent though is rosemary, making them incredibly tasty with a little zip on the end. These are amazingly flavorful wings I have to say but a little too zippy for me, but we all know I find a hint of pepper to be spicy so don't use me as a judge of spiciness. My husband LOVES these wings which is absolutely fine with me, more Carmine's salad on my plate and my little girl's too who seemed to be a big fan like her Mommy!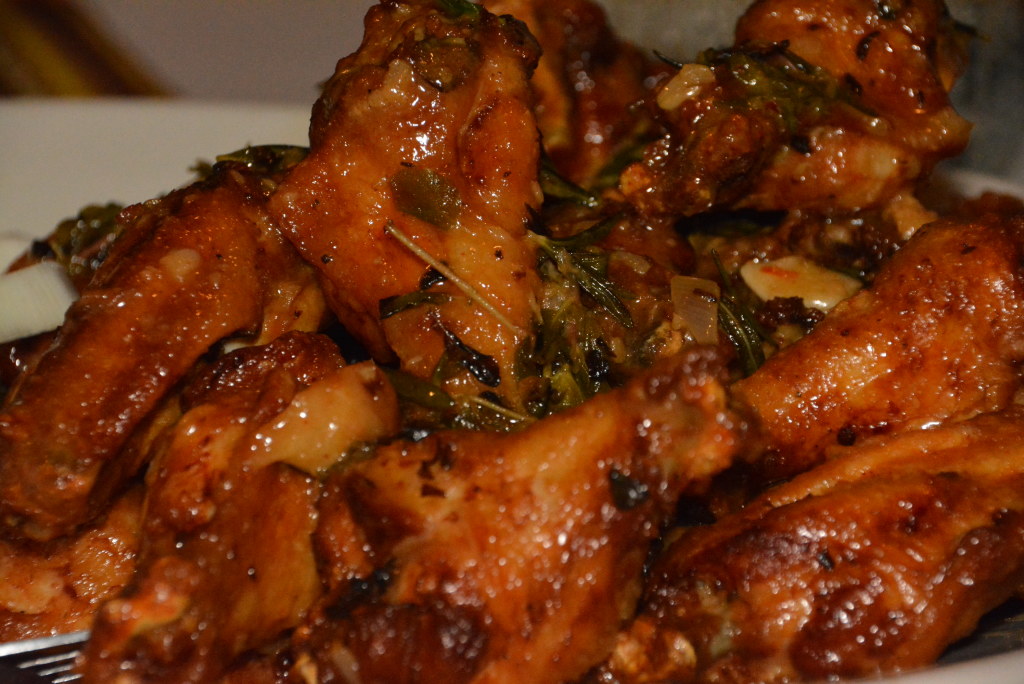 And, after much anticipation, Carmine's family sized portion of Gluten Free Vodka Penne had arrived, made gluten free only with a substitution of the normal rigatoni with gluten free penne. I just love their vodka sauce, creamy with prosciutto bits mixed throughout, complementing the perfectly cooked gluten free pasta, amazingly. While this plate was placed down at my end of the table, the huge plate of massive Chicken Parmesan was placed at the gluten eaters end. I didn't take a picture of this dish since it's not gluten free but it was very drool worthy, as pretty much everything at Carmine's is. Don't worry though, at Carmine's the deliciousness of their gluten free dishes more than makes up for the absences of those that you can't eat.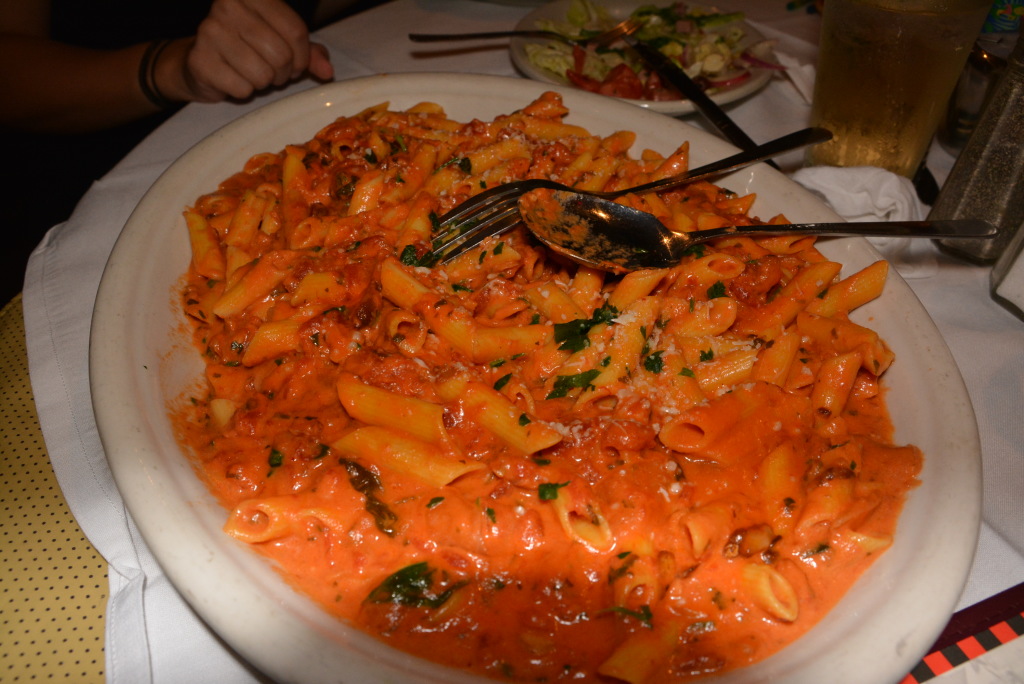 While the chicken parmesan was plated, I couldn't help but snag the first taste of the vodka penne. It was PHENOMENAL! Gluten free pasta cooked perfectly al dente and the sauce, one of the best vodka sauces I've ever had; mind you, vodka rigatoni was and still is one of my favorite pasta dishes, so I've had a lot to compare it to in my gluten and gluten free days. After my sneaky bite, I went on to ladle some pasta and cut up some chicken for our little Carmine's diner to enjoy, and that she did. She gobbled up every last bite of both and even had a little bit of seconds of Mommy's gluten free favorite.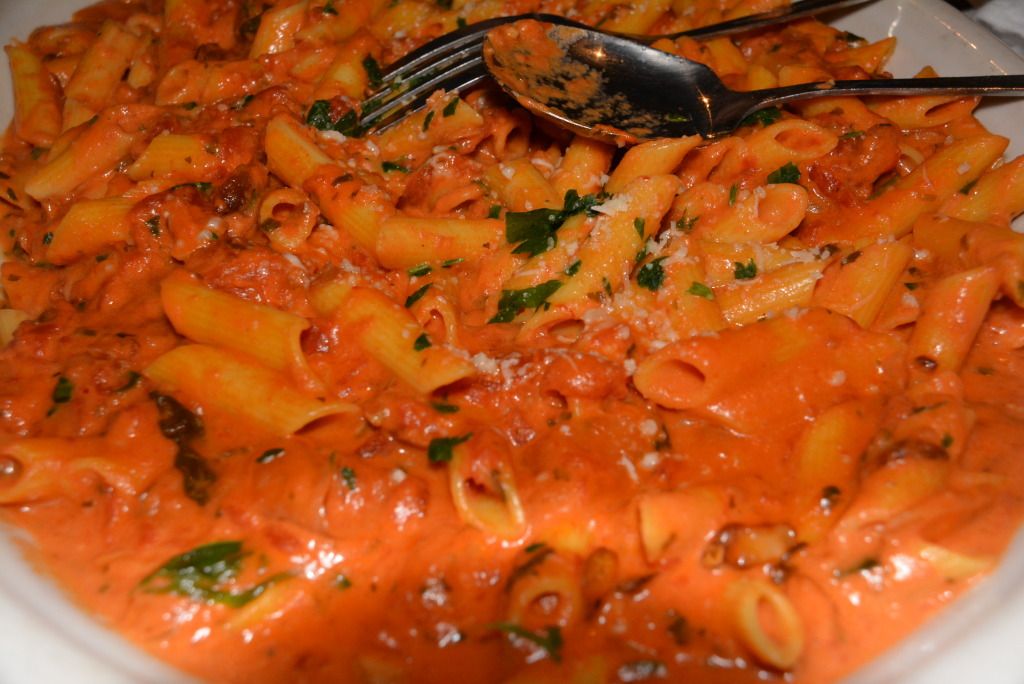 A little while later, the aftermath of our meal fit for royalty was a sight to be seen. Some stuffed bellies all around with satisfied grins on all of our faces. It was an amazing meal shared with even more fantastic company. It's been awhile since we'd been to D.C. and since my little girl had seen her honorary Aunt Sara, so a reunion was definitely in order. And for us what better place to reunite with a friend, who might as well be family, than at this family oriented, family style Italian restaurant. Carmine's gave each of us a meal to remember and even some leftovers too!
While we chatted some more and little one colored, played with her souvenir bucket of animals, and was chatting and making animal sounds, the waiter had rejoined us and inquired about dessert. Okay, so you'll by no means really have room for dessert when you dine here, but with the temptation of a gluten free behemoth of a dessert dangling in front of you like a carrot, you'll more than likely need to try it. You'll have trust me on this one, I highly recommend that you make a little room for it! Carmine's offers a dessert called the Titanic, a mountainous sundae built to feed about 10 people, as are most of Carmine's dishes, that can be slightly altered to be gluten free. Dan and I have both enjoyed this in the past and couldn't let our little one and Sara get away without seeing and tasting this concoction. So for our smaller group of 4 the waiter recommended the miniature version called the Tugboat, made to feed half the number of people and for the half the cost too. We were sold, and soon enough little one and Sara would meet the miniature version of the Titanic dessert for the first time.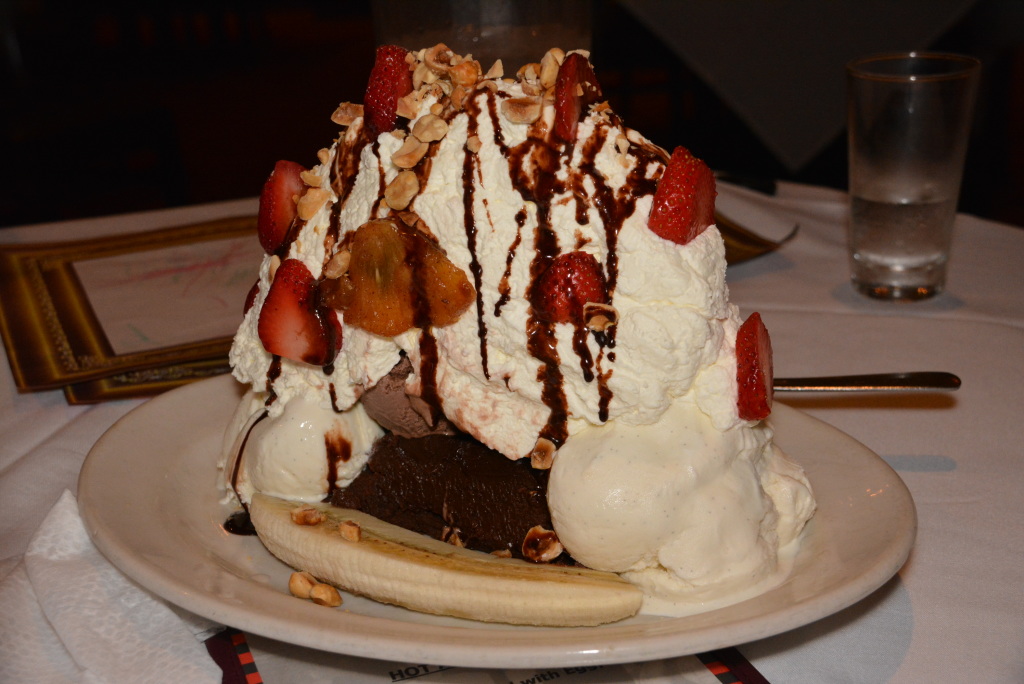 This dessert is enormous! It's hard to picture what a family style ice cream and brownie sundae may look like but trust me, it is huge, and this is just the tugboat so picture a doubled version of this one for the Titanic. Okay, so what's in this sweet treat exactly? Well you start off with a flourless chocolate torte on the bottom (great gluten free start, yay!), then some scoops of vanilla and chocolate ice cream are placed on top of the brownie, tons of fresh whipped cream are next, sliced bananas and strawberries decorate the sundae throughout, roasted cinnamon pineapples are placed on it's sides, and chocolate syrup and chopped hazelnuts dress the top, and all of this is 100% gluten free! The only adjustment that is needed to make the regular version from here is to add those chocolate swirl cookie sticks to the top for the smoke stacks, which are not gluten free, but believe me they are not missed at all with all of the sweetness going on.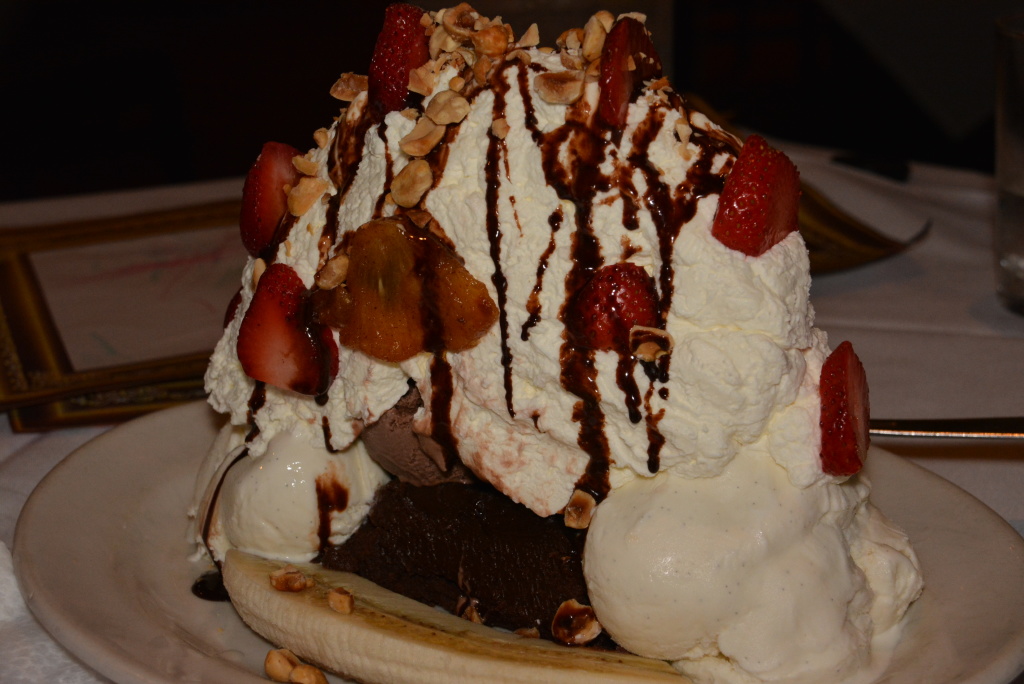 After the photographer was finished, this perfectly artful creation was demolished, divided onto four plates, and the first taster, who was the smallest one at the table, was busy taking the first bite. With her signature "mmm" in approval and plea for "more please mommy" we took it that our little girl was a huge fan of Carmine's monstrous dessert, while the rest of us adults agreed completely with her praise. The gluten free torte was divine, but with the additions of the fruit and ice cream, this is what really stole the show! It was a delicious finish to a meal that couldn't have been better in the gluten free department.
Years ago, when I experienced Carmine's the regular way I thought then that it was amazing, but now, with gluten free glasses on, I've realized just how fantastic they truly are. Their gluten free selection is above and beyond what many other Italian restaurants are able to do. They offer countless gluten free options that are flavorful and just as delicious as their regular counterparts, which in my opinion is how gluten free restaurant dishes should be; their gluten free dishes never make you miss a gluten filled dish adjacent to you at the table but rather allowing you to enjoy your very own gluten free version just as much, hold the sickness.
If you're local or visiting any of Carmine's locations, two in New York City and one in Washington D.C., Atlantic City N.J., Las Vegas, or Atlantis in the Bahamas, you absolutely must try them out. Embrace their family style dining and go with your whole family or invite some friends along too! If it's just you and your own little family, do as we do and don't be afraid to treat yourselves, you'll just have lots of leftovers later on, there are worse things. Do keep in mind their menus are priced for dishes that can feed a large number of people and everything is meant to be shared among your group. And even more good news, I've already mentioned that they offer a huge list of options on their gluten free menu, and I do mean huge so take a look, but they also cater to countless other food allergies, making them even better in my book!
So, we had yet another fantastic Carmine's experience, to top off our little weekend away. You can't get much better than a gluten free meal fit for your dreams and your little girl giggling and laughing with family all around. While I don't know when we'll be back to Carmine's, I do know that we'll always make it a point to get there when we're in the neighborhood. I also know that Carmine's has surely won a few more fans with that meal who will definitely be lifelong guests from here on. All of this reminiscing about that meal is tough but certainly gives me something to look forward to in the future, which makes our meals at Carmine's that much more special. But until we return, it's homemade Carmine's salad for us and back to dreaming of those massively tasty plates of gluten free food.
Sincerely,
Lindsay