A typical vacation in Orlando wouldn't be complete with a rain storm or two. Day 4 of our trip was the lucky day for a couple showers, but altogether wasn't too wet considering the predicted high percentage of rain. After making it through a beautiful sunny morning and delicious lunch at Be Our Guest, we hopped on the Haunted Mansion and Pirates of the Caribbean before little one couldn't help but close her eyes. Nap time for us when we're in the parks means that it's time for Mommy and Daddy to sit down in the shade and relax or meander through air conditioned stores and soak up the nice cool air. While we started nap time shopping, we watched the dark clouds roll in and decided to find a nice place under some covering to rest our feet and keep all of us dry during the impending, classic Disney World downpour.
Sure enough, only moments after parking under the awning by The Hall of Presidents, the dribbles began. We covered our little girl with the rain cover for the stroller which kept her nice dry while the wind picked up and started whirling around the now pouring rain. Thankfully we had ducked under the covering early so we stayed pretty dry but not as dry as my little girl who slept safely and soundly in her reclined seat. A short while later and the clouds had begun to move along, leaving a still murky looking sky. We decided to hang around to see if an afternoon parade would occur despite the rainy skies but disappointingly they had to cancel for the day. So we headed up to Main Street and shopped a bit along the row of stores, picking a few toys out for our little one that we knew would make perfect birthday or Christmas gifts. All of the sudden we heard a chirping from in the stroller and were greeted by an ecstatic little girl who couldn't have been more excited to spot all of the Minnie merchandise in front of her as she woke up.
As the rain picked up again, we armed ourselves with our ponchos and covered the stroller to head over to the monorail for Epcot. On tonight's menu was La Hacienda de San Angel in Mexico, we hadn't been before but we were interested to check the waterfront restaurant. I personally do not like spicy food by any stretch, but my husband, on the other hand, pretty much loves all food, especially spicy food. Last time we had dined in Epcot's Mexico we ate at the San Angel Inn and Dan tried the Jalapeno Margarita which he raved about so he definitely wanted to give the other restaurant in Mexico a try too. I try not to let my very picky palate and not to mention my gluten free restrictions get in the way too much of Dan's adventurous foody side, so I always keep in mind that I'll definitely be able to get something at the restaurant we're going to, whether it be a salad or grilled chicken.
We were seated right at the windows and had a great view of the lake and the World Showcase around it. After perusing the menu a bit, I started to get a little nervous that this restaurant might be the exception to my rule of thumb. I had read ahead of time that their corn tortillas were delicious and gluten free so I was hoping to try the Queso Fundido sans peppers and sausage, maybe substituting chicken, really trying to avoid any spice whatsoever. The chef came out and went over my gluten free options with me and I asked if my idea was a possibility. He was so great and assured me that it could be done and that the homemade corn tortillas would be sent out instead of the flour tortillas. Not too long after ordering, our dishes arrived!
After cutting up my little girl's chicken tacos, which she had for the first time that night and apparently loved, I finally caught a glimpse of my dish. I have to say the homemade corn tortillas looked delicious!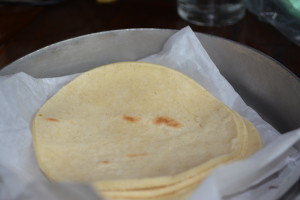 Let me just say that I've never been a fan of store bought corn tortillas. Texturally, they're kind of rubbery to me and the taste is equally off putting. However, these were amazing! They were soft and not rubbery by any means, just like the flour tortillas that I used to enjoy in years past. Their flavor was mild and perfect to pair with the melted cheese that accompanied them. Not to mention that they're gluten free!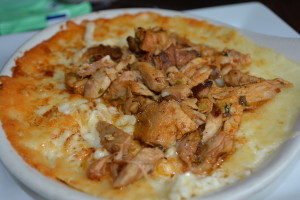 As far as the gluten free melted cheese and chicken combo, it was perfection. Okay, so everyone's level of spicy is different, but for me, I even find pepper can be too spicy; so as far the spice level on the chicken, I have to admit that it was a bit too spiced for me, but it was still incredibly delicious and went perfectly with the melted cheese! Layering the chicken and cheese on the corn tortillas reminded me of homemade quesadillas that I once enjoyed. The soft and tender gluten free corn tortillas were mildly flavored and embraced the flavorful cheese and chicken amazingly! Despite the smidgen of too much spice on the chicken, I would absolutely order this one again on future visits.
By the time we had finished with dinner, it had finally begun to dry up a bit outside, just in time for us to enjoy a nighttime stroll around Epcot. We wandered through the countries and even made a stop for a little sweet treat thanks to the Flower and Garden Festival. Stay tuned to find out which gluten free treat caught my eye!
Have A Magical Day,
Lindsay